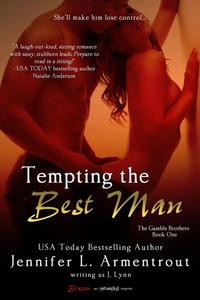 Purchase
Tempting the Best Man
J. Lynn
She'll make him lose control
Gamble Brothers #1
Entangled
May 2012
On Sale: April 24, 2012
Featuring: Chase Gamble; Madison Daniels
ISBN: 0014566699
EAN: 2940014566698
Kindle: B007WY7T7Y
e-Book
Add to Wish List

Romance | Romance Erotica Sensual
Madison Daniels has worshipped her brother's best friend since they were kids. Everyone thinks she and Chase Gamble would make the perfect couple, but there are two major flaws in their logic. 1) Chase has sworn off relationships of any kind, and 2) after blurring the line between friends and lovers for one night four years ago, they can't stop bickering.
Forced together for her brother's wedding getaway, Chase and Madison decide to call a truce for the happy couple. Except all bets are off when they're forced to shack up in a tacky 70's honeymoon suite and survive a multitude of "accidents" as the family tries to prove their "spark" can be used than for more than fighting. That is, if they don't strangle each other first...
Gamble Brothers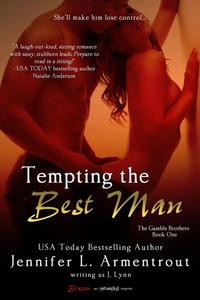 Tempting the Best Man
#1.0
Kindle | BN.com | | |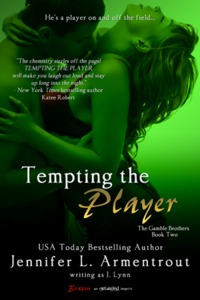 Tempting The Player
#2.0
Kindle | BN.com | | |
Comments
83 comments posted.
You made some interesting points in your blog and I am looking forward to reading your book. I hope you have a great day.
(Chelsea Knestrick 6:01am May 4, 2012)
Hot!! Just not too hot!
Blessings,
Marjorie
(Marjorie Carmony 6:51am May 4, 2012)
very hot love the cover of the book. me personally i love when
the main couple bicker first then fall inlove because it makes
the book so interesting to read
(Denise Smith 8:23am May 4, 2012)
whoa! *fanning myself*!!! I have to admit that I am one of those "secret-behind-the-scenes* readers of erotica - well, I have recently begun to read more of these stories.

Yes, your blog has raised some very interesting points about the evolution of this genre - thank you for sharing this with us and for the opportunity to win your book! I have read some of your other books in the past and LOVED them - so I know that this is a super one, as well.
(Felicia Ciaudelli 9:13am May 4, 2012)
I have been reading erotica for YEARS! I started out in middle school reading the red cover Harlequin books that mistakenly got shipped to our school's library LOL and never looked back! Once I discovered erotica, those little read paperbacks were too tame. So thanks to you and other authors like you for def filling a much needed niche market. glad to hear its getting larger! LOL
(Angie Lilly 9:18am May 4, 2012)
Thanks for the chance to win. Your interview was very
interesting.
(Mary Hay 9:45am May 4, 2012)
I have to admit I haven't read any of your books but this one sounds great - and could be the start of my catching up on all the others. Thanks for the chance to win a copy. Great luck with it.
(Nancy Reynolds 10:37am May 4, 2012)
Think this is going to be a scorching read.
(Janice McElroy 11:50am May 4, 2012)
Great post, Jennifer!! :)
(Amy K 3:35pm May 4, 2012)
We have to get the ideas for our fantasies somewhere - thanks
for adding some fuel to those fires.
(Diane Sallans 3:36pm May 4, 2012)
Thanks for a great post! Amen to all of that :)
(Erin Fender 3:49pm May 4, 2012)
Thanks for the post. If I like something I am pretty vocal about it but I am not one to judge others for what rocks their world either as long as everyone involved is legal and happy with it. That said, I also hate when people jump on a thing because everyone else is doing it. That is just my itty bitty 2 cents worth. Tempting the Best Man is one on my list to pick up though.
(Patti Paonessa 5:03pm May 4, 2012)
sounds like a read i will love
(Debbi Shaw 5:06pm May 4, 2012)
Enjoyed reading your post, Jennifer. I haven't read any of your books. I agree with you completely. Thanks for the chance to win a copy.
(Linda Luinstra 5:07pm May 4, 2012)
Very good post, I'd love to win this book.
(Wilma Frana 5:16pm May 4, 2012)
I read the 50 shades series after all the press and was really surprised. I think the writing itself was not great but something about it was compelling. But it is definitely not to everyone's taste.
(Pam Howell 5:46pm May 4, 2012)
Wonderful interview,the book sounds great.
(Deb Pelletier 6:01pm May 4, 2012)
As long as Ya books stay YA appropriate there isn't a problem. I was a
children's librarian and had to be very careful about what i put in the YA
collection. Admittedly I live in an overly conservative area, they kept stealing
our Harry Potter books and Twilight didn't fair much better, but there is still a
line that should not be crossed. A student or parent should feel confident a
YA book at the library will be "safe and appropriate." If they want to heat
things up, they can check out something from the adult section. They do and
parents approve. It is a matter of "truth in labeling" more than anything
else.
(Patricia Barraclough 6:11pm May 4, 2012)
Honestly, the whole coverage of the Grey series has been driving me nuts. You would think it was the most exciting thing ever. I have been reading these books for years (though I haven't read THE series) and there are some really great authors out there. I also read a lot of YA. I have loved how the YA market has really grown in the last few years. I am hoping that both of these are examples of more people reading more books!
(Jennifer Beyer 7:12pm May 4, 2012)
hot hot hot can't wait to read!!!
(Jennifer Beck 9:38pm May 4, 2012)
Sounds like a really good read! Can't wait!
(Jane Limback 10:02pm May 4, 2012)
I love reading YA books. This book is definitely hot and I wouldn't mind reading it.
(Kai Wong 10:55pm May 4, 2012)
I loved the interview and as the mother of a 9yr old girl I agree with a lot of what you said. I have been an avid reader for years (including erotica) and my daughter is also a huge reader. So far she isn't looking for romance in the books she reads, at least not the main plot isn't, but I can see that changing in the near future and I really do believe that the YA books need to be "G" rated.
(Denise Boyd 11:28pm May 4, 2012)
I love hot reads, but I have also enjoyed a few YA novels... I look for the characters to find their HEAs after their journey through the book...
(Colleen Conklin 2:12pm May 5, 2012)
Sounds really good!! Thanks for the chance to win!
(Natasha Donohoo 4:25pm May 5, 2012)
In all the years of reading books, I have to honestly say that I've never read a book of your genre. There were a couple that I tried to read a couple of years back, and I couldn't even tell you who wrote them, but I have to say that the book itself was so sloppily thrown together content-wise, that it made me laugh out loud, instead of enjoy it. I couldn't even finish the book!! I think the Author was on a time constraint to get their next book out, and threw their story together to get it out!! I know my choice of wording is a bit off, and sort of goes with what we're referring to, when you think about it, but you get my drift. I would like to try a book of this genre that I would enjoy, and perhaps find as another facet to my reading personality. I like the tease to the cover very much, and am sure I'd like the book very much as well. Thank you for your spin on the genre. You shed a quite different light on it.
(Peggy Roberson 6:48pm May 5, 2012)
good post; glad I am not the only one that quietly reads these books. thanks for the draw!
(Barbara Studer 8:03pm May 5, 2012)
HOT is **GOOD**.
(Mary Preston 10:04pm May 5, 2012)
I've been reading some erotica, haven't ever read your books so like to win so I can read one of your books, but if i don't I'll look for one of your books. I liked your interview.I read alot and the reason why I read erotica so I can daydream about being with a guy that can take care of me for my sex life inthe real world sucks, thas a real shame but what can I say-being honest...
(Carole Fiore 10:11pm May 5, 2012)
Ooh! I like it HOT!! ;) I live to read romance and if there's good sex
scenes, that's great! And hey, if it ventures into erotica, that's okay, too.
Neither hurts my feelings at all. You're right - it fulfils a need.
(Kelli Jo Calvert 10:41pm May 5, 2012)
I have to agree with Jennifer Beyer (above). It's like someone thinks they've discovered the wheel, when all that has happened is that some new writer has tried to re-invent it.

They don't always do a good job of it, but that's true in any genre, so you read and find authors who do do it well, and stick with them.

Personally, I've read just about every level of romance I can get my hands on, from super-sweet Barbara Cartland-style books, to the ever-so-explicit that even I cry TMI!!

This one, however, sounds good. Just the right amount of heat, and the right amount of tension between the main charactors. It would be nice to win, but if I don't, well, there's a Barnes & Noble not too far from my house.

Later,

Lynn
(Lynn Rettig 11:45pm May 5, 2012)
Great description "baby alpha male". I certainly daydream about a man who wants to and CAN take care of me. Completely agree there is a need. Thanks for the post.
(Lisa Kendall 11:51pm May 5, 2012)
I've been reading erotica for years. Your book sounds really good.
(Aida Alberto 3:18am May 6, 2012)
So true
(Roxana Perez 7:18am May 6, 2012)
Yup, nothing wrong with it.
(May Pau 7:14pm May 6, 2012)
Yep. Great title. Makes you want to pick up the book and leaf through it to find the good juicy parts.
(Alyson Widen 8:13pm May 6, 2012)
while the Romans and Greeks didn't have vampires and werewolves in their erotic literature, there were certainly lusty gods and goddesses messing with the mortals - erotic literature has always been around. It is fun to read about other humans, even if I'm not entirely sure how to replicate all the intriguing positions featured in some these books. Loved the excerpt on Amazon! looking forward to reading the book!
(Beth Fuller 11:28pm May 6, 2012)
Very interesting and well thought out discussion. Your definition of a hot alpha man includes "rich" - now is it not likely today that his investments are a mere shadow of their former selves, and that he is one of the top echelon of gambling bankers, business men and property developers who have bankrupted countries? I would like to see a well-intentioned man of this type starting over again, having lost the trophy wife once he couldn't keep her in jet-set lifestyle anymore, losing the paunch that comes with alpha males' wining and dining and never getting their hands dirty, having to earn a living for once. And falling for a strong female who makes it clear to him that women are not toys to be bought, but capable people who succeed on many levels - and who would enjoy a hot sex life, if he could remember how to get started! I would expect there is a lot she could teach him and a lot of other lessons about life he could learn.
Go, girl!
(Clare O'Beara 6:08am May 7, 2012)
I think we all enjoy reading about an alpha male, but logic dictates that every woman cannot find one, or there would be no beta males....
Sure, we are going to be attracted to a strong, confident capable man, who looks like he can do some providing and protecting. That's what cave women and village women needed in order to survive. But the emotional attachment has to be present too, or you're talking about the workaholic sociopath who tramples people to get to the top of a business. Not for me thanks!
(Clare O'Beara 7:43am October 24, 2012)
I say yes and no....Depends on my mood. I think I like the idea of an Alpha male more than the actual real deal... Thanks for the giveaway!
(Sally Hannoush 8:03am October 24, 2012)
Thanks for the giveaway. How about an alpha female with a alpha male? might be an interesting situation!
(Pat Freely 8:23am October 24, 2012)
I definitely enjoy reading about alpha males, but like Sally, I agree that they're more appealing in fiction than real life, lol!
(Rebecca Whitehead-Schwarz 8:40am October 24, 2012)
Would love to read this book!!!! Thanks
(Bonnie Capuano 9:04am October 24, 2012)
Fantasizing about a true alpha male in a romance novel is great reading! I believe that if a relationship is to thrive long term, the line becomes bleary between an alpha male and a strong confident female. Complimenting traits wins in the long run.
(Beth Charette 9:24am October 24, 2012)
I LOVE Alpha males. I like how they are dominant, use their smarts, are protective, but always put thier female first. The woman in their life always feels loved, adored and safe. Great giveaway. Thank you amotherway@aol.com
(Allie Motherway 9:39am October 24, 2012)
I agree when a couple is well matched than it simply is irresistible. Alpha males know and hold their own, they aren't the "bad boywith a heart of gold" - they are the one that is the rock and the hammer when the time seems fit, they know what they want and how to get and keep it.
(Carla Carlson 9:48am October 24, 2012)
Hi
I love reading stories with alpha men. I tend to gravitate
toward these books when browsing the books stores.

Thanks
(Pam Brewer 9:58am October 24, 2012)
Confidence is very attractive and alpha males have that quality in spades. I enjoy stories of alpha males more that beta males.
(Monica Vargo 10:14am October 24, 2012)
Alpha males are nice to read. They definitely add twists to the stories.
(Pam Howell 10:54am October 24, 2012)
I think I like their confidence mostly. :)
(May Pau 11:05am October 24, 2012)
Oh, I definitely like Alpha males. thanks for the giveaway!
(Jane Limback 11:20am October 24, 2012)
I love Alpha men WITHIN REASON! They are nice to read but tough to really live
with!
(Sandra Spilecki 11:49am October 24, 2012)
Oh I definitely enjoy those Alphas in my reading! ;) Sexy confident men...
(Colleen Conklin 1:05pm October 24, 2012)
I love reading books that Alpha males in them. They tend to be the hottest ones.
(Larena Hubble 1:56pm October 24, 2012)
Confident Alpha males are very sexy.
(Kimberly Fravel 1:56pm October 24, 2012)
Hello, this sounds great..
(Holly Vanderhule 1:59pm October 24, 2012)
Confident men are very sexy, you know that you will be safe.
(Cynthia St. Germain 2:07pm October 24, 2012)
thanks for the chance to win
(Debbi Shaw 3:00pm October 24, 2012)
I think alpha males are so "tempting" because women, in a sense, like to be bossed around. They lik when their men are commanding and dominant, self-assured and sexy. I like alpha males, but I'm not sure how I'd react to actually dating one. Thanks for the giveaway!
(Alyssa Sooklal 4:44pm October 24, 2012)
When JLA is writing about them, YES!
(Eva Segerblom 4:50pm October 24, 2012)
I FIND ALPHA MALES VERY ADDICTIVE. I LOVE READING ABOUT ALPHA
MALES THEY ARE VERY VERY FASCINATING AND INTERESTING.
(Shelly Caggiano 5:00pm October 24, 2012)
Alpha males are very addictive. I love how much they care for
their women. JLA rocks! :)
(Amy K 6:09pm October 24, 2012)
i love the cover!!!look like a great read can't wait!!!
(Jennifer Beck 7:49pm October 24, 2012)
Can't wait to read this
(Nancy Gallagher 8:11pm October 24, 2012)
I love reading about alpha males. These tend to make my tbr shelf. Totally sexy and addictive. These two books sounds like a great read.
(Emily Bowes 8:28pm October 24, 2012)
Too much of a controlling jerk tends to be boring after a while, so I suppose that I would have to be more for the alpha male. If an Author doesn't overdo it, he can actually be an enjoyable character to read. I am looking forward to reading your book, since I enjoyed reading your posting so much!!
(Peggy Roberson 8:39pm October 24, 2012)
I love reading about alpha males as long as the heroine knows when to stand her ground, compromise or let him take the lead.
(Mary C 8:57pm October 24, 2012)
i have found that in most books the Alpha males are over bearing and arrogant
but only with other people. As long as they are good to the woman its fine.
What women wouldn't want someone that adores them and only them. it goes
back to the cave man dragging his women back to the cave. i think all women
on some level crave that from their men. just my opinion
(Leanne Jacobson 11:04pm October 24, 2012)
There is nothing sexier than an alpha male. I have always said that I want a man that knows what to do with control once he has it Control me, baby!

Good luck and happy writing!
(Tracie Travis 11:23pm October 24, 2012)
I definitely like Alpha males. They're hot.
(Kathy Fowler 11:36pm October 24, 2012)
I love a strong male hero in my romance novels. I like how alfa males
always know what they want and get it.
(Ann Sheiring 11:38pm October 24, 2012)
Book sounds great . Thanks for giving me a chance to win your book.
(Linda Hall 11:53pm October 24, 2012)
I love me an alpha male and do find them addicting! Thanks so much for the chance to win your book!
(Christine Mead 6:49am October 25, 2012)
I like reading and wish I had an alpha male in my life. I'd love to read your books,your a nes author to add to my list. Thanks, for the contest.
(Carole Fiore 7:55am October 25, 2012)
I find alpha males like Chad Gamble in "Tempting the Player" very attractive & addicting - in books, as well as in life. I can't wait to read your books; I've added them to my TBR list.
(QuenKne M 1:39pm October 25, 2012)
I find myself quite agreeing with Carla (above). My only question is: Do you know of any single alpha males in my city?

Later,

Lynn, dreaming away!
(Lynn Rettig 3:48pm October 25, 2012)
I love alpha males! I have one in real life too! But nothing
better than reading about a hot, sexy alpha male.....
Looking forward to both of these books!!!
Cheryl
(Cheryl Beal 5:00pm October 25, 2012)
Love, love alpha males. Their confidence and in-control attitude is attractive - he's not a wimp. He takes charge, but isn't threatened by a woman who expresses her opinion or disagrees.
(Damaris Sanchez 8:42pm October 25, 2012)
Oh, yes please, the alpha male is strong, sexy and appealing.
(Alyson Widen 9:48pm October 25, 2012)
Alpha males have that confidence and take-charge attitude that makes us female swoon. They are protective and know know to take care of their women. We, women, really want to be that woman.
(Kai Wong 9:55pm October 25, 2012)
It's the confidence that an alpha male exudes that isso enticing.
(Mary Preston 7:42am October 26, 2012)
Alpha males are hott i like that they are dominant and take action
(Danielle McDonald 5:37pm November 3, 2012)
i want to know if the book was also released translated into
Italian language thanks!! i'd like to read it
(Katya Sapio 7:20am May 17, 2014)
Registered users may leave comments.
Log in or register now!