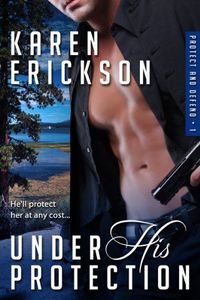 Purchase
He'll protect her at any cost...
Protect and Defend #1
Author Self-Published
April 2012
On Sale: April 2, 2012
ISBN: 1452454655
EAN: 9781452454658
Kindle: B007R5LP4G
e-Book
Add to Wish List

Protecting the vice president's daughter is Secret Service agent Mason Russell's top priority. With the election looming and the party's hold shaky, Mason's been given an important assignment - rein the controversial party girl Blake Hewitt in.
He'd like to rein Blake in all right. Keep her under his control and naked beneath him at all times. Blake is the sexiest thing he's ever seen but she's strictly off limits. Though she tempts him like no other.
Banished from the capital and sent far away to the family's vacation home, Blake seizes her chance. She'll make Mason hers no matter what it takes. But the noble Mason doesn't make it easy, and danger lurks where they least expect it...
Comments
54 comments posted.
i love the book cover cant wait to get this book
(Denise Smith 12:34pm April 29, 2012)
Would love to win this book
(Linda Skillen 1:31am April 29, 2012)
Can't help loving the strong male who is used to being in charge yet learns to allow a woman into his heart who invariably softens his personality somewhat. Good luck with the new releases!
(E Felder 2:28am April 29, 2012)
I love your new Alpha heroes ideas. I agree with you though... a strong, in control (but NOT the type that tries to control YOU), loving totally and ready to rescue "His Woman" type of man is so irresistable! I would love to win your book...either one would be fantastic, as I am looking forward to reading them all! Hahaha Good Luck everyone (But I am hoping that I will actually be the winner.. LOL) Hope you are having a wonderful Spring!
(Cheri Minott 2:43am April 29, 2012)
There's nothing like an Alpha hero to make a book come alive.....
(Susan Shapley 3:05am April 29, 2012)
Alpha heros have a sexy appeal to me!
(Britney Barlow 3:09am April 29, 2012)
I like alpha heroes they always seem so balanced and sexy, not at all like real life alpha wannabes who end up just being asses.

Good luck and happy writing!
(Tracie Travis 3:16am April 29, 2012)
signed up for the giveaway and wanted to thank-you for the wonderful opportunity. I love these stories and this website. Thank-you so much!
(Kelly Knapp 3:39am April 29, 2012)
Most heroes in books are, I guess, alpha types and usually I enjoy them. Yet most of the men I know are more beta types. One thing I can't stand is a man who gets into roaring rages the moment something doesn't go the way he wants it to. Just last night I saw a movie whose hero was easily provoked, based on a real person. His rage probably led to his death: he was hit and thrown by a car which then drove off leaving him lying in the street. His girlfriend had complained to him that these guys in a car had been after her and her two girlfriends a few times already. Sorry about that. It's still very fresh in my mind.
(Sigrun Schulz 4:08am April 29, 2012)
I like a little bit of the alpha male type, but they must soften up for the heroine.
(Susan Navidad 4:36am April 29, 2012)
Alpha heroes make for delicious reading!!
(Mary Preston 5:23am April 29, 2012)
Alphas are great, just want a little beta mixed in.
Blessings,
Marjorie
(Marjorie Carmony 6:35am April 29, 2012)
Alphas are fantastice to read about but I think you need a strong female to keep them in check!
(Barbara Hanson 6:55am April 29, 2012)
I would not want one who would boss me around but there is a difference between my alpha hero and a jerk who is dictatorial. I enjoy the true alpha hero.
(Debra Guyette 6:55am April 29, 2012)
Alpha heroes are fine once in a while, but not too alpha. Then it just seems extreme and not real.
(Pam Howell 9:03am April 29, 2012)
An Alpha that can show a softer side is great!! Thanks for a chance to win this book!!!
(Bonnie Capuano 9:09am April 29, 2012)
I'm one of those there's a time and a place for everything. Including Alhpa heros. I like them sometimes, but not all.
(Joelle Beebe 10:20am April 29, 2012)
I'm too much of an alpha female to be attracted to alpha males--but they are fun to read about.
(Sue Farrell 10:22am April 29, 2012)
I can never get enough of Alpha Heroes as long as they also
show they are human enough to be compassionate and caring too.
(Ilona Fenton 10:26am April 29, 2012)
I am drawn to very Alpha heroes. I can like Beta heroes but I don't get as invested in their stories. Alpha men are much more dynamic to me.
(Stacie Deramo 10:28am April 29, 2012)
I like big, alpha heroes...but not if they're s cocky s.o.b.! LOL
(Catherine Lee 10:35am April 29, 2012)
I like alpha heroes, but sometimes a little bit of
imperfection is alright.
(Roxana Perez 10:37am April 29, 2012)
I think that a hero needs to have a strong personality in order to really be a good hero in the book. If his personality isn't strong enough he could be overshadowed by other characters.
(Chelsea Knestrick 11:46am April 29, 2012)
i WOULD LOVE TO WIN YOUR GIVEAWAY. lOVE YOUR BOOKS AND AS i AM AN AVID READER IT WOULD BE A TREAT TO READ YOUR NEW BOOK
(Jean Benedict 11:52am April 29, 2012)
It really depends on the Alpha hero! If he's a strong character who appreciates a strong female partner, I find that very appealing. I'm not as interested in reading about Alpha males who like submisssive females, though.
(Rebecca Whitehead-Schwarz 12:32pm April 29, 2012)
this is a Cool book giveaway !!! the cover does look good. :)
(Ebony Morton 1:05pm April 29, 2012)
While I think that living with an alpha male would be exhausting, lol, I so love them in my romance stories. Watching them find love and fighting it every step of the way is so just darned entertaining.
(Cathy MacDonald 1:15pm April 29, 2012)
I like them mostly alpha but with a soft side.
(Robin Daily 1:26pm April 29, 2012)
Oh I want that book for the cover alone... WOW! I am a fan of Alpha heroes... they make for great reading... love to see them finally get bit by the love bug!
(Colleen Conklin 1:53pm April 29, 2012)
I do love the alpha heroes!
(Julie Parrish 1:56pm April 29, 2012)
I think it's the confidence of the alpha that appeals to me.
(Diane Sallans 2:33pm April 29, 2012)
I like Alpha males. I understand about the eldest Worth
brother being a love him or hate him and that is usually how
I feel about Alphas. When I love them, I'm all in. But some
of them bring out the need in me to knock them down a peg or
two. I like Alphas who are able to have a bit of a softer
inside with the one he loves.
(Shannon Grider 2:48pm April 29, 2012)
You are a new-to-me author and your books and the alpha hero's sound very good. Would love to win a book so I can start a new series.

I am new to this site too and I really like it!
I am so glad that I found it.
(Debra Thomas 2:58pm April 29, 2012)
I love the alpha males. I like it when they can soften up a bit but they still need to remain tough and in control. There is such a thing as too mushy for me. LoL Under His Protection sounds like a really good romance to read. Thanks for the giveaway.
(Kristin Bingham 3:19pm April 29, 2012)
in books I love them do not know how I would in real life?
But Can't get a nuff of them in books.
(Stacey Smith 3:29pm April 29, 2012)
Your books sound wonderful!!
Thanks for the giveaway!
(Joanne Schultz 3:52pm April 29, 2012)
I love reading those alpha males "MINE" but like you I wouldn't want to live with one 24/7. Both of these series sound great to me. I am a romance series lover, but I like to wait until the books are all available and then devour them back to back. I hate waiting and my memory stinks and I forget stuff if I too much time passes. That age thing is getting me. :)
Thanks for the giveaway!
(Patti Paonessa 5:56pm April 29, 2012)
I love alpha heroes but they have to have a soft side too. I want them to have real affection for the girl. It can't be all about him.
(Kathleen Yohanna 6:11pm April 29, 2012)
Love reading about alpha males and the strong women they love.
(Mary C 6:16pm April 29, 2012)
I prefer alpha females but of course, just as best friends!
(Susan Coster 6:28pm April 29, 2012)
I'm a big fan of Alpha Heroes--it's even the name of my blog-- but that's not to say that all alphas are heroes. ;-)
(Nicola O. 6:33pm April 29, 2012)
I have read both, and don't mind Alpha heroes, as long as they're not too over the top. When they are, it not only takes away from the realism of the characters, but it ruins the story line. Due to the enthusiasm you have for your writing, I am very anxious to read your book!! I am also looking forward to reading the next books in your series, having to do with the Secret Service agents. That should be something definately up my alley!! I do know one thing for sure. Every romance does have its' good points!!
(Peggy Roberson 8:04pm April 29, 2012)
They're fun to read but I'm not sure about in real life.
(Jan D 8:13pm April 29, 2012)
In books, it's great. Not so sure about real life. :)
(May Pau 8:14pm April 29, 2012)
I like reading stories with alpha heroes. Their stories have a lot of action since they don't spend a lot of time worrying over what to do.
(Maureen Emmons 8:33pm April 29, 2012)
Alpha heroes are the best, but I do like a little bit of the softer side. Thanks for clearing up what a beta hero is, because I thought beta just meant a test to try out electronics to see if it works and to iron out the bugs. The only way they're too much to handle is if they won't ever listen in books and in real life.
(Alyson Widen 9:21pm April 29, 2012)
I love both alpha and beta heroes but the alpha heroes in fiction...YUMMY! It is so amazing in fiction when the alpha goes all alpha on the situation.
(Jennifer Beyer 9:36pm April 29, 2012)
yea i could handle a alpha!!!!!!!!!
(Jennifer Beck 10:36pm April 29, 2012)
Can't get enough of 'em!!! You can't control them, but they're sexy as hell. :D Haha.
(Chia Yet Peng 6:11am April 30, 2012)
Love alpha heroes. Love their protective side. I love Karen's books.
(Chris Bails 12:17pm April 30, 2012)
I LOVE Alpha heroes!! And, I would love an Alpha Male in my life - I kind of need one to counter my large personality... :D
(Kelli Jo Calvert 12:38pm April 30, 2012)
I love alpha heroes in fiction. In real life, maybe, not as much! Something intriguing in reading about them. Your books sound great!
(Linda Luinstra 4:40pm April 30, 2012)
Alpha heroes are great in fiction but in real life I am not so sure. I love reading about them. I would love to win and get to know your books.
(Jane Squires 4:43pm April 30, 2012)
I most definitely can appreciate a well written alpha hero. I think it's hot to have such take charge, walking/talking authority and dominating presence. Now that's why it's great to read about these sexy men because in reality having that much intensity & authority, take charge would drive me scooters and I'd probably kill him ;P
(Cindi Mitchell 8:24pm April 30, 2012)
Registered users may leave comments.
Log in or register now!