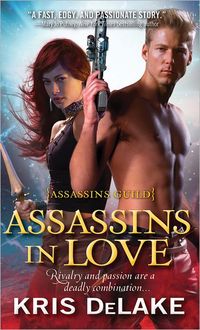 Purchase
Rivalry and passion are a deadly combination
Assasins Guild
Sourcebooks Casablanca
March 2012
On Sale: March 6, 2012
Featuring: Misha; Rikki
352 pages
ISBN: 1402262825
EAN: 9781402262821
Kindle: B006PJ6H02
Paperback / e-Book
Add to Wish List

Romance Paranormal | Science Fiction
When one killer falls for another
Agent: Misha
Profile: Highly trained in every method the assassins guild has to offer. Always goes by the book.
Agent: Rikki
Profile: Rogue assassin who kills only to rid the world of hardened criminals. Hates organizations. Always does it her way. Love becomes a matter of life and death
Misha's mission is to get Rikki to join the guild or give up her guns. He completely underestimated the effect she would have on him...and what heat and chaos they could bring to each other...
Assassins Guild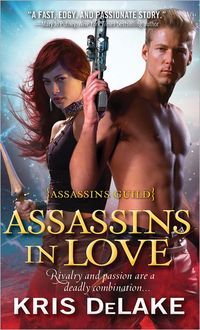 Assassins In Love
#1.0
Amazon.com | BN.com | | |

A Spy to Die For
#2.0
Amazon.com | BN.com | | |
Comments
25 comments posted.
The whole romance that is being written is made up and to have the world around it all made up then that makes me use my imagination that much more. When I start to read a story like this ,I go into it knowing it's all made up so I won't be comparing time periods or anything. Just enjoying my read. Thanks
(Margie Gagarin 6:59am March 21, 2012)
Kris, Imagination is a wonderful thing so it really doesn't matter where you set your story line. It could be in the middle of the solar system or on a cruise...It's the way you word things and set the story that is wonderful.
(Bonnie Capuano 9:00am March 22, 2012)
I love different worlds so definitely enjoy reading books about cruises and off-planets... I still need my HEAs though... :)
(May Pau 9:09am March 22, 2012)
Romances are great because they can be in any setting
(Pam Howell 9:23am March 22, 2012)
I love reading romances because they can take place right at
home or any place else the author decides.
(Mary Hay 10:47am March 22, 2012)
I'm a closet trekkie, so romance in space sounds great to me!
(Rebecca Whitehead-Schwarz 11:17am March 22, 2012)
I love to see where an author's imagination will go... what worlds are created for us to visit... but I am always looking for that HEA.
(Colleen Conklin 1:23pm March 22, 2012)
Cruise ship definitely, when there's no body it's easy to get away with murder.
(Anne Muller 1:57pm March 22, 2012)
i'm a sci-fi geek so to speak so other world sounds interesting, but any place is
good for a romance if its written well :)
(Andrea Amy 2:08pm March 22, 2012)
I can't say that I've ever had the pleasure of reading a romance that was set in an imaginary world setting, so I don't have anything to compare it to. After reading your posting today, I am convinced that you are to be put on my TBR list. I would love to get my hands on your book!! I loved your posting, and found it to be enjoyable and from the heart. I have to commend whomever did the cover of your book. They did a great job as well. It's sexy without being over the top!! I don't mean it as an insult in any way. It's a cover that will attract attention. Congratulations on what I'm sure will be another best-seller, and will attract some new readers - like me!!
(Peggy Roberson 3:22pm March 22, 2012)
When I think of cruise ship I think "summer romance" meaning temporary for
the length of the trip. Space ships have been in scifi for a long, long time.
Therefore I think your book sound great!
(Sandra Spilecki 4:18pm March 22, 2012)
I like paranormals the most.
(Lori Belcher 5:20pm March 22, 2012)
I think most romance stories do take place in small town settings, and a cruise ship, or space ship, or on another planet would be a less common setting, especially in an imaginary world and makes it even more interesting to read. Love your cover and your book sounds fantastic!
(Linda Luinstra 5:24pm March 22, 2012)
I like to read romances that take place in small communites. They all pitch in to help one another. Book sounds great,Thanks for giving me a chance to win your book.
(Linda Hall 5:57pm March 22, 2012)
Great idea to have imaginary world settings!! This sounds like the book I'd like to read!
(Rich Cook 6:54pm March 22, 2012)
sounds like a great book and i put it on my wish list!!
(Jennifer Beck 7:55pm March 22, 2012)
I like that romances can be set anywhere.
(Cheryl McEwen 8:40pm March 22, 2012)
For me, the setting can be wildly imaginative as long as the
romance believably pulls me in.
(Jan D 8:40pm March 22, 2012)
Settings add to the romance which can take place anywhere.
(Mary C 9:30pm March 22, 2012)
I think those sound like fun places to read about. I could see a romance
set there! I used to love watching Stargate, and there were both romance
and action on that show. Why not in a romance novel? Sounds fun- can't
wait to read it!
(Debbie Burdeen 11:56pm March 22, 2012)
Either setting would work for me dependent upon the story and the depth of the world building. The off world could be so much more exciting with the right storyline.
(Lisa Kendall 12:07pm March 23, 2012)
As you mentioned, every fiction author has to do a certain amount of world building, but for a fantasy writer it must be a lot more involved and difficult. The plus side is undoubtedly that you can truly make it into a world you of your own. So I hope you had a lot of fun with it. Are you planning to make this into a series?
(Sigrun Schulz 12:23pm March 23, 2012)
I think they would be interesting settings, but could not limit them perfect settings for romance...it would depend on my mood and the storyline.
(G. Bisbjerg 12:44pm March 23, 2012)
My favorite romance stories always happen in different interesting places exactly because I think they are fascinating. Romance can happen anywhere, so why not on a cruise ship or space ship?
(Alyssa m 9:19pm March 23, 2012)
I like settings which are well rounded, so as long as the romance is sprinkled throughout, you've got me.
(Alyson Widen 5:15pm March 24, 2012)
Registered users may leave comments.
Log in or register now!