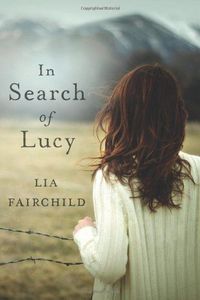 Purchase
AmazonEncore
March 2012
On Sale: February 28, 2012
ISBN: 1612182836
EAN: 9781612182834
Kindle: B004O6MV0S
Paperback / e-Book
Add to Wish List

Lucy Lang's life is spiraling out of control. For years she sacrificed her own needs to care for her half sister and alcoholic mother, only to be abandoned by both. Now, at age 30, Lucy finds herself held back by memories and regret as she struggles to find her own purpose in life. But when her sister needs a kidney transplant, Lucy is the only one who can save her life.
With the help of new friends and a man who won't give up on her, Lucy sets out on a journey to reunite with her sister and find the answers she so desperately needs. Can she get past her emotions and have a chance at happiness? With its colorful and endearing cast of characters, In Search of Lucy takes readers on a rollercoaster of emotions from sadness and heartache to happiness and hope.
Comments
40 comments posted.
this looks like a really good book thanks i hope i win it
(Denise Smith 1:25am March 31, 2012)
Sounds like a really emotional read, just the kind I like
(Susan Ashcraft 3:22am March 31, 2012)
I'M IN IT TO WIN IT!
(Silvana Moscato 5:07am March 31, 2012)
Road trips are a brilliant way to get to know characters.
(Mary Preston 5:50am March 31, 2012)
Your characters certainly sound most interesting!
Blessings,
Marjorie
(Marjorie Carmony 6:41am March 31, 2012)
I would love to read it, it sounds like a very good book.
(Debbie Penny 6:41am March 31, 2012)
Looking forward to reading this book...thanks for the chance to win it
(Bonnie Capuano 7:51am March 31, 2012)
interesting story...
(Mal Kaplan 9:31am March 31, 2012)
I love road trips! I've taken a few and they never disappoint in having a great adventure along the way. On one of our trips the TRIP there was more exciting than the week of our vacation. This brought back some fantastic memories. Thanks
(Margie Gagarin 9:54am March 31, 2012)
I love road trips. My husband and I try to take at least 2 a year just to get away..It is a great way to destress and clear your mind!
(Dawn Staniszeski 10:00am March 31, 2012)
I'm off on my first road trip of the year in a few days. I
need a book to take along.
(Mary Hay 10:04am March 31, 2012)
Road trips rock. You really get to bon with the people if you don't drive each other crazy!
(Pam Howell 10:51am March 31, 2012)
This sounds like the type of book that will take you on 2 road trips. One will be physical, where you can sit back and enjoy the scenery, and the other one will be emotional, where you will go through Lucy's story. I am totally hooked on the story line, and can't wait to read the book!! It sounds like it has a little bit of everything in it. I have to commend whomever did the artwork for the cover, too. It's totally breathtaking!!
(Peggy Roberson 11:02am March 31, 2012)
HI LIA! YOUR BOOK SOUNDS SO AWESOME AND HOPE BEING # 14 IS
LUCKY FOR ME!!
(Linda Bass 12:25pm March 31, 2012)
When I think of road trips I always think of the one I took from Alaska to Minnesota with only my cat---he was one unhappy cat the entire way!
(Sue Farrell 12:41pm March 31, 2012)
I am longing to take a road trip. Twenty years ago (before kids) I took a 7 day road trip up the coast of Califonia. I would like to do it again but spent more time along the way to enjoy and relax. Your book sounds great but I would read it before going because I wouldn't want to miss anything along the way.
(Kathleen Yohanna 1:14pm March 31, 2012)
I take a lot of road trips via books. I cannot afford the gas to travel and wish I could. I need a road trip to Ohio.
Enter me to win.
(Jane Squires 1:37pm March 31, 2012)
love the cover and would love to read it.
(Marla Alleman 1:47pm March 31, 2012)
I haven't been on a road trip in years. Right now at the price of gas no one can aford one. Love the cover of your book and its sounds really good.
(Gail Hurt 2:17pm March 31, 2012)
I'm a terrible person to go on a road trip with. Car rides put me to sleep. I sleep like a baby the whole trip. The poor driver (my husband) is always lonesome.
(Kathleen Bianchi 2:50pm March 31, 2012)
Sounds like a very good book, thanks for the chance to win!
(Natasha Donohoo 3:02pm March 31, 2012)
Great plot and story line, looking forward to reading it
(Shirley Younger 3:51pm March 31, 2012)
Love roadtrips- 2 days in a car with girlfriends is so much fun.
(Roseann Moss 3:51pm March 31, 2012)
Car rides means you have a captive audience. Being in close proximity may yield conversations you wouldn't otherwise have to "fill the air" and the open expanse of time.
(Alyson Widen 4:05pm March 31, 2012)
Love the roadtrip plot for your book and the adventures they ensue along the way. I love when I take a road trip along the Mississippi River, along Hwy. 61 through Minnesota. The scenery is so breathtakingly beautiful, not to mention the wildlife, bald eagles and beautiful bluffs. This book sounds really good and I can't wait to read it!
(Linda Luinstra 4:16pm March 31, 2012)
To me, now, a road trip is if I have to drive to a meeting 2 or 3 hours away. I haven't driven across multiple states on a "real" road trip for more than 10 years.

The book sounds like a fun journey.
(Catherine Lee 5:34pm March 31, 2012)
Hi Everyone: Wow! Thanks for all your wonderful comments. I
wish I could give each of you a book. Good luck and I hope you
enjoy In Search of Lucy.
Lia Fairchild
(Lia Fairchild 5:48pm March 31, 2012)
Road trips are always enjoyable and an adventure. Always enjoyed hiking and camping on ones I've taken and taking in the great sites. I know I'd enjoy this book.
(Rich Cook 5:52pm March 31, 2012)
It sounds like this is a fun road trip and just what Lucy needs.
(Anna Speed 6:39pm March 31, 2012)
Interesting timing, lately I have been fighting the urge to take a road trip and drive until I find where I belong...
Good luck and happy writing!
(Tracie Travis 7:03pm March 31, 2012)
A great idea. Something we can all identify with. Thank you for sharing Lia! I loved reading In Search of Lucy. Well done!
(Barbara Silkstone 7:04pm March 31, 2012)
You said it wonderfully. Books take me places that I would never get to see. It's a great way to travel.
(Jeanne Sheats 7:23pm March 31, 2012)
This is not the type of book I would normally go for but the description just appealled to me.
(Jennifer Beyer 7:56pm March 31, 2012)
When I saw the title of the book, my first thought was of another "Lucy." Which one? The one whom the paleontologists, the Leakeys suppose to be the ancestor of us all. I'd just seen a newsflash about finding Lucy's mate. But your book does sound interesting nonetheless. Most of the long car trips I've taken have been to see different places in Europe or North America. I'm ready to go at any time as long as someone else is driving; my license has lapsed.
(Sigrun Schulz 8:14pm March 31, 2012)
More of an armchair traveler these days - less stressful!
(Mary C 10:02pm March 31, 2012)
I have the best of both. My husband bought a motorhome and I can travel and read. By day we see and do and at night in the campground we read.
(Sharon Mitchell 10:30pm March 31, 2012)
I love road trips. I like to read about them too, but taking them is best. I am
the one in our family that plans our trips. You never know what you will see
or who you will meet along the way. We never get lost. Those little detours
when we are trying to find where we were headed are bonus tours. We have
found some awesome things this way. One time driving through Iowa, we
got tired of the flat (we have taken that route several times), so I told my
husband to take the next exit and turn right. We ended up in Canada, then
back to the US at St. Paul, and on down to Omaha which was our original
destination. We had planned to go to S. Dakota. Flexibility is always a good
thing.
(Patricia Barraclough 11:20pm March 31, 2012)
Wow! Thts wht i thought after read this post. U spent 6 years travelled to interview men about love n relationship?? Awesome! Really, im interested whole of the process u wrote this book. As a person who doesnt have much time to get travelling, u make me feel jealous :D
(Rina Darmayanti 11:44pm March 31, 2012)
I have a road trip coming up this week. Your book sounds like the perfect book to read when I get home. Thanks for the chance to win.
(Becky Darmogray 11:44pm March 31, 2012)
Rina, I did travel for six years interviewing men. It was a crazy idea but very informative. Please note the link to my book is incorrect. The book's title is The Adventures of a Love Investigator. It can only be found on Kindle.
(Barbara Silkstone 7:33am April 1, 2012)
Registered users may leave comments.
Log in or register now!