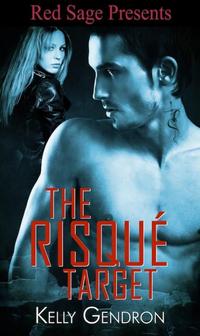 Purchase
Her obsession for bitter vengeance was rewarded by a disobedient desire. His revenge could only be satisfied by her sweet surrender.
A NESA Agent #1
Red Sage Publishing
February 2012
On Sale: February 2, 2012
Featuring: Tantum Maddox; Nala Dekker
250 pages
ISBN: 0014099632
EAN: 2940014099639
Kindle: B0075X1VIK
e-Book
Add to Wish List

Romance Suspense | Romance Erotica Sensual
There's one name that has Agent Nala Dekker reaching for the gun holstered to her leg—Tantum Maddox, the one name her partner said before he died in her arms. After three years of searching for the faceless Tantum Maddox, his name has finally surfaced. Nala jumps on the first plane to Boston in chase of her long-awaited revenge. But instead of taking Tantum in for his crime or shooting him—in self-defense, of course—Nala nearly ends up in bed with the killer. So, it probably would've been a good idea to find out what her Target looked like before she went after him.
Agent Tantum Maddox has completed his assignment in Mexico... and now it's time for his revenge. When Tantum finds a mysterious woman in his arms, and after he discovers exactly who she is—his Target—he must decide what to do with the gun concealed beneath her dress. Should he use it on her and kill her? Or spare her life and take her captive until he finds the answers he's been looking for?
Somehow Nala's innocence comes into question by the dangerously sexy Tantum Maddox and he accuses her of being a cold blooded killer. But why is Nala the one on trial, for Tantum's the one who killed her partner—isn't he? In this torrid twist of betrayal and seduction, will Tantum and Nala resist killing each other? Or worse, when the truth unfolds, will love become the only threat to their vindictive hearts?
Comments
21 comments posted.
A mystery around him, a wicked streak that you
can see in the way he moves and that look in his
eyes, a broken heart needing to be healed by just
the right woman, he has a soft center despite his
reserve. And of course he would come to his
knees for the right one.
(Carla Carlson 12:57pm February 23, 2012)
I love your description about letting bad boys bake for awhile and what they become.

The bad boy stands glowering at the innocent/not so innocent beauty. He wants her to see him as he really is, not just the hardened shell everyone else sees. He is soft in the center like an expensive truffle. But he has yet to learn how to show it.
(Angee Bartlett 1:39pm February 23, 2012)
tall, dark and mysterious with charm and a dash of humor
(Pam Howell 1:39pm February 23, 2012)
Quiet strength, very self confident, knows his place and it is at the top of the pack...a true alpha male.
(Robin McKay 2:26pm February 23, 2012)
Mysterious and quiet. Good looking wouldn't hurt. :-)
(Becky Darmogray 2:37pm February 23, 2012)
Mysterious, strong, confident, good listener, good sense of humour.
(Cheryl McEwen 2:46pm February 23, 2012)
HI KELLEY! I SURE DO AS I'M A BADDDDDDDDDDD GIRL! LOL
(Linda Bass 3:03pm February 23, 2012)
Confident, sexy, protective...
(Colleen Conklin 3:12pm February 23, 2012)
Personally, I'd say a combination of Pam's, Robin's, Becky's, Cheryl's and Colleen's men would do me just fine!!

Later,

Lynn
(Lynn Rettig 4:38pm February 23, 2012)
Full of confidence and charm as well as a sense of humour. He keeps his inner nature to himself as a self defense so no one can hurt him but he is loyal and protective of those he cares for and trusts.
(Chelsea Knestrick 5:07pm February 23, 2012)
A man that is confident and passionate in what he does is a nice starter. Someone who has gone through just enough of the knocks to know whats important and what to drop behind. He will have the dominance showing through him to just the right heat and the mystery that makes you want and have to look to see the rest of what's behind those captivating, searing eyes. The small smirk of that delicious mouth will make you lick your lips for wanting. All the while that HOT, HOT body of his will be calling for you with his dominance and you will have to tangle because nothing too easy will do. You take is all in account..mysterious,captivating,intelligence,humor,tall, strong,confident...Hmmm... should I let my take charge attitude down to see the passion under all that wonderful Bad Boy ..Hell yeah! Your books sound yummy, Thanks
(Margie Gagarin 5:22pm February 23, 2012)
Loyal, passionate, wicked sense of humor, smoldering eyes, hot sexy butt and maybe slightly wounded but not unsavable.
(Patti Paonessa 6:49pm February 23, 2012)
I love it! Tantum plows through women like a "tank" until he gets to
Nala...who then breaks down her control...until he gets what they both
want.....can't wait for the next one ;)
(Melissa Loeffert 8:39pm February 23, 2012)
I figure an all grown up bad boy would have a lot of life experience to draw from so he should be world wise but not yet world weary. And, I want him to have reached the point where a woman is his comfort and focus and no longer dispensible.
(Jennifer Beyer 10:01pm February 23, 2012)
Someone who comes off as if they have a bit of a "bad ass" (can I say that?) attitude, but you really know he has the heart of a pussycat, and tons of compassion!! He can show you how much behind closed doors, as well as to those who are in need of help. He's slightly different from the boy next door, and the ladies seem to turn their heads ever so slightly as he walks by, but they don't know why. Perhaps it's the way he carries himself. He can be bad, but in a good way!!
(Peggy Roberson 11:00pm February 23, 2012)
Sounds like a good read. You are new to me, so I'd love to read one of your books.
(Molly Wilsbacher 11:39pm February 23, 2012)
tall , dark and omg.. love the cover!!cant wait to read!!
(Jennifer Beck 11:44pm February 23, 2012)
I was intelligence, a quick wit & a devil-may-care attitude.
(Mary Preston 11:50pm February 23, 2012)
After reading all the comments, I can't think of anything to add. Your book sounds wonderful!
(Mary C 11:56pm February 23, 2012)
Confidence, loyalty, strength in many forms including strenght of character and family ties.
(Lisa Kendall 1:20am February 24, 2012)
Hi Kelly,
I saw that I won your e-book, "The Risque Target", but I don't know how to download the book. My daughter won a book on FreshFiction and they sent her an email, but I haven't gotten any email. I will be going on vacation soon, and would love to be able to read it then.
Thanks!
Becky Darmogray
(Becky Darmogray 5:22pm February 24, 2012)
Registered users may leave comments.
Log in or register now!