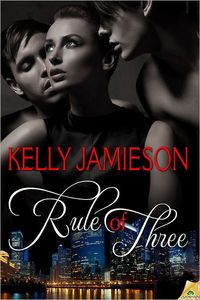 Purchase
Samhain Publishing
February 2012
On Sale: February 19, 2012
ISBN: 1609286960
EAN: 9781609286965
Kindle: B007706GTK
e-Book
Add to Wish List

If you follow the rules, you miss all the fun...
Kassidy is a good girl who wants to be bad. Dag is a bad boy who is very, very good. And Chris? He likes to watch…
When wicked-sexy Dag returns to Chicago to catch up with his old college buddy Chris and meet The Girlfriend, none of them are anticipating the unexpected turn of events that switches a loving twosome into a scorching hot threesome. As old feelings resurface, and new attractions are explored, a storm of sexual sparks is unleashed that leads them into forbidden areas.
Always the good girl, Kassidy blossoms under the attentions of two loving men, but neither she nor Chris are expecting the ménage to take a quarter turn toward Dag…and his feelings for Chris. When it's revealed that Dag's attraction to Chris is one big reason he left town, a tangled mess of old hurts and new feelings might destroy friendship. Love. Might destroy everything.
Warning: This book contains a couple already in love, a couple falling in love and a couple in love who didn't know it; also multiple scorching sex scenes including girl with boy, girl with two boys, boy with boy and two boys with girl...whew!
Comments
34 comments posted.
Re: Rule Of Three

I understand the thought but really would the
intimacy be as intense...it is simply a fantasy, like
being in the sandwich between Daniel Craig and
Gerard Butler.
(Carla Carlson 8:41am March 13, 2012)
oh man there went that fantasy down the tubes. Now every time
i think two hot guys i'm going to think double the dirty
socks. Ugh.
(Patricia Eimer 9:19am March 13, 2012)
One hot man is enough for me!
Blessings,
Marjorie
(Marjorie Carmony 9:29am March 13, 2012)
THREE IS A GOOD NUMBER!
(Silvana Moscato 9:35am March 13, 2012)
I'd be up for a double homicide.
(Mary Preston 9:48am March 13, 2012)
I could learn to live with it!
(Lisa Elwood 9:55am March 13, 2012)
Carla - now THAT's a hot sandwich!!
Patricia and Mary - LOL we can still have the fantasy!
Blessings to you too Marjorie, thank you! And yes three is a good number Silvana!
(Kelly Jamieson 9:56am March 13, 2012)
I think the good outweighs the bad... :D
(Kelli Jo Calvert 10:08am March 13, 2012)
I feel it depends on the people who are involved and if thay are able to
share without wanting to kill.
(Vickie Hightower 10:17am March 13, 2012)
Oh, what a dilemma to consider - LOL - I'll take it, any day of the week! As Lisa Elwood commented, I could learn to deal, as well. ;-)
(Felicia Ciaudelli 10:19am March 13, 2012)
Wow! Two pairs of Blistering Hot everything...Hmmmm...YES I could go for that. Never tried but if 3 could get along I think it would be very interesting. And for some reason I don't think I would have to be waiting and wanting for anything :). Now I have to wait All Day..haha. Thanks
(Margie Gagarin 10:33am March 13, 2012)
Oh by the way Kelly...FANTASTIC cover!
(Margie Gagarin 10:36am March 13, 2012)
Thanks Margie it IS a hot cover isn't it!
A delicious dilemma, right Felicia? ;-)
LOL Kelli Jo and Lisa...and Vickie you are right and that whole jealousy issue is another blog post!
(Kelly Jamieson 12:25pm March 13, 2012)
Dealing with double of the downside... no thanks LOL...
(Colleen Conklin 1:01pm March 13, 2012)
Too funny, Kelly. I lived in a all male household, though just one hubby, lol, and their brains just don't work the same way. But at least with my boy's, they are trainable. Add to that, the jealousy and potential hurt feelings, I don't thing a menage my reality would work. Love them though in my fantasy life, so keep them coming.
(Cathy MacDonald 1:12pm March 13, 2012)
I love the fantasy of having two men but in reality I don't
think it would be for me. It's hard enough keeping one guy
happy and living with his foibles I couldn't do it times two!
(Ilona Fenton 2:11pm March 13, 2012)
Well, one way to avoid the whiskers in the toilet (what a truly gross thought, BTW!), is to make sure they both have beards that they don't shave off!

For me, I think the worst part would be trying to train TWO guys to remember to put the toilet seat down!!!

However, the loving trade-off just might make it all totally worthwhile!

Later,

Lynn
(Lynn Rettig 3:14pm March 13, 2012)
Yes. I dont like to share so it would not be a good fit for me.
(Kiki Winn 6:10pm March 13, 2012)
Lynn, oh yeah, the toilet seat, LOL!!

Thanks Cathy, it's hot fantasy, right?

Ilona and Colleen, thanks for commenting!
(Kelly Jamieson 6:10pm March 13, 2012)
Wow two for the price of one,count me in.
(Deb Pelletier 6:28pm March 13, 2012)
While I love reading about it I think this one is going to stay a fantasy.
(Tabitha Monroe 6:30pm March 13, 2012)
Hey it's fantasy remember. These guys would be hot to live
with right?!
(Lenna Hendershott 6:43pm March 13, 2012)
There are always pros and cons, but hopefully the pros come out on top.
(Mary C 6:53pm March 13, 2012)
Hi Deb, Lenna and Mary - that's the attitude! And Tabitha, I know what you're saying!
(Kelly Jamieson 7:01pm March 13, 2012)
Hey Kelly! I have a husband and a son, so I haven't controlled a tv
remote in about four years! #sickofboyshows
(Kim Brooks 8:17pm March 13, 2012)
Where I live, I get 3 Canadian tv channels, so that wouldn't be a problem. My Husband helps with the cooking, so if I could find a younger model with the same attributes that also does laundry, there could be possibilities. lol Mine is also more of a neat freak than I am, so I don't have to yell too much, except when it comes to dirty dishes, except for the fact that I don't yell or nag. It would be nice to fantasize about other things, though to fill in a few gaps. Thank you for making me smile, feel guilty, and feel bad, all in the matter of minutes. lol I haven't read a book like yours before, and I'm sure it would be quite an eye-opener.
(Peggy Roberson 10:13pm March 13, 2012)
LOL Kim! I can relate.

Peggy, I like how you think! Maybe you'll give my book a try.
(Kelly Jamieson 10:40pm March 13, 2012)
I think I would go crazy with two men to keep track of. I can't seem to keep up with my husband as it is. Plus it would be even harder deciding things like what's for dinner. Plus I would have more in-laws to deal with and how do you keep track of who you asked to do what? They would probably do lots of ..."oh, you must have asked him not me" and then give me the little smirk.. LOL
(Patti Paonessa 11:42pm March 13, 2012)
*wishes to win*
(Lola Tchucci 10:37am March 14, 2012)
Although I can fantasize about 2 hot guys, I'd prefer one hot guy to live with and another hot guy to join us on the weekends or when the mood stikes!
(Jan Terry 12:40pm March 14, 2012)
Patti, you also make some good points. ;-)
Fingers crossed Bryanna!
And Jan that also sounds like a good fantasy!
(Kelly Jamieson 6:09pm March 14, 2012)
So much testosterone!! While the attention would be intense and hot as an everyday living situation I would have really really have to look at every side of this situation to see if my Alpha female personality could deal 24/7......
(Marcelle Cole 10:13pm March 14, 2012)
I think with three there would be more posturing and the alpha male instinct would always be trying to compete. I think there would be battles and incivility towards each other sparking debates on overdrive.
(Alyson Widen 9:35pm March 15, 2012)
Never tried a three-way but I think it would be great unless they were more focused on each other than on me! Also the other two in my menage would have to be male; I'm not good at sharing my toys with others..
(Dana Wong 4:39am March 16, 2012)
Registered users may leave comments.
Log in or register now!