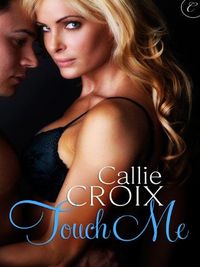 Purchase
Carina Press
January 2012
On Sale: January 1, 2012
Featuring: Alex Montoya; Tianna McIntyre
ISBN: 1426892977
EAN: 9781426892974
Kindle: B0068APOPC
e-Book
Add to Wish List

Romance Contemporary | Romance Erotica Sensual
Arriving home on leave from his tour of duty, Army Captain Alex Montoya knows there's a beautiful woman waiting for him—his best friend's sister. She's always been off limits… until now. He fully intends to move them out of being "just friends" and encourage her to release the sexual needs he senses she's buried deep.
Tianna McIntyre is starting over after her marriage ended. Her ex-husband weakened her self-esteem and caused her to deny her true sexual desires. But being around Alex brings all her dormant fantasies to the surface, and now Tianna feels the stirrings of her secret, submissive wishes.
Determined to help repair the damage Tianna's ex did to her self-worth, Alex will use whatever means necessary to convince her they're meant for each other, including tying her down to make sure he has her full attention while he takes her to the heights of pleasure she's always dreamed of...
Comments
32 comments posted.
Re: Touch Me

My favorite kind of hero is a cowboy...I love the ranch themes...Thanks for sharing...
(Dawn Staniszeski 9:59am January 30, 2012)
I love romantic suspence with a rough around the edges Hero.
(Annetta Stolpmann 11:07am January 30, 2012)
I love western setting/cowboy stories. I'd love to win this book.
(Wilma Frana 11:22am January 30, 2012)
I like the old-fashioned type of romance stories. I'm not referring to romance back in former centuries, but just on the innocent side. That leads me into heroes. I like a man that is strong, but knows when to be tender, and has a kind heart. Cowboys would fall in that category, as well as soldiers from WWII, for example. I would love to read your book, however, since I do love romance in general. It would make for a good read here in the North, with a cup of hot cocoa. I'm sure my eyes will really open up, and some snow will melt in the process!! lol Everyone does have a wilder side, and it's time for mine to be resurrected.
(Peggy Roberson 11:45am January 30, 2012)
HI CALLIE! TOUCH ME SOUNDS AWESOME AND KNOW IT'LL BE A
WINNER!! CONGRATS! LOVE MEN IN UNIFORM!!
(Linda Bass 11:46am January 30, 2012)
We all have a wilder side!!!
Blessings,
marjorie
(Marjorie Carmony 12:11pm January 30, 2012)
I love friends to lovers stories or sibling of best friend to lover stories.
(Anne Muller 12:18pm January 30, 2012)
I love almost all romance -- especially if it is an historical, cowboy, or men in uniform. I do enjoy friends to lovers romances. My husband and I dated as friends for 6 months before we realized we actually loved each other. Everyone else knew we would get married the night we met at a wedding rehearsal where he was Best Man and I was Maid-of-Honor.
(Cathy Phillips 12:20pm January 30, 2012)
Wow, I wasn't even aware of the military romantic suspense genre! I'll have to check it out.
(Kelli Rolvaag 12:26pm January 30, 2012)
I like second chance stories as well as marriage of convenience stories. I love military and law enforcement heroes. I like their honor code and their bravery.
(Stacie Deramo 12:43pm January 30, 2012)
Any kind of hero in any setting is my favorite type of book. Hero's are always remembered and it doesn't get any better than that. Callie your book Touch Me sounds like a best seller. I wish you the best with it.
(Cheryl English 12:53pm January 30, 2012)
Ilove suspense type romance and my favorite type of heros are polic officers
(Shirley Younger 1:16pm January 30, 2012)
Give me fiesty! I like the fiesty you-can't-get-me ones. I
have pigeon-holed myself in mysteries with that type of
romance twisted in, but this year I promised myself I am
going to try ALL books. Touch Me sounds like it's going to
shoot to the top of the bestseller list and I would love to
win a copy! As always, I pass books on when I am done!
(Patti DelValle 1:26pm January 30, 2012)
thanks for the great book giveaway.
WTG on your creative writing skills.
Love the man of mystery type of heros.
The strong, quiet, sense of humor type.
Hey a reader can dream eh.
(Dayle Butler 1:44pm January 30, 2012)
I love the rakehell coupled with the good girl.
(Beth Elder 1:53pm January 30, 2012)
I love a man in a uniform...or out of it :). A military man is a man after my own heart...Special Ops or Navy Seal.
(Robin McKay 2:03pm January 30, 2012)
I love all kinds of heroes. The kind to banter,
the kind that is the saving brute, the funny
almost too good, all though must be brought
"whole" by the heroine, and she by him.
Sometimes there is nothing like opposites that
compliment each other, the dreamer and realist
for example.
(Carla Carlson 2:30pm January 30, 2012)
I like heroes who have a sense of humor! There's nothing like a quirky little smile and a twinkle in the eye!
(Marguerite Guinn 2:38pm January 30, 2012)
I love men in uniform and the men in the military are sexy even out of uniform. This sounds like the book for me. Good luck on your new series of books.
(Kathleen Yohanna 4:00pm January 30, 2012)
I haven't read much of this type ... sound interesting!
(Susan Jeffers 5:06pm January 30, 2012)
Boy dates girl ,boy lose girl, boy gets girl.
(Deb Pelletier 5:09pm January 30, 2012)
I love to read books about Navy Seals. I would love to win your book. Thank You
(Linda Hall 5:58pm January 30, 2012)
I love I've had a crush on you forever books and also men in uniform.
(Patti Paonessa 9:11pm January 30, 2012)
Love them all!
(Mary C 11:17pm January 30, 2012)
omg send me alex!!! sounds like a great read!!!
(Jennifer Beck 11:40pm January 30, 2012)
I like friends that become more. Some of my favorite heros are military, firefighter or cowboys. Touch Me has been on my wish list for a while. Thanks for the post.
(Lisa Kendall 1:24am January 31, 2012)
I'm easy - I love them all!
(Barbara Hanson 8:21am January 31, 2012)
Oh, yes, the sexy man in uniform! *shiver*

I love reunion stories too, if they're done well with lots of emotion. And I've also been known to drool over a sexy cowboy hero as well.
(Kaylea Cross 11:38am January 31, 2012)
I like sibling rivalary. Used to be common in the old HQ's. Favorite-Just the Way you Are-Freehy
(Lisa Elwood 3:49pm January 31, 2012)
My favorite hero is a Lord something-or-other in a historical romance. My
"Lord" is a man in need of a strong woman to make his life complete. Throw in
the fact that she's a governess and he is a widower with several children and I
have to say, "Sigh. Be still my beating heart!"
(Connie Fischer 4:02pm January 31, 2012)
I like them all. So sue me!!! I like a story that keeps me engaged and laughing.
(Maude Allen 8:27pm January 31, 2012)
My favorite theme in romance has food interwoven throughout and possibly recipes to keep the comforting feelings going. My hero tends to have a few bad habits offset by being nice at intervals.
(Alyson Widen 6:15pm February 3, 2012)
Registered users may leave comments.
Log in or register now!