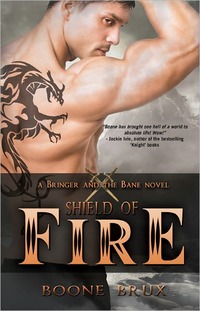 Purchase
Bringer and the Bane #1
Entangled
December 2011
On Sale: December 6, 2011
Featuring: Rhys; Ravyn
330 pages
ISBN: 1937044335
EAN: 2940013470347
Kindle: B006J2PU80
Trade Size / e-Book
Add to Wish List

In one night, Ravyn's life plunges from barely tolerable to deadly. Forced to flee the only home she's known, she stumbles headlong into the clutches of Icarus, a powerful demon intent on stealing her powers. Unfortunately for him, she has no intention of cooperating.
When Rhys realizes the woman he's rescued from the Bane Demon is no mere human, his obligation as a Bringer dictates he protect and train her in the ways of his people. But he's unprepared for the intense desire he feels for the fiery Ravyn. To surrender to his need may mean her death.
As the Demon King's desire for ultimate power escalates, fathers are slated against sons, and foes are made allies. The Bane threat upon them, Rhys and Ravyn must quest to unite the last of the Bringers—and explore a passion too powerful to ignore.
Bringer and the Bane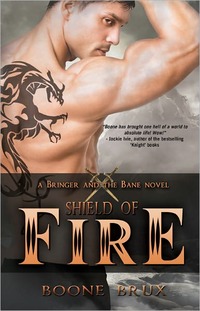 Shield of Fire
#1.0
Amazon.com | BN.com | | |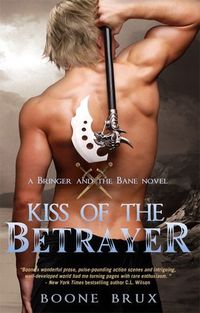 Kiss Of The Betrayer
#2.0
Amazon.com | BN.com | | |
Comments
28 comments posted.
Re: Shield of Fire

I know so many boys and grown men who are gamers. So many an active video game. Some can help them get active or exercise their mind with brain games.
(Na S 2:19am December 9, 2011)
Teenage boys have a tendency to like video games or electronics, like iPods or
new phones. To get them something healthy, though, sports-related items may
be better so they can actually get out instead of stay in all day. :)
(Hyunjin Jeon 8:39am December 9, 2011)
I love giving gifts to kids that are art related. I think they enjoy creating something so I have always bought drawing pads, drawing pens and pencils, etc. They have so much out there right now to keeps the minds active
(Julie Parrish 8:55am December 9, 2011)
I like Jennifer Estep's YA series... but I think most books make a good gift...
(May Pau 8:59am December 9, 2011)
What about a small brain teasing puzzle? My son loves these. You can find them made out of wood, metal or a favorite of ours are the clear plastic 3D puzzles found at B&N.
(Christine Stack 9:00am December 9, 2011)
I don't have any teenage boys in my family, so I'm at a loss. I normally knit hat and scarf sets for charity, so that would have been my first idea. A good pair of gloves to keep their hands warm is one idea I had. At that age, their hormones are kind of odd, if memory serves me correctly, and they're not exactly into reading, so the one thing I thought of was perhaps a small gift card to maybe Barnes and Noble if there's one in your area? This way they would have no choice but to get a book or perhaps more, and start reading. Maybe that would get them started either into the reading bug, or finding a book about a hobby that would launch them into a lucrative career down the road. Maybe even a wallet or a watch would be nice for them, too. I think boys are hard to buy for. Hope it helped you a little. Have a Merry Christmas and a Happy New Year!!!
(Peggy Roberson 10:53am December 9, 2011)
Teen boys like electronics! iPods, and definitely new earbuds! They're always
breaking them. Most of them are gamers as well, so any type of electronic
game or related items will usually work. You'd probably do well with some
kind of male body spray too, as they're always drowning themselves in that. ;)
Things like biking gloves for bicycle tricks, or cool baseball hats are good
gifts for this age too.
(Debbie Burdeen 11:14am December 9, 2011)
I have 3 boys, as far as what to get a teen-aged boy I'd say cologne. I know all my boys like Curve cologne and you can get that at a decent price at Walgreens. They also love getting McDonald's gift certificates. I think it's awesome that you do this BTW. I only took one tag off the tree at our church and it was to get an adult female a Barnes and Noble card because I felt a connection with her since I'm addicted to books! Have a great weekend and good luck with your book!
(Renee Pajda 11:22am December 9, 2011)
teenage boys - computer games usually involving guns, blood and gore and smellies believe it or not!
(Barbara Hanson 11:36am December 9, 2011)
My mother always choose children 8-11. She thinks that people choose children and toddlers or teens and the 8-11 years olds get less attentiom. I'm not sure that's true, but it's the thought that counts and someone will be happy.

The youngest in our family is 38, so I can't help you with gift suggestions. I think Renee's suggestion of gift certificates to a multi chain fast food restaurant is good.
(Anne Muller 11:40am December 9, 2011)
my boys like cars and trucks (motorcycles, etc anything with
a motor and wheels whether it's a model to put together, a
remote control or even hot wheels cars to collect), fishing
stuff, hunting stuff and of course video games and
electronics

I think its great what you do, it'd be wonderful if more
people were like that
(Roxanne Rhoads 11:50am December 9, 2011)
Teenage boys... I have no clue... my nephews are 10 & 3. The oldest one wants a pogo stick this year...
(Colleen Conklin 12:48pm December 9, 2011)
Four year old boys like trains!
(Cynthia Netherton 12:53pm December 9, 2011)
Teenage boys want teenage girls.
Blessings,
Marjorie
(Marjorie Carmony 2:30pm December 9, 2011)
I have to agree with Marjorie "Teenage boys want teenage
girls" so I suggest Axe deodorant as most teenage boys thinks
baths are an every other day or so occurrence. :)
(Lisa Richards 2:59pm December 9, 2011)
I think you have a wonderful addiction. My son is in college and I would say that sports, music and video games are popular. The blanket is a great idea and the Nike black athletic socks are very poplular. Didn't you know that you wear your shorts with black socks now?
(Maureen Emmons 3:36pm December 9, 2011)
Hope to win, sounds like a good book
(Debbie Ellis 5:01pm December 9, 2011)
Since our family only has boys, I've never gotten to buy girl presents for Christmas. Every year I give Barbie Dolls to the Brown Santa and Toys for Tots. My nephew finally had a little girl and I'm now waiting not so patiently for her to turn 3 so I can give her firts Barbie.
(Maude Allen 5:55pm December 9, 2011)
Boys want computer games and sports equipment
(Shirley Younger 7:29pm December 9, 2011)
Yup, electronics. Sums it up for about 99% of teenage boys. Love the blanket
idea, always good. The only other YA books I can think of would be Hunger
Games. And then there is awlays chocolate/candy! Always a crowd pleaser.
(Lexi Hansen 8:57pm December 9, 2011)
cd"s or dvd's. p.c.cast has some great ya books.the house of night series..merry christmas!!!
(Jennifer Beck 9:26pm December 9, 2011)
You can't go past T-Shirts for teen boys. I find there are some great shirts around.
(Mary Preston 9:51pm December 9, 2011)
When my four boys were teens we used to buy them T-shirts with
their current interests (games or goth etc.)or stuff like
puzzles (the really challenging mental type),male interest
pendants and also toiletries (the kind that appeals to teen
girls). Hope this helps :D
(Ilona Fenton 12:58pm December 10, 2011)
Books come to mind in a sport or theme with cars or computer games. My boys who are older now still love those winter hats with the snow flaps or nordic ones.
(Alyson Widen 1:34pm December 10, 2011)
A gift card to Best Buy or anything electronic
(Shirley Nienkark 4:46pm December 10, 2011)
I never was at a loss for coming up with gifts for my three boys when they were teenagers. They loved anything sports-related, because they played various sports, computer games, gift certificates for the roller-skating rink, McDonald's or pizzas, winter gloves, caps, heavy winter socks, art supplies (for my artist son), and starter tool sets for tinkering on their bicycles, etc. Always fun to buy for and never a problem--even tho everyone says that girls are so much easier to buy for.
(Linda Luinstra 5:39pm December 10, 2011)
Thank God for people like you. When I was
seperated and divorced, working two jobs to
keep things going, not knowing what to do for
Christmas, I got a call to pick up something for
my children..someone had put my children and
myself on a list, and I later found out it was the
peditricans secretary, for gifts. I cried the
moment I saw the packages. Humbling and truly
grateful, I can recall that moment and the look
on my children's faces Christmas morning. Over
the years when I have extra I find myself
choosing a boy and girl from a tree, hoping to
give a chance to another family that I was given.
Many blessings to you this Holiday and always.
(Carla Carlson 1:17pm December 11, 2011)
These were all such great ideas. I know I'm late posting, but I did take all
these to heart. Thanks you all so much. Hehe, did my shopping for next
year early. Score! There will be some very happy boys next Christmas.
(Boone Brux 12:24pm January 8, 2012)
Registered users may leave comments.
Log in or register now!