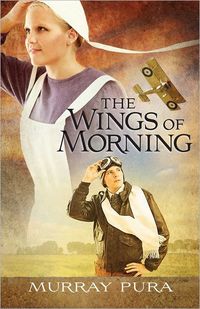 Purchase
Harvest House Publishers
February 2012
On Sale: February 1, 2012
Featuring: Jude Whetstone; Lyyndaya Kurtz
304 pages
ISBN: 0736948775
EAN: 9780736948777
Kindle: B006UALXR8
Trade Size / e-Book
Add to Wish List

Inspirational Historical | Inspirational Amish
Lovers of Amish fiction will quickly sign on as fans of award-winning author Murray Pura as they keep turning the pages of this exciting new historical romance set in 1917 during America's participation in World War I.
Jude Whetstone and Lyyndaya Kurtz, whose families are converts to the Amish faith, are slowly falling in love. Jude has also fallen in love with flying that new-fangled invention, the aeroplane.
The Amish communities have rejected the telephone and have forbidden motorcar ownership but not yet electricity or aeroplanes.
Though exempt from military service on religious grounds, Jude is manipulated by unscrupulous army officers into enlisting in order to protect several Amish men. No one in the community understands Jude's sudden enlistment and so he is shunned. Lyyndaya's despair deepens at the reports that Jude has been shot down in France. In her grief, she turns to nursing Spanish flu victims in Philadelphia. After many months of caring for stricken soldiers, Lyyndaya is stunned when an emaciated Jude turns up in her ward.
Lyyndaya's joy at receiving Jude back from the dead is quickly diminished when the Amish leadership insist the shunning remain in force. How then can they marry without the blessing of their families? Will happiness elude them forever?
Videos
Comments
33 comments posted.
Sounds like a book I want to read so would love to win it
(Shelly Itkin 10:43am March 26, 2012)
I, too, would like to read it and winning is always good.
(Mary Hay 10:54am March 26, 2012)
Just love these kinds of book. This sounds like a great book to read. Would like to wind this book. Thank you
(Diane Castiglione 11:17am March 26, 2012)
Love your review of history. Good for you!
Blessings,
marjorie
(Marjorie Carmony 11:18am March 26, 2012)
The Wings of Morning looks like a wonderful book. I would love to win a copy - but even if I don't win, I plan to get the book to read. The description has me intrigued. Best of luck with it!
(Nancy Reynolds 11:26am March 26, 2012)
I love books with Amish themes. This sounds like one I'd like to read.
(Wilma Frana 11:35am March 26, 2012)
Amish themed books are probably my favorite, so I know I would love to read it. Thanks for the contest!
(Becky Darmogray 12:09pm March 26, 2012)
Sounds great! I would love to read this... winning is even better. Thanks!
(Ladette Kerr 12:30pm March 26, 2012)
Sounds like my kind of book. Please enter me! What a wonderful post.
Thanks for sharing
AprilR
(April Renn 12:49pm March 26, 2012)
I love variety and this has a very different premise than anything I've read. Sounds very intriguing and thanks for the chance. What a great way to find a new author.
(Jeanne Sheats 12:50pm March 26, 2012)
I love to read historical fiction Murray and this sounds like
you have a winner on your hands!! My grandma will be 98 in May
and she is always telling me about her past which so many
things a re hard to imagine now.
(Mishelle Nofziger 12:55pm March 26, 2012)
Love historical fiction,
(Jettie Parrish 12:58pm March 26, 2012)
I grew up hearing so many stories of WWII, but not many of WWI. This book should be a very interesting Amish twist on that earlier war.
(Sue Farrell 1:05pm March 26, 2012)
This is one of the books I have on my wish list, it would be nice if I won it, lol! Thank you for the chance.
(Wendy Newcomb 1:09pm March 26, 2012)
Have to say after reading books upon books I have never read a story
about the Hamish community, I am intrigued. This sounds a very romantic
story and I would like to see how it pans out.
(Sheila Eyre 3:21pm March 26, 2012)
Sounds lovely! congratulations!!
(Christy Comstock 3:55pm March 26, 2012)
sounds like as good read..
(Mal Kaplan 4:33pm March 26, 2012)
I'd love to read more early 20th century stories!
(Cheryl McEwen 4:52pm March 26, 2012)
Book sound like a great story. Thanks for giving me a chance to win it.
(Linda Hall 5:16pm March 26, 2012)
What an interesting post. I hadn't realized that the Amish refused to fight and that they were punished for it.
(Maureen Emmons 5:41pm March 26, 2012)
This book sounds exceptionally good. I love Amish-themed stories and set during WWI makes it even more interesting. Loved the post!
(Linda Luinstra 5:49pm March 26, 2012)
Sounds great. Would love to win this.
(Grace Irelan 5:59pm March 26, 2012)
I just Love Amish books and this won sounds like a GREAT ONE hope I am lucky
enough to win it
(Shelly Itkin 6:09pm March 26, 2012)
Sounds like a book I'd enjoy reading with the era in which it takes place and the history.
(Rich Cook 6:18pm March 26, 2012)
Wow, after reading your intro I really started to think of how it was back in the day. All the new inventions and the way of life that was changing and it happened so fast really. It was like the closet opened and it was a door of discovery. I'm sure it changed peoples attitude, their perspective on life and where they wanted to be in this new changing world. It opened doors to new adventures and a whole new way of adapting and living. While all this was going on , the people that believed they had what they needed already in the land and what they could make of it without all this newness probably did get pushes and nudges to go with it even though it wasn't their belief. This is good, it really made me sit back and think of the past without AND with the changes that really did come rather fast. I've not really read books like this but it sure did catch me. It is a time I never really thought about but I now will definitely check it out. This book sounds fantastic and something to give thought to.
Thank You
(Margie Gagarin 7:12pm March 26, 2012)
I would love to read THE WINGS OF MORNING thank you. It looks wonderful.
(Mary Preston 8:27pm March 26, 2012)
Amish books hold my interest, because I've been through a few towns where they reside. Also I know in small towns, the people at auctions tend to let things go cheaper for the Amish because of being neighborly and showing concern for hardworkers.
(Alyson Widen 8:40pm March 26, 2012)
This is right before my Father was born. He was born in 1922, and currently is in a rehabilitation facility, after suffering from a fall. For some reason, it has affected his memory to a degree, and he comes and goes from past to present, talking about his childhood. This book would be such a wonderful sense of comfort to me during this time to fill in some time and perhaps be able to read to him during his "grumpy" times. I enjoy reading Historical books anyway, and am currently reading a book about WWII. This book sounds wonderful, and I can't wait to get my hands on it!!
(Peggy Roberson 9:05pm March 26, 2012)
Would love to win a copy of this book
(Johnda Scott 12:03pm March 27, 2012)
Sounds interesting.
(Shirley Nienkark 1:34pm March 27, 2012)
I would love to win a copy of Wings of Morning, it sounds like an awesome read.
(Pat Howard 2:02pm March 27, 2012)
The Amish are interesting people. I didn't realize they did not fight in the war, but I am facinated by their lifestyle.
(Gladys Paradowski 5:25pm March 27, 2012)
I would really love 2 win a copy of this book. i love your books take care god bless
(Lois Sausedo 2:01pm March 29, 2012)
Registered users may leave comments.
Log in or register now!