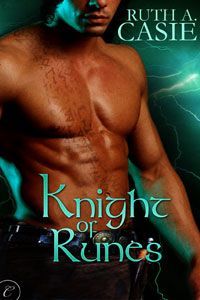 Purchase
Carina Press
November 2011
On Sale: November 14, 2011
Featuring: Rebeka Tyler; Lord Arik
ISBN: 1426892586
EAN: 9781426892585
Kindle: B005UPRNVY
e-Book
Add to Wish List

When Lord Arik, a druid knight, finds Rebeka Tyler wandering his lands without protection, he swears to keep her safe. But Rebeka can take care of herself. When Arik sees her clash with a group of attackers using a strange fighting style, he's intrigued.
Rebeka is no ordinary seventeenth-century woman-she's traveled back from the year 2011, and she desperately wants to return to her own time. She poses as a scholar sent by the king to find out what's killing Arik's land. But as she works to decode the ancient runes that are a key to solving this mystery and sending her home, she finds herself drawn to the charismatic and powerful Arik.
As Arik and Rebeka fall in love, someone in Arik's household schemes to keep them apart, and a dark druid with a grudge prepares his revenge. Soon Rebeka will have to decide whether to return to her time or trust Arik with the secret of her time travel and her heart.
Comments
31 comments posted.
Re: Knight of Runes

Sometimes it is nice to escape to another time, Thank you for providing one for us.
(Teresa Miller 10:27am November 14, 2011)
I love time travel stories. It is amazing how women today are so independent and how men of the past freak out when a lady does not need them.
(Barbara Hanson 10:35am November 14, 2011)
When my day is stressful the best thing I can do is read...Time travel is the best way to escape my day for a while...With tea, hot bath and a good book makes my bad day go away!!!!
(Leisa Prater 10:57am November 14, 2011)
I love time travel stories and that cover is yummy.

Thanks for the post and the chance to win.
(Patti Paonessa 11:24am November 14, 2011)
Travel stories are a lot of fun and very romantic. I still haven't read the Outlander series but I will! Strong ladies in the past do impress me just because it wasn't easy being independent. I've been meaning to forever but have been saving it for a time I can really appreciate it. Congratulations on your release. A Knight of Runes sounds like a great read.
(Na S 12:00pm November 14, 2011)
I don't usually read time travel stories, but this one sounds fascinating. Thanks for giving me a chance to win a copy of your book.
(Anna Speed 12:35pm November 14, 2011)
I love time travel stories. This sounds like an interesting one.
(Kathleen Bianchi 12:41pm November 14, 2011)
I love time travel stories. This is a new author for me and always looking for new authors and books to check out. I would love to win and read, thanks for the giveaway and the chance to win.
(Chris Bails 1:03pm November 14, 2011)
were you able to pick the guy for the cover it stand out and
it tell the book i like the blurb on it and would love t read it
(Desiree Reilly 1:45pm November 14, 2011)
Being a big fan of the "Outlander" series, this book looks great to me. I do hope it's available in print, so I can find it in my local retailer (sadly, NOT my local Border's anymore!).

Later,

Lynn
(Lynn Rettig 1:54pm November 14, 2011)
Sounds great... it has been some time since I last read a time travel book... thanks for sharing!
(Colleen Conklin 1:58pm November 14, 2011)
Congrats on the release Ruth!!! I fell in love with Rebeka and Arik from the moment you told me about them :)
(Eliza Knight 2:30pm November 14, 2011)
This book sounds AMAZING! The cover alone would have me buying it ;~)
Time travel books are my all time favorites! Borders was the ONLY
bookstore in my area, and it is so upsetting that now we have none. This
prize being an ebook is awesome! I have an e-reader on my wishlist!
(Stefanie Finn 2:35pm November 14, 2011)
@Teresa Miller - I enjoy the escaping part too.

@Barbara Hanson - Putting an alpha man and woman together
was a challenge but working things out were rewarding.

@Leisa Prater - What I love most about reading is I can be
anywhere at any time in history that I want to be.

@Patti Paonessa - Yes, he is yummy. I blew up the cover to
8.5x11 and keep it by my desk for inspiration!

@Na S - Outlander is a wonderful book. I met the author,
Diana Gabaldon in NY this past July. What a wonderful
experience.

@Anna Speed - I hope I hook you onto this genre. I find the
mixing of attitudes and cultures make for a great story.

@Kathleen Bianchi - Thanks for stopping and leaving a
comment.

@Chris Bails - I hope you win and enjoy the read.

@Desiree Reilly - I wish I was able to pick the guy on the
cover. I would have LOVED to be at that photo shoot!

@Lynn Rettig - Unfortunately, this book will only be
available in ebook format and as an audio book (which, by
the way, I can't wait to hear!) later this month.

@Colleen Conklin - I hope you read and enjoy the story.

@Eliza Knight - Arik's been talking in my ear - he wants
another story. You'll get to hear about him again soon.

@Stephanie Finn - I had a copy of cover made as a skin on my
cell phone - everyone seems to like him.

Everyone - thank you for your warm wishes. It's been an
amazing time writing the book and watching it be published.
I promise you that my stories will be about strong men and
empowered women and the unexpected challenges that they
face. I hope their stories become your favorite adventures.

With warm regards,
(Ruth Casie 3:40pm November 14, 2011)
I enjoy reading Historical and Time Travel fiction. Having the
local include Ancient Britain just adds to my need to read.
(Nora-Adrienne Deret 3:42pm November 14, 2011)
Love the cover, the story as me very interested.
(Elizabeth Rodriguez 4:26pm November 14, 2011)
My favorite part of time-travel stories is how all the issues are resolved in the
end--go or stay, access of travel left open, one decision made and lasting. You
can never really guess except when family does not exist. Keep up the good
work. Thanks!
(Sandra Spilecki 4:55pm November 14, 2011)
@Nora-Adrienne Deret - I'm glad the story interests you.

@Elizabeth Rodriguez - Yes, the cover. I love the cover!

Thanks for stopping by to leave a comment and for your good
wishes.
(Ruth Casie 4:57pm November 14, 2011)
I love time-travel and Historical stories, combine the both... Heaven!!
(Lorraine Rodriguez 5:01pm November 14, 2011)
@Lorraine Rodriguez -

It's a wonderful match. I'm glad you like the concept.
(Ruth Casie 5:49pm November 14, 2011)
I love time travels and was so excited to see Knight of Runes download on my Kindle today. Can't wait to read it!
(Jennifer Sampson 6:24pm November 14, 2011)
I love time travel stories, yours sounds great. Also love the cover. Thanks for giving me a chance to win and read your book.
(Linda Hall 7:46pm November 14, 2011)
Got to love an Heroine who can kill ass. Good for her ,and us.
(Deb Pelletier 8:50pm November 14, 2011)
I always thought writing was like painting too! Stories come easy for me because it's like a movie playing through my mind.

I remember my first time travel, it was Pirates by Linda Lael Miller followed by her Knights. She made me fall in love with time travel!
(Darlene Stewart 9:54pm November 14, 2011)
I am intrigued. Thanks for the giveaway!
(Jennifer Beyer 10:47pm November 14, 2011)
I'd love to win this book, thank you for the giveaway =D

emilytardy@yahoo.com
(Emily Tardy 11:28pm November 14, 2011)
I love time travel books. This one sounds yummy.
(Lisa Kendall 12:20pm November 15, 2011)
@Jennifer Sampson - Thanks for sending the picture on your
Kindle. It really made me smile.

@Linda Hall - The cover, it really is awesome. Thanks for
leaving a comment.

@Deb Pelletier - Yea, she really is something else. I had a
lot of fun with the interaction between Rebeka and Arik.

@Darlene Stewart - Linda Lael Miller is a one of my favorite
authors too.

@Jennifer Beyer - Your welcome. Thanks for stopping by.

@Emily Tardy - Thanks for stopping by.

@Lisa Kendall - I'm glad you stopped by.

Hi everyone - thank you all for making the release of Knight
of Runes so special today. It was a wonderful day.
(Ruth Casie 1:02am November 15, 2011)
@Sandra Spilecki

The element of time travel creates so many possibilities for
a story, resolution of something left undone or taking
action to prevent something from happening in the future.
Thanks for leaving a comment.

... Ruth
(Ruth Casie 1:10am November 15, 2011)
I can tell you are a true poetess with the written word. You put your heart and soul into your books, and I'm in "distress" because I haven't been able to read your book yet. It does sound like something to curl up with on one of these cool Autumn nights, and be taken to another time for an evening or two. Thank you for a wonderful posting, and all the best on your book!!
(Peggy Roberson 12:16pm November 15, 2011)
Time travel and runes what a fascinating premise. I love that it's in Mesopotamia which is also a small town in Ohio.
(Alyson Widen 8:43pm November 16, 2011)
Registered users may leave comments.
Log in or register now!