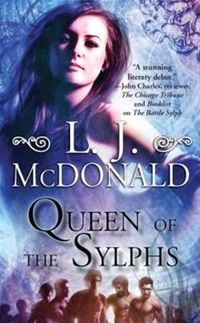 Purchase
Dorchester
September 2011
On Sale: September 6, 2011
336 pages
ISBN: 1428512160
EAN: 9781428512160
Kindle: B005LJEW2M
Trade Size / e-Book
Add to Wish List

It was a dream come true. Solie had her own battler, a creature of almost infinite magic who could vaporize legions in the blink of an eye and would willingly suffer a thousand bloody deaths to protect her. She was his love. More simply, she was his queen.
Many others feel the same. The new-built settlement is a haven for all. Erected by sylphs of earth and fire, air and water, the Valley is Solie's dominion. But, lovers without peer or killers without mercy, the very nature of their battler protectors means peril. It is not in any sylph's nature to disobey, and while some are hers to command, others are the slaves of Solie's enemies—the jealous, the cruel. Those who guard her must not fail. Their peasant-born ruler is not yet safe as...
Comments
19 comments posted.
Villain to hero is great!
Blessings,
Marjorie
(Marjorie Carmony 6:48am October 13, 2011)
The best villains and heroes are exactly the same, separated by the thinnest of moralistic lines. Different sides of the same coin. So should a villain become the hero? if it is done realistically,why not!
(Diane Brixius 7:06am October 13, 2011)
I root for the bad guys they are hot. Do you know you look like ally sheedy?
(Sarah Colbert 8:27am October 13, 2011)
Some of the bad guys are just soooo good!
(Barbara Hanson 8:37am October 13, 2011)
I would have to say the best villian turned hero would be Professor Snape from Harry Potter. I will not ruin it for those who have not read the books, but he does good at the end. I think that most villians do have some hero in them, they just are not sure how to bring it out.
Thanks for the chance to win. You are a new author for me and am always looking for new reads.
(Chris Bails 9:59am October 13, 2011)
Everyone has both good and evil inside them. This is where free will comes into play. A villain choses his own selfish desires over the more noble action. Anyone can be corrupted if he or she choses wrong over right. And a villain can change and chose the more altruistic action.

Your book sound fascinating and I would love to read it
(Monica Vargo 10:26am October 13, 2011)
If the villian has not crossed the line of no return, he can always have a change of heart and do the right thing.
(Beverly Beltz 10:54am October 13, 2011)
I was addicted years ago to those "bodice rippers" (sometimes it's still nice to read one) but there was this theme that ran through them for a year or so, which was the intolerable acts and behavior of the "hero". He was able to kidnap, rape, leave, harm, and return all to have her character grown to love/need/can't live without him. The characters to vivid that I remember the story lines today, the way you could hate him only to have him realize that she is everything (hopefully grow from her family trying to kill him/losing everything/going through his revenge/etc) and then my heart would skip a beat and tears roll down my face. Yes, I believe villians can become heroes - it happens in real life, people grow as do the characters that one creates, life lessons are learned, sometimes great acts of heroism will change everything - as humans we have this capablility to develop are character, change if we need to - same is true for the characters on paper. I'm left thinking about The Color Purple (the movie) and how much I hated Danny Glover, only to find his character development made me respond to his gift and self inflicted pain in the end.
(Carla Carlson 11:09am October 13, 2011)
Book sounds great.Would like to read it.
(Amy Milne 11:28am October 13, 2011)
I love seeing a villain turned into a hero. Villains can be such interesting characters and so it is great to see how one can be redeemed.
(G. Bisbjerg 12:11pm October 13, 2011)
wow it sound great and the cover is great i love the cover it stand out and would like to read an blog on it
(Desiree Reilly 1:04pm October 13, 2011)
Yeah, it might be nice to have a villain turn into a hero, but I might doubt someone who went from bad to good, unless they were brainwashed into being bad or under mind control. Wonder if someone's written that book yet?
(Michelle Fidler 4:37pm October 13, 2011)
It comes down to a matter of choice and the chance for redemption. Leon is someone I would enjoy reading about.
(Mary C 6:59pm October 13, 2011)
It's always refreshing when a villain sees the error of his ways, and becomes a hero. In many cases, it actually becomes a surprise, when the story is written well, and it's saved for the end of the book. I have not read Queen of the Sylphs yet, adore the cover, and can't wait to read it. After reading the tidbits you've written in your posting today, I'm sure it's going to be just the thing I need to curl up with right now, since the leaves are falling, and it's been on the cold side here. I could use something a bit on the steamy side to keep me warm. Great posting today!
(Peggy Roberson 9:15pm October 13, 2011)
My sister and I were just discussing villians. A well written villian is a great thing. Even better is when an author is able to take a villian and give them the depth to become a hero.
(Jennifer Beyer 9:33pm October 13, 2011)
I do enjoy it when a villian can be turned and characterized enough to become the hero. It makes a good twist on the story.
(Lisa Kendall 9:48pm October 13, 2011)
Professor Snape... The Vinzenzi (sp?) in The princess bride... All good villains...
(May Pau 9:56pm October 13, 2011)
I'll have to think about this.
(Penny Mettert 4:27am October 14, 2011)
Most villains have qualities that I despise. In fact, they delve into the 3 D's: Disappointed, Disgusted and Dismayed -more often than not.
(Alyson Widen 6:57pm October 14, 2011)
Registered users may leave comments.
Log in or register now!