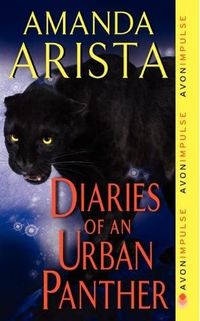 Purchase
Diaries Of An Urban Panther
Amanda Arista
Avon Impulse
August 2011
On Sale: July 26, 2011
Featuring: Violet Jordan; Chaz Garrett;; Specer Haverty
432 pages
ISBN: 0062114743
EAN: 9780062114747
Kindle: B0053JAG1Q
Paperback / e-Book
Add to Wish List

Other Editions
e-Book (July 2011)
Violet Jordan thought the fairy tales her mother wove were just a way to get Violet to sleep, not a way to prepare her for the apocalypse she is the key to preventing. When she becomes a midnight snack for werepanther Spencer Haverty, his infectious bite invokes the first element of her destiny.
When Violet's budding instincts allow her to save a boy's life, she realizes this new gig may come with perks: a slimmer figure, the attention of a handsome Guardian, and insights into her future embedded in her mother's stories. But as push comes to claws, can Violet make the fatal strike against the men threatening her new family, her new home and her first boyfriend in ages?
Comments
70 comments posted.
Re: Diaries Of An Urban Panther

RUN: you would not see me for dust. I would be screaming all the way!!!
(Mary Preston 5:23am August 31, 2011)
Panic, panic... I seriously don't know.
(Theresa Norris 6:37am August 31, 2011)
Me.....I don't know what I would do. I think run as fast as I could and not look back. Be interesting to see what Voliet would do.
(Diane Castiglione 6:39am August 31, 2011)
The last time something jumped out at me, I was on top of the picnic table at our campsite within seconds!! I was about 11 and my dad 'claims' he only cleared his throat, but my 'frozen in place' sis & I know he growled like a bear! we were camping in Yellowstone Natl Park!
(Cate Sparks 6:50am August 31, 2011)
Hopefully I could and would yell and run!
Blessings,
Marjorie
(Marjorie Carmony 7:12am August 31, 2011)
It was funny, something happened the other night to me. I was taking my son and our dog, (who happens to be a former police dog) for a walk at dusk, on a new trail. There are often deer, and a recent bear sighting, even though this is right in the middle of town. We had just got a little ways on the path, and I heard this odd hissing noise. My son said I jumped a mile, and the dog practically jumped up in my arms. Come to find out, at that time, very large sprinklers come on. I had jumped at a sprinkler, I don't think I will ever live that one down.
I would probably jump at first, than panic and run if I met something.
(Debbie Penny 7:25am August 31, 2011)
I think I would lash out and depending on how that went would determine if I continued or if I ran. At least, that's what I would like to think I would be able to do!
(Jessica Badeaux 7:33am August 31, 2011)
scream, wet my pants, and run!
(Diane Brixius 7:44am August 31, 2011)
Running would deffinately be involved, as far and as fast as possible!
(Barbara Hanson 8:03am August 31, 2011)
I'm sure my head would spin around, pea soup looking stuff would fly out of my
mouth and I would take off running and screaming at the same time. Note: This
usually happens when I see a spider too!
Connie Fischer
conniecape@aol.com
(Connie Fischer 8:15am August 31, 2011)
I would just run, pure and simple and not look back!
Linda Cacaci
LinCaca3@aol.com
(Linda Cacaci 9:09am August 31, 2011)
Scream and run...no doubt..lol
(Dawn Staniszeski 9:25am August 31, 2011)
I'm a big chicken, so I'm pretty sure I'd run and hide. :o)
(Melissa Maringer 9:37am August 31, 2011)
Oh, I'd probably feign death.
(Mary Ann Dimand 10:26am August 31, 2011)
If a family member or good friend wasn't with me, I'm sure I'd run. As an older sister, if someone I cared about was with me, I'd protect them first (hopefully, by getting them to haul a$$ too).

If it was some"thing" from a horror movie, like Diane B. above, there'd probably be some leakage too. lol
(Anne Muller 10:27am August 31, 2011)
I would yell then turn around and run like the wind. Maybe I would take the time to say some choice words but not even sure about that!
(Diane Sadler 10:28am August 31, 2011)
I have discovered what we think we will do and what we actually do are two
different things. From having a similar experience I know I would freeze.
(Sandra Spilecki 10:32am August 31, 2011)
As a kid, I would have yelled at them & then ran away. Now as an adult, I stand my ground. My friends think I am crazy because I do stand up to people that they would run from (& some of my friends are female cops too). Being only 5'2" usually stuns whoever it is I am standing up to. So I definitely would throw a punch & then react to the situation accordingly.
(Beverly Beltz 10:45am August 31, 2011)
i am one of those people that would strike out. it is just instinct to defend myself when someone/something is coming at me .
(Tammy Ramey 11:02am August 31, 2011)
I would scream and run just as fast as I could.
(Gail Hurt 11:47am August 31, 2011)
I would probably size up the situation to make the decision of either to go for immediate running or to do a version of punch and run...actually, I would just hope to have my trusty full lenght umbrella and thrust and run.
(G. Bisbjerg 11:52am August 31, 2011)
In my younger days, I would certainly have run. Now that I'm not so fast, I guess I'd have to stick it out and fight...and pray, of corse!
(G S Moch 11:57am August 31, 2011)
I would scream and start beating it with my cane.
(Wilma Frana 11:58am August 31, 2011)
I'm sure I probably wouldn't survive the attack, but knowing me, I would quickly scan my surroundings, looking for anything that I could pick up (a shard of glass, anything sharp or a piece of wood, perhaps), that I could use to defend myself, and hopefully maim, temporarily knock out, or kill (which goes against my grain) the animal, so that I could escape. I would have already planned my escape route while looking for my weapon. Although you might think that my plan is impossible, you wouldn't know me very well. Wherever I go, I'm always scanning everything, taking everything into view, and showing things to my Husband, because I know that there are things that he misses. I don't know if it has something to do with my sign of the Zodiac or not, but I've always been that way. As my Husband puts it - "I don't miss a trick!" He does mean it with the best of intentions. I absolutely love the cover of your book, and can't wait to read it. When I'm done, I will be passing it on to my Husband, because I know he'll probably enjoy reading it as well. Congratulations on your book!!
(Peggy Roberson 12:07pm August 31, 2011)
Running would not be an option. Hope I would try to defend myself.
(Sheila True 12:12pm August 31, 2011)
I would like to say I would knock the person/creature out with a karate chop then run like heck to get away; but I would probably freeze in place and hopefully scream to get someone's attention.
(Jody Hollenbeck 12:27pm August 31, 2011)
It would depend on my mood and where I was. I would probably scream and hit, bite or scratch. I love your cover.
(Christine Arcidiacono 12:28pm August 31, 2011)
Punch, scream and RUN!
(Darnell Davis 12:38pm August 31, 2011)
I would scream and start hitting. I have done that when anyone sneaks up on me. One time my brother in law came up behind me while I was vacuuming. I didn't hear him so when he tapped me on the shoulder I hit him with the vacuum nozzle.
(Rita Wray 1:09pm August 31, 2011)
I would jump and swing out my arm with a scream included and then run...
(Colleen Conklin 1:11pm August 31, 2011)
I love panthers. they natures most unique cat.
(Anthonia Sharp 1:15pm August 31, 2011)
Thank goodness I carry hot pepper spray aka legal mace. I would hope
that I would stand up for myself and keep myself at a distance from
physical attack. I loved how Mr whedon wrote Buffy as someone you
wouldn't think would fight by her looks, going down dark alleys, having
things jump out..I'm not like that, looking for trouble, but not crazy to
flight and make it hunt me down.
(Carla Carlson 1:17pm August 31, 2011)
I would swing as hard as I could knocking the heck out of it.You know where my momtold me to kick when I was a kid. I am not a fast runner so I need to use my brains after my punch.
(Chrislin Payne 1:18pm August 31, 2011)
I heard running is not such a good idea. Its like literally playing a game of cat and mouse. I would hopfully be smart and calm enough not to run, but throw thing and make enough noise to scare it and attract other poeple, who hopefully will run and he can chase them. Sorry people.
(Elizabeth Rodriguez 1:22pm August 31, 2011)
I AM A NATIVE NYC GIRL...YOU THINK A MERE BEAST WOULD STAND A CHANCE UP AGAINST ME?
(Silvana Moscato 1:23pm August 31, 2011)
I'd be catnip!!! PANIC, SCREAM, RUN then be eaten!!! It would be bad. Nope utterly catnip!!! But I spicy Latina, so maybe he die after of severe heartburn!
(Lorraine Rodriguez 1:29pm August 31, 2011)
I'd like to think I would stand and fight, but I know I am
more likely to throw something and RUN as fast as possible in
the opposite direction (the throwing would be to distract the
'nasty thing out of the shadows' LOL).
(Ilona Fenton 1:39pm August 31, 2011)
I tend to act first think second. So I think I would jump in surprise and then do something, anything. I tend to get the shakes after something happens. And, of course, I would pick apart my actions after the fact.
(Jennifer Beyer 2:06pm August 31, 2011)
Violet sounds like fun. I would try to arm myself with something useful ... they tell me that wasp spray is even better than tasers.
(Shirley Nienkark 3:40pm August 31, 2011)
Yup, running is a bad idea and they say to never look back something may be gaining on you. I hope I would stand my ground and face the creature. Staring hard at the predator can intimidate and cause it to turn away. However, there would be a big puddle of pee at my feet.
(Rosemary Simm 3:59pm August 31, 2011)
Wow, this sounds like what nightmares are made from. Scary good!!!
(Cheri Oggy 4:12pm August 31, 2011)
I would be so scared. Definitely a coward... and not afraid to admit it. :)
(May Pau 4:45pm August 31, 2011)
I avoid horror movies and saw a sneak peak of the thriller, The Debt, last night starring Helen Mirren. If I saw a beast, I'd probably use the self defense lessons from a class in the 70's to protect myself.
(Alyson Widen 5:26pm August 31, 2011)
I would see who or what it was first and if it was scary, I would run away as fast as I could!
(Cheryl Lynne 5:56pm August 31, 2011)
I know I prepare myself to defend! It must be the 6 yrs I served in the Army but my startle reflex is to protect.
(Marcelle Cole 6:04pm August 31, 2011)
I would be so scared---I just hope I could run as fast as I can and not just freeze.
(Sue Farrell 6:05pm August 31, 2011)
I'd like to think I would punch and run, but in reality I'd probably be scared stiff and frozen in place. In other words a sitting target.
(Ellie Wright 6:06pm August 31, 2011)
Scream, run and lock the doors.
(Deb Pelletier 6:32pm August 31, 2011)
I would do the one truely honorable thing a woman can do....Scream like a girl then run like hell. Yep, that's what I would do.
(Maude Allen 6:37pm August 31, 2011)
scream and kick them in the crotch!!!!
(Jennifer Beck 7:04pm August 31, 2011)
I grew up in a very bad neighborhood on the east coast and my dad and brothers taught me how to defend myself. Since I have had this happen for real I can honestly say I would fight and do some significant damage before they ran away. LOL My pop was a marine drill sgt and I have some really quick ways to cause lots of pain. My friends all laugh and tell me they never want me mad at them.
(Patti Paonessa 7:42pm August 31, 2011)
I've been so sheltered all my life, this is a doozie of a question! At this age and health, I'd probably suffer a heart attack. If I live through that, I'd try to scream, but since I know *that* wouldn't work (on oxygen 24/7), I'd probably just dance in place or run in circles...LOL.
(Sheila Calabretta 7:58pm August 31, 2011)
the horror movie are good i can not watch them at night have night mares but book l love them and will read all of them
(Desiree Reilly 8:41pm August 31, 2011)
I've been known to holler and throw things in the general direction of the predator.
Good luck and happy writing!
(Tracie Travis 9:08pm August 31, 2011)
I would scream.
(Kara Lepard 9:52pm August 31, 2011)
I'd be RUNNING. Thanks for the great buy on Kindle. Can't wait to read your book.
(Kathleen Bianchi 10:33pm August 31, 2011)
HI, I just tried to buy your e-book for 99 cents and it was listed as $3.99! I really like the 99 cents better.
(Kathleen Bianchi 10:40pm August 31, 2011)
I would scream and run.
(Linda Hall 11:36pm August 31, 2011)
I would definitely scream. Depending on what exactly it is, running may not be the best idea (plus I'm super slow, so I probably wouldn't get away anyway!). I would look around for some nearby object to use as a weapon. By the way, I spent a good deal of my teen (and not-so-teen) years devouring candy and horror movies as well. Good times!
(Kelli Rolvaag 11:39pm August 31, 2011)
If something jumped out of me, I would fall over dead of a heart attack. I read too many mysteries and true crime, lol.
(Vicki Hancock 1:09am September 1, 2011)
I'm a scaredy cat, so I would probably faint dead away. If not that then I hope I could run screaming into the night, and not just be frozen to the spot.
(Lisa Kendall 1:12am September 1, 2011)
Poop my pants!!!
(Joanne Bozik 12:47pm September 1, 2011)
As a kid, my sister and I loved watching scarey, horror movies late at night together. In so many of them, the soon-to-be victims would stand there. We're screaming, "Run, run" at the TV set! I know if something jumped out at me, I would run, screaming loudly. Taking your chances, getting away, is better than doing nothing.
(Linda Luinstra 5:31pm September 1, 2011)
I'm by no means a heroine. So I might have a heart-attack, scream (though I'm not a screamer), run (can't do that with a walker). If the walker isn't loaded with groceries, I'd probably valiantly use that as my weapon, though it's really not much of one. Or I could throw the groceries at what/whoever is trying to frighten or hurt me.
(Sigrun Schulz 7:00pm September 1, 2011)
I looked at Amazon.com and B&N to see if I could get the e-book. However, it's $4.58 at Amazon and a similar price at B&N. I thought there might be a password or code here, but I can't find anything.
(Sigrun Schulz 7:17pm September 1, 2011)
Knowing me run which i don't particularly like but if they catch me then i am going to fight till whatever hopefully i win the fight.You could say to them i have a contagous disease if you have the time to say anything.I am not going to be walking in the dark alone anyway unless it is a matter of life or death.Usually i just faint if i am seriously frightened that want help for sure.
(Brenda Cushman 7:45pm September 1, 2011)
I'd probably freeze and get killed lol.
(Jeanne Sheats 10:53pm September 1, 2011)
First I'd panic and scream, then I'd run. If it took a swing
at me I'd throw a punch but knowing me I'd miss and connect
with my follow through (with my other hand). I'm left handed
so it might work in my favor comming from an unexpected
direction :-)
(Lenna Hendershott 12:16pm September 2, 2011)
Well, I know those bits of advice like holding my keys between my fingers and trying for the eyes, but I'd be screaming my head off the whole time. I'm a little old to run very fast, but I'd try to get some sort of barrier between the attacker and me.
(Janet Martin 7:52am September 3, 2011)
Due to both knees being replaced, running isn't something
I could do. I remember a woman who saved her husband from
a bear when she swung her purse at it's nose. The nose on
an animal is supposed to be vulnerable, so I would try that
as well as screaming while looking for something I could throw at him. If it were a person, I would probably faint!
(Linda Howell 1:03pm September 3, 2011)
Registered users may leave comments.
Log in or register now!