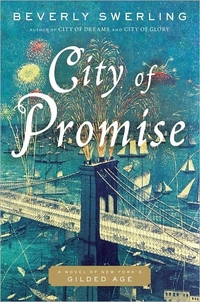 Purchase
A Novel of New York's Gilded Age
Simon & Schuster
August 2011
On Sale: August 9, 2011
Featuring: Mollie Brannigan; Joshua Turner
480 pages
ISBN: 1439136947
EAN: 9781439136942
Hardcover
Add to Wish List

A captivating historical epic set in gilded age New York, City of Promise is the latest installment in Beverly Swerling's popular series.
New York, 1864 – crowds hustle from place to place as horse-drawn trolleys jockey for position on crowded streets. Vanderbilt's new Grand Central Depot and the glittering Ladies' Mile shine as beacons of the city's burgeoning wealth. This is New York in a time of unyielding progress and technological wonder, a bustling metropolis coming into its own, its skyline transformed by the proliferation of ever-taller buildings and by the Brooklyn Bridge slowing rising out of the East River.
Joshua Turner returns home from the War with only one leg, but his ambition intact. He sees opportunity in the city's rapidly changing landscape and conceives a way to capitalize on the exponential growth of a new class of worker, able to afford better than a dreary boarding house. Land may be in short supply in the island city, but Manhattan, Joshua knows, possesses unlimited air. He envisions the apartment house for everyman, and sets out to become one of the city's first real estate titans. Along the way he meets the irresistible Mollie Brannigan, whose upbringing in a brothel has taught her more than she wants to know about men, but will make her his perfect wife.
Comments
47 comments posted.
Re: City Of Promise

Although I am retired, I still find it difficult to grab enough time to read.
However, my husband and I are spending the summer in the cool mountains
of NC. In between hikes we love to read. I love many genres but historical
romances and chick lit are my favorite. With a little more time to read, I hope
to get through more large family books. One I would recommend highly is
"Roses." Even though it is in a different timeframe from what you mentioned,
I also enjoyed reading "The Help." Reading to me is simply enjoying a good
story no matter what the genre or timeframe. Let's all hope that if we don't
get to read everything we want during our lifetimes that there are lots of
books in Heaven! Enjoy your summer and your reading.
Connie Fischer
[email protected]
(Connie Fischer 11:42am June 23, 2011)
Everyone else may have more time to read in the summer, but I'm busy with outdoor activities in the summer and do most of my reading in the winter when it's too cold to go outside. I do have a few book ready to open and read as soon as I get the time, though ---Jodi Picoult's "Sing You Home" and Michael Connelly's "The Lincoln Lawyer" to name a couple.
(Sue Farrell 12:04pm June 23, 2011)
i am going to be reading "Quinn" by Iris Johanson. it is book 2 in a trilogy that is related to her Eve Duncan series,it comes out next month and i can hardly wait.
after that i will probably read something from Garwood,St. Claire and then the 1st three books in Carolyn Jewel's Immortal series.
(Tammy Ramey 12:08pm June 23, 2011)
I remember when my children were of the age that I would take them to the YMCA pool during the summer - that was my best reading times - no guilt. Of course they had swimming lessons and there was a guard so I was able to watch them and read at the same time lol. Now I get most of my reading done at night when everyone is asleep but I always read every day.

I love variety and almost all genres and have so many books swirling in my head. If I am remembering correctly there is a book called The Yellow House that is in your timeframe but over in Ireland. Another book that I'm not positive of the time but I also enjoyed is Maeve Binchy's Circle of Friends.

I've always said I have to live a couple more lives to read all the books I want to read and then I'd probably need a couple more lol.
(Jeanne Sheats 12:16pm June 23, 2011)
Oh I'm soo sorry, I forgot to give the author of The Yellow House - Patricia Falvey.
(Jeanne Sheats 12:18pm June 23, 2011)
I read all the time (when I am not working or riding my horse). Doesn't matter to me what the season is, I will usually find time to read. I am reading a variety of books this summer from mysteries to chick lit. I usually will try to read a few chick lit books between a mystery to break things up.
(Jody Hollenbeck 12:18pm June 23, 2011)
I seem to be into series...love trilogies...leaning toward the paranormal these days...I read 5-8 books a week...love to read any romance...Thank you!!!
(Leisa Prater 12:21pm June 23, 2011)
I've been reading a lot of books this summer, from different
authors like Samantha James, Dean Koontz, Cathy Maxwell, Jenna
Petersen and so much more. I really love books that I dedicate
most of my time reading...
(Lory Diocampo 12:23pm June 23, 2011)
I am re-reading the Stephanie Plum series! It was always so long in between books that I decided to fit them all in this summer :)
(Felicia Sparks 12:26pm June 23, 2011)
I can't stop reading. I just finished a great erotic
called The Harlot, I started this creepy vintage
picture filled time travel/fantasy/mystery called
Miss Peregrines home for Particular Children. I
did enjoy the above mentioned Roses ... it
reminds you of Giant. There was Cold Mountain if
you didn't get a chance to read it. I think it all
depends on what your preference in the storyline
is... maybe go back to some classics by taking a
breather from the writers of today- some books
from then can be just as exciting. Let us know
what you do decide on :)
(Carla Carlson 12:31pm June 23, 2011)
I just finished reading Dreams of Joy by Lisa See. It's both a love and relationship story set in the 1950's in China during their Great Leap Forward era. That was when they wouldn't let anyone leave the country, and were striving to grow the most food, and produce the most products, so that other countries would look to them, and be dependent on them. This book will pull on your heartstrings, and haunt you when you read what the people went through, as the author does put some fact behind the story. The only other book that comes to mind that I read recently in the era that you're referring would be Roses by Lila Meacham, which I adored. It's a thick book, but a real page-turner, and will leave you reading late into the night, as it did me.
(Peggy Roberson 12:32pm June 23, 2011)
I love reading, in any season. I have a long list of books to keep me busy this summer, including mysteries and thrillers and plenty of romances.
(G S Moch 12:47pm June 23, 2011)
I read year round, always have. In the summer I sit in my shady yard amidst flowers & birds. I Live in Tennessee and those warm days can run to November so I am outside as much as I am inside.
(Marcelle Cole 1:00pm June 23, 2011)
Well, I'm not reading anything from that era, but I'm reading Watch Me Die by Erica Spindler and I'll be reading the "In" series by Brenda Novak - Inside, In Seconds, In Close, Burning Down The Spouse by Dakota Cassidy, and The Help by Kathryn Stockett, to name a few. :D
(Kelli Jo Calvert 1:45pm June 23, 2011)
I have been reading a bunch of Nora Roberts older books, picked up Lori Foster's newest release, finishes a bunch of historicals, but they were regency books...
(Colleen Conklin 2:21pm June 23, 2011)
MY CURRENT READ IS, " THE FOREVER QUEEN," AND I AM IN IT TO WIN YOURS!
(Silvana Moscato 2:41pm June 23, 2011)
Next on my TBR is Madeline Hunter's Lord of Sin & Lady of Sin. Then I want to find Nora Robert's last two books in her bride quartet. One book I can recommend is Little Women Letters by Gabrielle Donnelly. It includes letters from Jo March that were 'written' in the late 19th century, mixed with the current day lives of her descendants in London.
(Diane Sallans 2:56pm June 23, 2011)
Wow, lots of interesting books I need to check out. I'm always up for a new good book!
(Fresh Fiction 3:54pm June 23, 2011)
I am currently reading Heather Graham's Home In Time For Christmas. I have recently read The Bracelet and Twins Under His Tree by Karen Rose Smith. A Taste Of Desire by Beverley Kendall, and How to Woo A Reluctant Lady by Sabrina Jeffries to name a few.
(Cathy Phillips 4:18pm June 23, 2011)
I'm an avid reader all year long, but ironically I find I get distracted easily in the Summer. I devote a lot of time towards family gatherings, exploring the outdoors and having picnics. Most of my reading time happens at night when it is cooler and quieter.

Among many, I am planning to read all The Tea Rose and The Winter Rose by Jennifer Donnelly and Outlander by Diana Gabaldon. I have heard so much about these books, I think it's about time I read them. Also Summer Garden by Paullina Simmons, which concludes a trilogy about a love story set admist World World II and the characters are now dealing with the aftermath.
(Na S 4:24pm June 23, 2011)
I just reached out and pulled three books off the pile of recently read and need to be shelved novels. The Paris Wife by Paula McLain will give you a different insight to Hemmingway that will stay embedded with wonder. The Moment
by Douglas Kennedy will take you far away into hard and difficult times and then back to the present. It will leave you sad and haunted for awhile to sort out what you just read. And then the third, Whiter Than Snow by Sandra Dallas. A shocking mishap that tore a town apart. All excellent reads that aren't quite the era you like, but worth reading. All three will be part of my library and for
borrowing only.
(Rosemary Simm 5:06pm June 23, 2011)
I have been reading many books this summer...all different kinds....right now "The Secret Life of Damien Spinelli" I love all sorts of books and authors. All time favorite "To Kill A Mockingbird" by Harper Lee....
(Dawn Staniszeski 5:42pm June 23, 2011)
I'm reading everything Terry Pratchett right now. Not my usual fare, but I am loving them.
(Mary Preston 6:26pm June 23, 2011)
I know this is not the time period that you are looking for, but I always recommend Stephen King to everyone. There are so many great books by him, you can't go wrong. Thanks for the chance at the giveaway.
(Renee Pajda 7:06pm June 23, 2011)
I've picked up the new Lara Adrian Deeper than Midnight, Never Cry Wolf by Cynthia Eden is coming out next week, there's a new Shiloh Walker, Hunter's Fall to name a few.
There is a series by Deanna Raybourn you might enjoy, The Lady Grey mysteries.
(Diane Sadler 7:15pm June 23, 2011)
I love to read. Right now I'm reading "Heart of the Highland Wolf" by Terry Spear. Just finshed five of Lydia Dare's books. Two of her books are about vampires,which is something new for me ,and I hope to read the others books in the series.
(Deb Pelletier 7:32pm June 23, 2011)
i love readiong and am glad i work answering phones so i read at work. c.e.murphy,c.harris,t.spear,and s.king..but i love any thing paranormal!!!
(Jennifer Beck 7:36pm June 23, 2011)
My fondest childhood memories are of reading a book on summer
afternoons.
(Lisa Garrett 7:41pm June 23, 2011)
My recent read is a reissue of a mid-seventies book by Dorothy Gilman. Before she wrote the Mrs. Polifax series, she wrote one called A Nun in the Closet. Nuns, hippies, herbs, drug dealers, migrant workers all mix it up in a hilarious story. For an 18th century historical romance, I liked The Leopard Prince by Elizabeth Hoyt.
(Shirley Nienkark 7:59pm June 23, 2011)
I'm going through my TBR (To Be Read) stack and picking up some more Chic Lits and Mysteries to round out the shelves. A book is with me at all times, because you never know when you'll have to wait and I like to be prepared.
(Alyson Widen 8:03pm June 23, 2011)
A Victorian-era series that I've been enjoying is the mystery series by Tasha Alexander about Lady Amelia Ashton. There are five books out now. Crimson Warning is the sixth, to be released in late October. Too bad it's not out before then.

I'll be continuing to read the mostly YA historical novels by the late Rosemary Sutcliff. I've loved her books since I read one as a YA myself many years ago. As someone said about her books when the film "The Eagle" based on her book "The Eagle of the Ninth" came out earlier this year, that her books never stoop down to the level of children when she writes. She uses normal words that might require people to look them up in a dictionary. She often writes about characters that grow up during the story. She is a very good writer, period. She was one who got me even more interested in history than I already was. I hope her books are more readily available in the U.S. now.

I will also be trying some historical novels by Alison Weir, a new-to-me author. However, I want to read new books by Iris Johansen, Lisa Gardner, Jayne Castle, Tess Gerritsen and others.

Happy reading to everyone.
(Sigrun Schulz 8:13pm June 23, 2011)
I have been reading alot this summer (between working in yard and my plants). Being retired should mean even more reading than usual but but I only read 3-4 books a week. I am reading "A Stray Drop of Blood" by Roseanna M. White now and really enjoying. Just finished reading "Hunter's Moon" by Don Hoesel and "Agatha Raisin and The Haunted House" cute series. I love mystery, suspense and of course romance. Would love to win one of your books..
(Brenda Hill 8:20pm June 23, 2011)
I will be reading some Austen variations, the actual Austen
six, and a plethora of paranormal novels.
(Margay Roberge 8:29pm June 23, 2011)
My summer list is huge. It's weighted down with contemporary and paranormal this year. Catherine Coulter, Sherrilyn Kenyon, Delilah Devlin, Shannon Stacey, Jacqueline Carey, Karen Rose. But, for something historical I am going to read the next Parasol Protectorate by Gail Carriger!
(Jennifer Beyer 8:50pm June 23, 2011)
i have read so much paranormal,vampire fiction i think it is a privelage to be able to have this contest
(Pam LaDelle 9:26pm June 23, 2011)
I find it hard to read with a toddler in the house since she always want my attention... I have some new JD Robb, Julia Quinn and Eloisa James waiting for me to read.... As for book ideas, I love any type of romances so I am not picky! :)
(May Pau 9:44pm June 23, 2011)
I love reading all of the time. Currently I have about 25 books piled by my bed for the summer. My friends and family recommend them and I get them so I don't forget a book that someone said was a good read. It drives my husband crazy. lol I don't read much in that time period. I usually read scifi, fantasy, paranormal so I don't have any suggested reading for you. My children are now grown and gone, but I do remember busy summers trying to keep them occupied and being a mom is not for sissies. So kudos to you!
(Patti Paonessa 9:52pm June 23, 2011)
I read all day long and really love mysteries the best but I read a little bit of everything. I am currently reading American on Purpose by Craig Ferguson. Next in line is The Pawn by Steven James. Thanks for the contest!
(Teresa Ward 10:43pm June 23, 2011)
Right now i'm reading "What Alice Forgot" by Liane
Moriarty,"Generation Dead" by Daniel Waters and some other
books.I have lots of other books but i think its better if i
read them one by one since i actually tend to mix up the
stories lol.
(Kaylie Burgos 11:43pm June 23, 2011)
I am reading Buried Prey by John Sandford and The Land if Painted Caves by Jean Auel. I have no book suggestions for the 1900s.
(Robin Daily 12:06pm June 24, 2011)
I don't get a lot of time to read any more but I'm looking forward to a couple of Maya Banks' books.
(Lisa Kendall 12:55pm June 24, 2011)
reading anything and everything i come across. avg a book a day.
(Julie Barett 8:34am June 24, 2011)
I love reading year round but summer in the south when it's HOT outside is the best time to stay inside and curl up with a good book. I just keep downloading books to my Kindle so I always have a selection to choose from!
(Holly Caulfield 9:10am June 24, 2011)
I only read contemps so cannot recommend a historical, Sorry. I do read an occasional western historical but none to comes to mind. I am currently reading Lori Wilde's The Sweetheart's Knitting Club and am enjoying it very much. Her book, The First Love Cookie Club was v.g. also. Also liked very much Julia London's A Summer of Two Wishes and followup A Light At Winter's End. Carolyn Brown's contemp cowboy books are great - She has a new series book #1 out now and 4 or 5 "Bar" series books which I loved - My Giveadamn's Busted is one of them.
(Pat Lieberman 8:03am June 25, 2011)
Summer is for lighter books, but since I'm a pretty eclectic reader, there's plenty to make me happy. I'm kind of into steampunk these days--loving writers like Gail Carriger and Cherie Priest, but still enjoying thrillers, mysteries, urban fantasy, historicals, and romance--a little bit of everything keeps me balanced.
(Janet Martin 12:46pm June 25, 2011)
I love books with some history to them and this time changees in history is very interesting when people are comeing to have a better live for them selves and there family. Sounds like a great book. Can't wait to read it.
(Diane Castiglione 6:17pm June 25, 2011)
I have several on my to be read shelf, Hannah Howell, Nicola Cornick's last 2 releases, Paula Quinn & a Lora Leigh.
(Marcelle Cole 5:57pm June 27, 2011)
Registered users may leave comments.
Log in or register now!