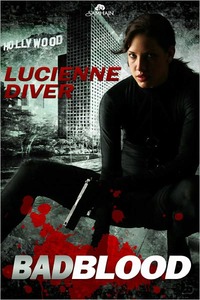 Purchase
The gods play?and mortals pay.
Latter-Day Olympians #1
Samhain Publishing
July 2011
On Sale: June 28, 2011
Featuring: Tori Karacis
144 pages
ISBN: 1609284925
EAN: 9781609284923
Paperback
Add to Wish List

Tori Karacis's family line may trace back to a drunken liaison between the god Pan and one of the immortal gorgons. Or…maybe it's just coincidence that her glance can, literally, stop men in their tracks. While her fear of heights kept her out of the family aerobatic troupe, her extreme nosiness fits right in with her uncle's P.I. business.
Except he's disappeared on an Odyssean journey to find himself. Muddling through on her own, she's reduced to hunting (not stalking, because that would just be weird) brass-bra'd Hollywood agent Circe Holland to deliver a message…only to witness her murder by what looks like the Creature from the Black Lagoon.
Suddenly, all of her family's tall tales seem believable, especially when Apollo—the Apollo, who's now hiding out among humans as an adult film star—appears in her office, looking to hire her. She knows the drill: canoodling with gods never works out well for humans, but she's irresistibly drawn to him. Maybe it's her genes. Maybe not.
Given her conflicted feelings for one hot and hardened cop, it's a toss-up which will kill her quickest. The danger at her door…or her love life.
Warning: Contains pot-boiling passion between a heroine who may—or may not—be a descendant of Medusa, and a hot god and a hunky cop with the…equipment…to handle her, even on her worst bad-hair day. Beware of killer kisses, trickster gods and bearded grandmothers Who Know Everything.
Comments
No comments posted.

Registered users may leave comments.
Log in or register now!