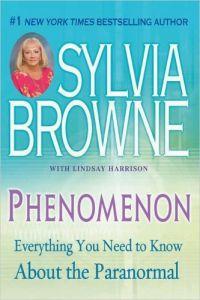 Purchase
An easy-to-use reference full of hope and guidance, Phenomenon is sure to have wide appeal among Browne?s loyal fans and anyone in search of signs of the afterlife.
Everything You Need to Know About The Paranormal
Dutton
September 2005
352 pages
ISBN: 0525949119
Hardcover
Add to Wish List

There's no slowing down for Sylvia Browne. For nearly fifty years she has been giving countless readers and listeners spiritual advice and psychic predictions. Browne offers her fans a complete guide to all things unexplainable. In Phenomenon, an A-to-Z compendium of everything on The Other Side that influence our life here on Earth, Browne provides evocative stories and useful explanations to help make life on The Other Side real for readers. It also features approximately twenty illustrations that will accompany some of the entries, including:
-Atlantis--Where did it go and when will it return?
-Clairvoyance--How do you know if you have the gift?
-Déjà vu--Are past lives the answer to this strange phenomenon?
-Ghosts--Who are they?
-Miracles--Can they happen every day?
-Numerology--How does this affect us?
-Reincarnation--Have we lived before?
-Sorcery--Is this something we should fear?
-Zombies--Are they only in horror movies?

Media Buzz
Montel - August 30, 2006
Montel - August 23, 2006
Montel - August 18, 2006
Montel - July 21, 2006
Montel - June 14, 2006
Montel - June 7, 2006
Montel - April 12, 2006
Montel - April 5, 2006
Montel - February 1, 2006
Montel - January 11, 2006
Montel - November 30, 2005

Comments
No comments posted.

Registered users may leave comments.
Log in or register now!