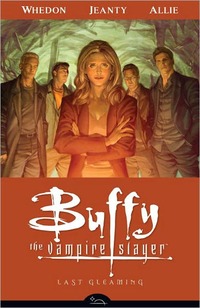 Purchase
Buffy the Vampire Slayer Season 8, Volume 8: The Last Gleaming
Jane Espenson, Joss Whedon
Buffy the Vampire Slayer Season 8, Volume 8
Dark Horse Comics
June 2011
On Sale: June 1, 2011
168 pages
ISBN: 1595826106
EAN: 9781595826107
Paperback
Add to Wish List

The season finale is here! At long last, the Big Bad stands revealed--Angelis back, and it's tearing the Scoobies apart, testing the limits of their friendship. But Twilight's unmasking is only the beginning, and Buffy must still face the ultimate betrayal.
Series creator Joss Whedon writes the final story arc of Buffy Season 8, taking his greatestcharacters to places only he can! Teamed with series artist Georges Jeanty, Joss reunites the dysfunctional gang of Buffy, Angel, and Spike,in the thick of it together for the first time since Season 3, and gives the Scoobies their gravest challenge ever, defending reality itself from the onslaught of demons. It's the biggest Buffy finale ever!
Collects Buffy Season 8 #36-#40.
• This volume also includes the spy-thriller Riley one-shot by Buffy series writer Jane Espenson and artist Karl Moline.
Comments
2 comments posted.
Re: Buffy the Vampire Slayer Season 8, Volume 8: The Last Gleaming

Hello Maria.
The season 8 of Buffy was awesome.
It kept ringing in my mind how things turned out
for buffy and the gang.

electricity comparison
(Jillian Vijado 12:24pm December 25, 2011)
The post is written in very a good manner and it entails many useful information for me. I am happy to find your distinguished way of writing the post. Now you make it easy for me to understand and implement the concept. Thank you for the post. payday loans
(Fantas Magor 4:37am April 9, 2012)
Registered users may leave comments.
Log in or register now!