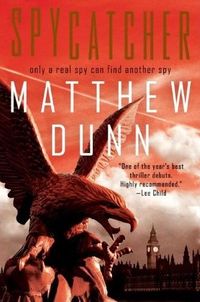 Purchase
Ex-MI-6 agent delivers the real details of being a SPY!
Spycatcher #1
William Morrow
August 2011
On Sale: August 8, 2011
Featuring: Will Cochrane
432 pages
ISBN: 0062037676
EAN: 9780062037671
Kindle: B004NNUX6G
Hardcover / e-Book
Add to Wish List

Other Editions
Paperback (reprint - February 2012)
Matthew Dunn spent years as an MI6 field operative working on some of the West's most clandestine missions. He recruited and ran agents, planned and participated in special operations, and operated deep undercover throughout the world. In Spycatcher he draws on this fascinating experience to breathe urgent, dynamic new life into the contemporary spy novel.
Featuring deft and daring superspy Will Cochrane, Dunn paints a nerve-jangling, bracingly authentic picture of today's secret world. It is a place where trust is precious and betrayal is cheap—and where violent death is the reward for being outplayed by your enemy.
Will Cochrane, the CIA's and MI6's most prized asset and deadliest weapon, has known little outside this world since childhood. And he's never been outplayed. So far…
Will's controllers task him with finding and neutralizing one of today's most wanted terrorist masterminds, a man believed to be an Iranian Revolutionary Guard general. Intending to use someone from the man's past to flush him out of the shadows, Will believes he has the perfect plan, but he soon discovers, in a frantic chase from the capitals of Europe to New York City, that his adversary has more surprises in store and is much more treacherous than anyone he has ever faced—and survived—up to now.
Videos
Spycatcher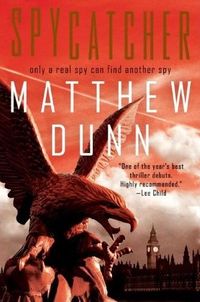 Spycatcher
#1.0
Amazon.com | BN.com | Apple Books | Kobo | Google Play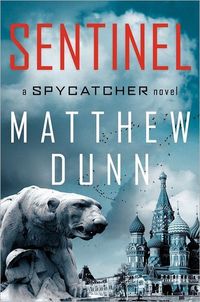 Sentinel
#2.0
Amazon.com | BN.com | Apple Books | Kobo | Google Play

Slingshot
#3.0
Amazon.com | BN.com | Apple Books | Kobo | Google Play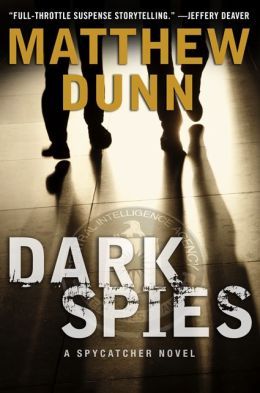 Dark Spies
#4.0
Amazon.com | BN.com | Apple Books | Kobo | Google Play
Comments
42 comments posted.
Re: Spycatcher

Both the reality of a field spy and the story of a field spy are equally exciting in their different venues. In this instance, the author's reality fuels a story and, therefore, readers anticipate an edge made sharper by imagination and a reading experience even more exhilarating than real life adventure!
(Carla Schuller 1:17am August 11, 2011)
What an interesting man! I think you led quite an exciting life, and now you are like a soccer dad with this amazing background. I think this is gonna be one heck of a read! My answer, the man is more interesting than the story, in my opinion.
(Stephanie Bondlow 1:55am August 11, 2011)
Your experience has made you what you are today, a honest man and an excellent and exciting writer.
Blessings,
Marjorie
(Marjorie Carmony 6:48am August 11, 2011)
Cheers to you for writing a novel, drawing from your experiences and adding another 'chapter' to your already full life. I am truly looking forward to reading Spycatcher!
(Kristen Horton 7:36am August 11, 2011)
They say to write what you know. I guess there can be no doubt that you are. I
am so glad that you lived to tell about it.
(Sandra Spilecki 7:43am August 11, 2011)
I think the experience because it puts more heart and soul into your writing. I can't wait to read this book.
(Christine Arcidiacono 8:38am August 11, 2011)
The book sounds fascinating but I am sure the real life adventures are even more amazing.
(Pam Howell 8:58am August 11, 2011)
Very interesting...I love how you used your life experiences to write a book as your life sounds so exciting. Thank you for sharing!
(Dawn Staniszeski 9:15am August 11, 2011)
What an amazing life. I always enjoy hearing about an author's life. Thanks for sharing you stories.
(Diane Brixius 9:18am August 11, 2011)
Sounds interesting. I enjoy reading suspense books. Is there much difference between a suspense and a thriller novel?
(MaryAnne Banks 9:22am August 11, 2011)
I like learning about background in the roots of writing for an author. As another voracious reader, it's the books that talk to me first and I try really hard to listen.
(Alyson Widen 10:25am August 11, 2011)
sounds like a book i would love to read. good luck in selling lots of books
(Rhonda Laney 10:40am August 11, 2011)
The book sounds fascinating. Can't wait to read it. Thanks for
giving me a chance to win it.
(Linda Hall 11:07am August 11, 2011)
Your book sounds like it is going to be a best seller. I'm glad you survived your experiences & are now sharing them with us. Your experience & the story are both exciting...because you have lived it, the story will be more so.
(Beverly Beltz 11:34am August 11, 2011)
I think your life is more interesting than any fictional character you could write about. But your experience will make the book come alive.
(Kathleen Bianchi 12:02pm August 11, 2011)
I favor real life so I think your story is more interesting. I haven't read any/many suspense novels but knowing some about the experiences you bring to your writing tempts me to make your book my first.
(Holly Caulfield 12:09pm August 11, 2011)
Your book seems very interesting. I love suspense novels especially if it impersonates real life. I look forward to reading it if I win or not. Thanks for the opportunity!
(Lorraine Rodriguez 12:44pm August 11, 2011)
Very few of us have the gut, the fire the grab the
dream, to bite life and make with it what we can-
I definitely believe experience takes the cake.
You can describe people, place, things, food,
aroma, but it isn't as good as being there.
Admittedly, reading and experiencing second
hand through story telling is good, but what
would I give to experience life without fear.
(Carla Carlson 12:52pm August 11, 2011)
Your book does sound exciting and there are very few books out there that I think both my husband and I would equally enjoy!
(Jeanne Sheats 12:54pm August 11, 2011)
Because you were a spy and experienced the real world of spies you can write not only a believable story but one with excitement and suspense. Would love to read your book. I am a mystery, suspense reader and love thrills also.
(Brenda Hill 1:17pm August 11, 2011)
I think the story can be more exciting than the man because you can
suspend reality and push outside "the box" of our existence. You can do
the impossible in a story. Miracles rarely happen in real life. I think
because of your life as a spy you can give us more of a "real" story
with the voice of an "exciting" writer. I would love to win this book
and share it with my husband :-).
(Lenna Hendershott 1:23pm August 11, 2011)
Souonds lilke you have lived an exciting and rewarding life and can draw on all of that to write a very interesting book. Thanks.
(MaryEllen Hanneman 1:48pm August 11, 2011)
OOOOHHHHHH Spies!!!! I already like it. Always looking for new ways to get much needed information. Maybe I can pick up a tip or two.
(Elizabeth Rodriguez 1:55pm August 11, 2011)
I think it will be most interesting to read about your life experiences
(Shirley Younger 2:30pm August 11, 2011)
Well, I'd say both are important :-) !
(Birgit Lehner 3:39pm August 11, 2011)
The man's experience cannot help but influence the story he
tells. An exciting element is what is learned from the way
the story is told. What has been said and how it is
expressed, as well as what has not been revealed all creates
an experience for the reader to 'view'. The most exciting
element is the experience each individual reader has as a
result of all of those elements being brought together by
Matthew Dunn.
(Nikki Truhan 4:10pm August 11, 2011)
I think the man's experience because they shape the stories and I bet he has some good ones. I was glad to read that he is finding the boy he lost and I hope you continue the journey. I am looking forward to reading spycatcher
(Kathleen Todd 4:12pm August 11, 2011)
Book sounds unique and believeable
Life experiences can weave a good tale.
Cheers to the writer, what a talent.
(Dayle Butler 6:31pm August 11, 2011)
I love where your passion lies!
(Lisa Garrett 7:36pm August 11, 2011)
I am sure that your experiences would be very interesting to read about but I have to say that I prefer reading fiction.
(Maureen Emmons 7:37pm August 11, 2011)
Experiences in the life of an author always make the stories better. I wouldn't dare try to describe my favorite hangout spot in Paris since I've never been there, but I can imagine all kinds of plots about a fictional place and person. Your experiences must make the action seem more plausable. Can't wait to read this one.
(Christina Harrison 7:57pm August 11, 2011)
I would say the man's experience is important. This way he has stories to write.
(Kai Wong 9:44pm August 11, 2011)
I would have to say that the man's story would be more interesting, because he tends to weave his life's experience in it. He can tell you what he's done in his life, and that can be interesting, but the way he tells you what he's done with his life, which is actually a story, can be much more interesting, because that is when he tends to elaborate more. By that I mean he can go into much more detail about what he did, which in itself is a story. I truly enjoyed reading about your lifes' experience, and I'm sure that England was grateful for your service. It takes a lot of guts to do what you did, and it also takes a lot of guts to raise a family alone. If I wore a hat, I would take it off to you! I am chomping at the bit to get my hands on your book!!
(Peggy Roberson 9:48pm August 11, 2011)
wow... can I say both? I am sure that the man's story would be interesting since every one is interesting in his/her own right.... But stories can be just as interesting too. :) It just depends on how you present both, I guess. :)
(May Pau 10:01pm August 11, 2011)
Yes, I agree that your experience and your honesty have truly made you a great Writer and given you great knowledge in your field of writing too. This books sounds fantastic and I would love to Win it and read it soon too. Thank YOU so much and may God Bless YOU with Success always. Thanks, CECILIA
(Cecilia Dunbar Hernandez 10:23pm August 11, 2011)
I can't even imagine it being real. So I think experience!
(Jennifer Beyer 10:57pm August 11, 2011)
I think the man's experience and the story are intertwined. The story wouldn't be without the experience and the experience wouldn't be voiced without the story. You can't have one without the other. Sounds like an intriguing read.
Good luck and happy writing!
(Tracie Travis 11:47pm August 11, 2011)
I guess spying does rely a lot on "acting" in a certain way. I've never wanted to be an actor, but in my late teens, I thought spying would be a great job, trying to be someone I wasn't and making sure that the international bad guys got their just rewards. A part of that was learning different languages. I soon knew that pinning my life on my ability to act was harebrained. So I learned the languages, but spying? Nay. I'll stick to reading about others doing that.
(Sigrun Schulz 11:52pm August 11, 2011)
The real life experiences of a man are more interesting than any book of fiction could ever be. I love biographies but I do love spy stories. They are a great way to escape one's own dull life. We try to have our own adventures in life and a good book could inspire us to go for it.
(Kathleen Yohanna 4:21am August 12, 2011)
Great review. Nice that you can draw from experience to write this. Sound like a great book and interesting. Good luck with this book. One that I would like to read.
(Diane Castiglione 2:49pm August 12, 2011)
When a story is backed up by a man's experience you get the best of both worlds.
(Shirley Nienkark 12:35pm August 14, 2011)
A little background is always appreciated. It fills in gaps that you may not otherwise be made aware of. I like it when everything fits together.
(Mary Preston 8:59pm August 15, 2011)
Registered users may leave comments.
Log in or register now!