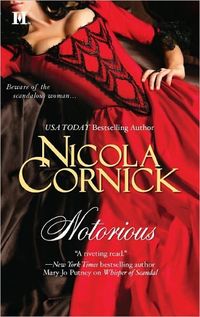 Purchase
Scandalous Women of the Ton #4
HQN Books
July 2011
On Sale: July 19, 2011
Featuring: Susanna Burney; James Devlin
384 pages
ISBN: 0373775830
EAN: 9780373775835
Paperback
Add to Wish List

When the town's most notorious heartbreaker…
Dangerously seductive and sinfully beautiful, Susanna Burney is society's most sought after matchbreaker. Paid by wealthy parents to part unsuitable couples, she's never yet failed to accomplish her mission of diverting a groom-to-be. Until her final assignment brings her face-to-face with the man who'd once taught her an intimate lesson in heartache….
Meets London's most disreputable rake…
James Devlin has everything he's always wanted: a title, a rich fiancée and a place in society. But the woman who's just met his eyes across a crowded ballroom threatens it all. Not because she'd once claimed his heart, or that every sinuous swirl of her ball gown takes his breath away. But because the secrets she carries could cost him everything. To put the past to rest once and for all, Dev just might have to play Susanna at her own wicked game….
Comments
52 comments posted.
Re: Notorious

It would definitely be to travel. I can't get enough of traveling and seeing what
countries, cultures and Mother Nature have to offer. It isn't fair that men should
have all the fun and experiences. Luckily my husband also likes to travel.
Unfortunately in our "old age" we are slowing down a bit. We'll just have to take
it a bit easier and take longer to see everything.
(Patricia Barraclough 1:50am July 29, 2011)
I can see myself scorning a chaperone & raising a few eyebrows.
(Mary Preston 5:25am July 29, 2011)
Working in those times was very hard work so not work. Eloping took all the fun out of your day so again no! But travel - that has possibilities. Yes travel I think although I would have to have a lot of money and traavel in style.
(Barbara Hanson 5:31am July 29, 2011)
Travel,work, elope, why not all!
Blessings,
Marjorie
(Marjorie Carmony 6:31am July 29, 2011)
I would ride astride a spirited horse (not sidesaddle)and not marry an old man for his money; but luckily for me the handsome man I loved is wealthy, so I won't have to cook or clean!
(Jody Hollenbeck 7:07am July 29, 2011)
I love this story because it is so true how hard women had to work for years. I think this generation of women are still trying to prove themselves as hard workers. I would love to travel around and see all of the beautiful sights that we live in today.
(Cheryl English 7:08am July 29, 2011)
MY REGENCY SCANDAL WOULD BE TRAVELING ON MY OWN..I AM IN IT TO WIN IT!
(Silvana Moscato 7:38am July 29, 2011)
I'm so glad it wasn't considered downright scandalous when I first went traveling on my own. Many of my friends did consider it intrepid of me--even traveling to Washington, D.C. on my own. The only real problem I had at that time was trying to find a map to show me where exactly my friends lived in Falls Church, VA. I'd probably have traveled alone during Regency times as well, especially if I couldn't find anybody who wanted to go where I did.
(Sigrun Schulz 8:16am July 29, 2011)
I would be outspoken about things I believe in. I would lift my skirts and
kneel in the dirt in the garden and plant the flowers that I want. If I wanted to
try my hand in the kitchen, I would push the cook aside and do so. Most of
all, I would never, ever let some man talk down to me. Self-respect would be
key in my life. Last, but not least, I would read Nicola Cornick's book,
"Notorious" in church if I wanted!
(Connie Fischer 8:49am July 29, 2011)
Travel while working...what an interesting life this would be during that time!
(Dawn Staniszeski 8:51am July 29, 2011)
These sound great. I love the idea of a political cartoonist. And travelling...definitely I would want to travel, never mind the scandal.
(G S Moch 9:10am July 29, 2011)
Travel would be great. :) Not sure how the conditions would be like back then but I would still like to see more of the world!
(May Pau 9:24am July 29, 2011)
I would definitely travel. I would be outspoken too...fight for women's rights...and injustices. I would definitely be raising some eyebrows! lol :)
(Beverly Beltz 9:41am July 29, 2011)
I love to travel with my mom. She is outspoken & has raised me to be also. What a pair we make...we would create scandals!
(Courtney Beltz 10:04am July 29, 2011)
I would raise horses, go about without a chaperone (only with friends) and
lighten the required clothing load in the hotter months.
(Sandra Spilecki 10:07am July 29, 2011)
Travelling in style to foreign countries would be such fun!
(Cate Sparks 10:26am July 29, 2011)
I would love to travel, there are many countries I would love to see.
(Wilma Frana 11:46am July 29, 2011)
Wow! What a lot of fabulous ideas. I love them! Travel is also one of the things that I would have loved to do in the Regency period, assuming that I could do it in style. Beverly, fighting for women's rights is what the heroine of my next book does and I was right behind her in that. And I also love the idea of all these outspoken women trying their hand at raising horses or doing their own cooking - and lightening the clothing load in hotter months! Thank you all so much for the comments!
(Nicola Cornick 11:52am July 29, 2011)
People were friendlier then and helped their neighbors. I would enjoy the fresh smell of nature the most.
(Christine Arcidiacono 11:55am July 29, 2011)
I would do whatever it took to find love. If it
meant disguise, barging into a ball as if I was
invited, making myself a companion, or traveling
off to search it. The idea of arrangement,
servitude, losing myself strictly for the sake of
priority and society - well society be damned.
There are things worth fighting for, yourself, that
inner spirit inside of you, and love.
(Carla Carlson 11:58am July 29, 2011)
I always love the eloping to Gretna Green stories, so I think I would love to break society rules and cause a few scandals, then elope to Gretna Green.
(June A, Manning 12:01pm July 29, 2011)
I would become a spiritualist and oculist and travel the world like Helena Blavatsky and write of my experiences
(Heidi Durham 12:40pm July 29, 2011)
I would love to be able to travel to see as many foreign
countries as I could. Thanks for giving me a chance to win
your book.
(Linda Hall 12:42pm July 29, 2011)
the only place i like to visit is ireland and then germany
because my family is form ireland and then germany is pretty but your book look great and then the cover is stand out one
(Desiree Reilly 1:18pm July 29, 2011)
I am sure that I would probably have gone out without a proper male family member. I have one sister, a mom, and very few male relatives, so I am sure I would have ventured out on my own or in the company of my sister.
(Renee Grandinetti 1:29pm July 29, 2011)
For me, travel would be my form of rebellion, especially if someone else is footing the bill!

One quibble, however. From everything I've read on history, including and up through a good portion of Victoria's reign, the following statement is not valid: "Servant girls were paid off if they became pregnant." Everything I've read seems very clear that if a servant girl got pregnant, not only was she immediately laid off, she got no reference, and more often than not, her name was spread around the employment agencies as "undesirable," because, of course, she was the person at fault, seducing the men of the house, whether they be other servants or part of the family or visitors.

Later,

Lynn
(Lynn Rettig 1:48pm July 29, 2011)
I love all these independent women who are willing to break conventions for happiness in their time. Very gutsy! I would love to be a photo-journalist, travelling everywhere and taking pictures of news. I imagine it would be scandalous indeed if some of those pictures happen to protray murder scenes, secret meetings between political leaders and perhaps warfare.
(Na S 1:55pm July 29, 2011)
I would be one that would have her nose stuck in a scandalous book... :)
(Colleen Conklin 2:03pm July 29, 2011)
I would be taking myself to faraway places instead of waiting for my hero to come back and do that!
(Dolores Feagin 2:19pm July 29, 2011)
I would do what I wanted to do, say what and how I wanted, when I wanted and how I wanted and not care that anyone thought that I was a scandalous woman
(Shirley Younger 2:28pm July 29, 2011)
I would travel by myself of course! See all the sites and meet as many handsome men as possible. Is that scandalous enough?
(Gail Hurt 3:06pm July 29, 2011)
In hindsight I think I would do everything but marry. I would love to travel and live for the moment. Quite the opposite of what I truly am now lol.
(Jeanne Sheats 3:19pm July 29, 2011)
All of the above! Why only live a little when you can live a lot?
Good luck and happy writing!
(Tracie Travis 5:16pm July 29, 2011)
I'd travel all over the world!
(Jennifer Langford 5:27pm July 29, 2011)
If I lived in the Regency period, I would own and manage the most famous bookstore in London--staffed only with female clerks to encourage other women to be financially and socially independent. I would recruit new authors, negotiate with publishers to support emerging authors, and regularly schedule public programs for all clientele to meet and hear authors and artists from all over the world.

While this would not seem scandalous today, it certainly would have been then.....on so many levels.
(Carla Schuller 5:28pm July 29, 2011)
You know I've read all of your books and look forward to reading more!!!!!!! Joanne B
(Joanne Bozik 5:51pm July 29, 2011)
travel and study into college(oxford) and I would being hard headed wheen it came to marrying someone just because it benefitted the families. I might even attempt cooking instead of having a cook. I loved the character of Merryn she was a lot like I hope I would have been back than.
(Jami Smiley 6:08pm July 29, 2011)
I think the most scandalous heroines are divorced. It was literally almost unheard of and VERY scandalous. But, whether she is re-uniting with her ex or embarking on a new relationship, that is a huge obstacle for the couple to overcome in gaining even a modicum of societal acceptance.

Love all your books and can't wait for Notorious!
(Laura Terhune 6:55pm July 29, 2011)
I would Travel, Travel, Travel and see the World because I have not had any Vacations in over 15 years. Calgon take me away and Please enter me in your great contest too. Sounds like fantastic reading. I cannot wait to read Notorious.
Thank YOU, Cecilia CECE
(Cecilia Dunbar Hernandez 7:08pm July 29, 2011)
Interesting to hear about the real woman who inspired a book. I could see myself being practical about a situation (e.g. sharing a room with a stranger during a snowstorm) and suffering a loss of reputation because of it.
(Carol Drummond 7:13pm July 29, 2011)
Maybe elope and keep working.
(Deb Pelletier 7:48pm July 29, 2011)
I would probably find a way to work without bringing attention to
myself. BUT I would also be reading that scandalous book. And knowing
me I'd be speaking my mind without tact. I try to be tactful but the
words just spill out. I don't intend to hurt but occasionly something
is taken wrongly.
(Lenna Hendershott 9:45pm July 29, 2011)
Hi Nicola! You are one of my favorite authors, and I absolutely love your books. Please keep them coming. Notorious sounds like another winner. I think if I were to do something scandalous back then, I would like to be a romance writer and write books like those written today. I would also like to elope to Gretna Green with one of my heroes.
(Cathy Phillips 10:06pm July 29, 2011)
I think because I have always been quite the prankster, so to speak, and love to laugh and make other people laugh as well, I think I would love to break the mold, and try in some way to pass myself off as a man somehow, and get into the job world as a man. For example, I would dress up as a man, and become a waiter, for example, and keep my voice as low as possible, seeing how long I could keep up the charade. Perhaps I could wear a riding suit and work with the horses, being a rider in someone's court. I would come up with something that I could do that at night would keep me separated from the rest of the men so my identity could remain private. I love the amount of time you took to research the material for your books, and I can't wait to read them!!
(Peggy Roberson 10:24pm July 29, 2011)
Sounds good
(Lynn Lanzon 10:29pm July 29, 2011)
I would love to be an educated woman of business. I think it's a riot that it would be scandalous!
(Jennifer Beyer 10:52pm July 29, 2011)
I have always believed in being kind and respectful, but have never had much tolerance for "silly rules". I fear I would have been somewhat of a radical in terms of the manners and customs of the time. There were so many ridiculous mores that I would have scoffed at. It is just in my nature to question nonsensical ideas and actions. I would certainly have been judged for choosing not to judge others according to their social standing, but rather by their kindness and sincerity.
(Sandra Dennis 11:15pm July 29, 2011)
Sounds like so much fun. A historical twist on the movie with Matthew McC and Sarah Jessica Parker from a few years ago.
(Molly Wilsbacher 11:17pm July 29, 2011)
I would travel!
(Robin Daily 12:13pm July 30, 2011)
Lynn, I think that it was the case that pregnant servant girls were often turned off "without a character." However,from my researches into the Craven family in particular I know that this was not always so - one example I discovered was of a housemaid who became pregnant by the Earl and was paid off with a farm in a neighbouring village. Her ancestors are still around, related to the Cravens down the wrong side of the blanket! I have come across other examples too. Sometimes maids would be married off and the couple set up in a cottage. There are some fascinating cases in the archives which give me lots of story ideas.
(Nicola Cornick 5:31am July 30, 2011)
Thank you all so much for the lovely comments about my books and for all your wonderful ideas for things that women might do in the Regency period. I reckon you have all given me so many ideas for future books!
(Nicola Cornick 5:34am July 30, 2011)
Nicola,
Since I would probably be the spinster cousin of the debutante making her debut I would probably be in the corner of the ballroom with the chaperones but just close enough to her the gossip all around me.

Oh my, is that handsome newcomer Lord Hastings? Didn't his late wife die in an accident while on a secret meeting with her lover? Hum, I'm sure that he would need someone to converse with since everyone seems to be avoiding him. Perhaps I need to go to the other side of the ballroom to make sure cousin Chasity is behaving herself.

Of course I'll gracefully trip and tear the flounce on my gown right as I'm passing Lord Hastings - surely he'll come to my rescue ......
(Jeanne Miro 8:24pm July 30, 2011)
Registered users may leave comments.
Log in or register now!