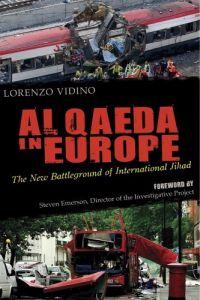 Purchase
Vidino peels back the layers of the al Qaeda networks in Europe and shows how lax immigration and asylum laws, coupled with the availability of false documents and financing, have allowed terrorists to operate in Europe with relative ease.
Prometheus Books
November 2005
300 pages
ISBN: 1591024331
Hardcover
Add to Wish List

The July 2005 London bombings are yet another example of how Europe has emerged as one of the key battlegrounds in the global War on Terror. The region has become a critical "ground zero" for Islamist terrorists, not only as a target but as a base of operations. The implications for the United States are tremendous: under existing law, for example, terrorists carrying European passports could easily enter the country. It is not a coincidence, in fact, that every attack planned or executed against the United States, including 9/11, has had strong European ties.
Al Qaeda in Europe is the first book in English that dissects Islamic terrorism in Europe. Written by Lorenzo Vidino, European expert at The Investigative Project--a Washington, D.C.-based counterterrorism institute and America's largest private data-gathering center on militant Islamic activities--Al Qaeda in Europe fills a critical gap in the understanding of the new threats posed by Islamist terrorism. Vidino analyzes the causes of this dangerous situation while providing an extensive historical overview of Islamic terrorist activities in Europe.
The book shows how terrorists--most of them native to the Continent--raise money, communicate, and hide in plain sight in the suburbs of London, Paris, and Amsterdam. It presents with painful clarity the difficulties that law enforcement agencies worldwide have had in shutting terror cells down. Finally, the book describes three of the most important networks operating in Europe.
Vidino analyzes events such as the Madrid train bombings, the thwarted plot to attack various European capitals with chemical weapons, and the movements of hundreds of European Muslims who are joining terrorist groups in Iraq to fight U.S. forces. Vidino includes fascinating information taken from a dozen countries' original documentation (intelligence reports, indictments, court transcripts), plus transcripts of conversations among al Qaeda operatives that have been intercepted by intelligence agencies. Al Qaeda in Europe is authoritative, informative and written in a lively narrative that will captivate general readers, and become a valuable new resource for scholars and government officials.

Media Buzz
The O'Reilly Factor - September 12, 2006
The O'Reilly Factor - November 25, 2005

Comments
No comments posted.

Registered users may leave comments.
Log in or register now!