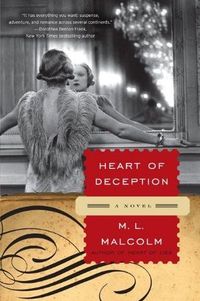 Purchase
Harper
March 2011
On Sale: March 14, 2011
Featuring: Lee Hoffman; Maddy
352 pages
ISBN: 0061962198
EAN: 9780061962196
Paperback
Add to Wish List

From M. L. Malcolm, the acclaimed author of Heart of Lies, comes a powerful sequel that spans the years from World War II to the turbulent 1960s—the riveting story of a family struggling with choices forced upon them by war . . . and the consequences that will take a generation to unfold.
Aman of many contradictions, Leo Hoffman is a Hungarian national with a French passport, a wealthy businessman with no visible means of support, and a devoted father who hasn't seen his daughter in years. He is also a spy.
Recruited by the Allies to help lay the groundwork for their invasion of North Africa, Leo intends to engage in as little espionage as possible—just enough to earn his American citizenship so he can get to New York and reunite with his daughter, Maddy. But while Leo dodges death in France and Morocco, Maddy is learning shocking truths about her father's mysterious past—haunting knowledge that will compel her down her own dangerous path of deception and discovery.
Comments
44 comments posted.
This book looks very interesting. I love to read stories that take place in another place and or time.
(Melissa Maringer 6:31am April 29, 2011)
Love reading about your new book and your hat story! :) I am also watching the royal wedding and looking at the hats... Really would have loved to see pictures of your 70 something hats! :)
(May Pau 9:11am April 29, 2011)
I used to wear a hat all the time when I was younger. They do make a statement about the person wearing them...thanks for sharing today!
(Dawn Staniszeski 9:16am April 29, 2011)
I used to read "Go Dog Go!" to my twin boys all the time. We used to walk around saying, "Do you like my hat?" and we'd crack each other up! I love that you have Hattitude! Good luck with your new book.
(Renee Pajda 9:27am April 29, 2011)
i love hats! i have an entire collection myself. my favorite are my tea hats. these are reserved for when i have a high tea and invited all of my nieces and sister over. they must dress for the occasion and then they get to choose which hat they want. these are hats that look like they came from the victorian age,they are covered in pastel pink and green satins with roses/feathers and netting galore. my nieces swoon every time they get an invitation in the mail because they know it's tea hat time!
(Tammy Ramey 9:35am April 29, 2011)
I don't wear hats but I love seeing the "church ladies" in theirs and they definitely have HATTITUDE. Good luck and happy writing!
(Tracie Travis 10:49am April 29, 2011)
I am envious of women who can pull off wearing a hat. Unfortunately I am not one of them!
(MaryEllen Hanneman 11:09am April 29, 2011)
I love hats but have never felt I look good in them. I love your husband's comment. I think the self-confidence is what pulls it off. I am now determined to wear more hats.
(Renee Brown 12:22pm April 29, 2011)
I never did like to wear a hat, but enjoy seeing them on other ladies.
(Anna Speed 2:16pm April 29, 2011)
This book looks very interesting. I love hats, so it is nice to see people who wear them as well.
(Beth Foster 2:20pm April 29, 2011)
I love hats, but I don;t think they look good on me. So I
settle for knitting them for my older daughter, who loves hats
more than me, I think!
(Margay Roberge 5:00pm April 29, 2011)
My aunt ALWAYS has a hat on. I'm one of those that's not sure she could wear a hat - my face and hair and all. But, I sure do look cute in a baseball cap! ;)
(Kelli Jo Calvert 5:16pm April 29, 2011)
I love hats and used to wear one to church when I was younger. Now I seldom see anyone with a hat unless they are a big city in the North. Florida is too care free.
But you should see my outside in the sun hats !!!!
(Rosemary Simm 5:19pm April 29, 2011)
i just use hats for warmth these days although i've designed many other knitted hats.
(Julie Barett 5:32pm April 29, 2011)
I love your hustband's comment. If you think you look good in a hat then you do. Perfect. I do like the idea of a hat. I really must get back to wearing more than a winter toque.
(Heather Pearson 5:41pm April 29, 2011)
I've never worn hats, I hate the feeling of being pressed down on.
(Kathleen Bianchi 5:54pm April 29, 2011)
There were a lot of amazing hats today at the royal wedding.
(Maureen Emmons 5:55pm April 29, 2011)
Couldn't believe all the hats today, I love hats, but don't think I look good in them.
(Frances Namuth 6:09pm April 29, 2011)
I like hats, but the only kind I wear know are hand knitted winter ones.
(Debbie Penny 6:11pm April 29, 2011)
I love hats, too. The ones we wear by choice and the ones that just happen to us. Both have merit! I have worn in the past: Brownie Scout, Girl Scout, Best Friend, and some really fun and wonderful Easter hats!! Now I wear the hats of: Mother, Social Worker, Friend, Wife, Confidante, and Best Friend. It's been awhile since I have worn a "real" hat! WOW! Shopping excuse! (Smile)
(Sandy Fielder 6:12pm April 29, 2011)

(Sandy Fielder 6:13pm April 29, 2011)
WOW!!! I just read the Olympia Dukakis quote which I am always quoting!!! Isn't it so true! And I also think the ability to assessorize makes us the unique individuals that we are! Accessories really tell the story of who the person is, Don't you think?
(Sandy Fielder 6:15pm April 29, 2011)
I think hats are wonderful---but I'm always afraid if I wear one people will think I'm "putting on the dog" ---I guess I just don't have the right hatitude.
(Sue Farrell 6:24pm April 29, 2011)
I love hats,they are wonderful. Your sound great,Thanks for giving me a chance to win it.
(Linda Hall 6:30pm April 29, 2011)
Another lover of hats! So enjoyed the variety at the wedding of Prince William & Katherine! Of course, you have to look at the photos or videos of the actual wedding to see the lovely variety... Another great venue of hats, Ascot & the Kentucky Derby!!! Such fun!
(Cate Sparks 6:36pm April 29, 2011)
Hats are just so much fun! I found a large sun hat at Talbot's a few years ago, which packs flat in a suitcase and has gone with me on all sorts of family trips. And it protects my fair complexion most fashionably!
(Laurel Chevlen 6:50pm April 29, 2011)
Hats make my head hot & give me a headache so needless to say I am NOT a hat person. I saw some amazing hats & head pieces at the Royal Wedding though. Divine.
(Mary Preston 6:51pm April 29, 2011)
Hats can make the wearers so intriguing...just the way I hope to feel when reading "Heart of Deception". I may even wear a hat while doing so!
(Janice Milliken 6:57pm April 29, 2011)
I love hats! Women love to show their taste in hats at the Kentucky Derby. Everyone loves to see the creations. Even the men participate.
(Linda Leonard 7:02pm April 29, 2011)
Thank you for your post, M. L. I too dig hats, and I hope they're making a comeback. I've read some items on the Web that make me think that's happening.

I wear hats mostly for practical reasons: knit caps and berets when it's cold, sun hats when it's hot. It would be great if I could wear them to make a fashion statement. Or just for fun!

Good luck with your new release!
(Mary Anne Landers 7:19pm April 29, 2011)
I have a big collection of hats and am particularly fond of the ones that have draping netting. For the most part I wear them to church - all the little girls in Sunday School love my hats. At Christmas, one commented that she wanted a hat when asked what she was wishing for during a children's talk in church.
(Carol Drummond 7:29pm April 29, 2011)
I have hats but don't wear them any more. I actually look good in quite a few different shapes of hats but I don't wear them. I don't go places where I would feel comfortable wearing them any more. I couldn't believe some of the wild hats they wore to the wedding today. Fergies daughters were out of control!
(Brenda Rupp 8:37pm April 29, 2011)
My favorite hat is the helmet I wear when I am riding my horse; getting too old not to protect my noggin!

I loved seeing the hats at the Royal Wedding today and especially love seeing the different creations at the Kentucky Derby.
(Jody Hollenbeck 8:55pm April 29, 2011)
I have always wore hats and have always been a fashion statement. Now when I don't wear one people wonder why I am not wearing one. I love the very bold and different ones that stand out the most from the norm. Being different sets me apart and I really enjoy the fun and glamour of it all.
(Cheryl English 9:51pm April 29, 2011)
I don't wear hats but after seeing the Royal Wedding, it makes you see how classy it makes all of the women look. Sounds like a great book to get started with it.
(Vicki Hancock 9:52pm April 29, 2011)
I am definately a hat person, but I think that they're going out of favor, which is a shame. I remember as a child, that they were definately the "in" thing to wear, especially for Easter!! You also wore a hat for church every Sunday. Nowadays, you don't see very many people wearing hats, unless it's cold out, where I live. I'm fortunate that I have the facial shape that I can wear almost any hat, and after reading what you've posted today, I think I might go back to looking at, and wearing hats again. Thank you for making me think twice about them!!
(Peggy Roberson 11:32pm April 29, 2011)
I, too, love hats--not just the "special occasion or church" hats--but the hats
worn in Spring, Summer and Fall. I have two hats I wear for grocery
shopping--one a cowboy hat and one a straw hat covered with "outdoor"
hand painted buttons--and people stop me all the time asking where I got
them (women) and telling me how much they love my hats (men). I wear them
with jeans and even the store workers who come looking for me to tell me my
order is ready always know to look for "the hat lady". It's a great way to meet
people and something to have fun with. So if you think you can't wear hats,
you just haven't found THE ONE that you will fall in love with that will start
you on the way to being a hat collector and more importantly a hat wearer.
Join the fun!
(Sandra Spilecki 8:09am April 30, 2011)
Watching the Royal wedding makes me wish Americans wore more hats. What fun.
(Shirley Nienkark 2:13pm April 30, 2011)
Wore hats when I was young. Loved seeing all the hats at the wedding. I go to an annual tea party each summer where a hat is a must---it's so much fun!!! But I don't "dress up" much anymore:(
(Barbara Studer 9:40pm April 30, 2011)
When I was younger I loved to wear hats, I had collected different colors, and for different ocassions. But alas, I have now comformed to not wearing any. My love is still there, so I really do appreciate other people wearing them.
(Debra Simning-Chapman 1:30am May 1, 2011)
When I was a teenager, my mother's Lioness Club used to have hat sales as fun raisers. I love hats and always got at least one new one at each sale. When most women stopped wearing hats, I stopped, also. I wish I had not. ML has inspired me to consider letting my hair grow longer so it will show under hats. Three cheers for hat lovers.
(Beverly Martin 12:12pm May 1, 2011)
Putting on a hat makes you feel different. I love hats especially the vintage ones. And a bit of lace has me over the top in a veil attached to a great hat.
(Alyson Widen 6:23pm May 1, 2011)
I'm not a regular hat wearer, but I've worn a hat to a high tea. Once in a while I'll wear a hat as protection against the sun.
(Ann Garland 7:17pm May 1, 2011)
Oh, yeah, HATS!! I have a couple which I call my "Southern Belle" hats, but I haven't had a chance to wear them recently. I do have a couple of friends who wear hats consistently, and I thoroughly enjoy guessing which one they will be wearing next. I'm usually wrong, by the way! I'll be traveling to Germany in June, and do plan to get a new "Jaeger Hatte" to replace the one I had, but that I fear has gotten lost in the multiple moves I've made in the last few years.

Both of your books sound completely thrilling to me, being a history fan, especially of the first half of the 20th century and the upheavals that the wars created.

Later,

Lynn
(Lynn Rettig 8:21pm May 1, 2011)
Registered users may leave comments.
Log in or register now!