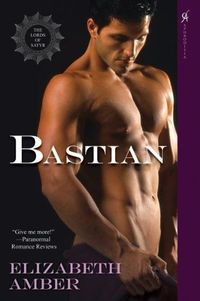 Purchase
Lords of Satyr
Aphrodisia
May 2011
On Sale: April 26, 2011
Featuring: Bastian; Silvia
256 pages
ISBN: 0758241305
EAN: 9780758241306
Trade Size
Add to Wish List

Man-gods born to live and love forever, the Lords of Satyr are renowned for their sexual prowess...and unquenchable lust...
Call My Name
The forum excavations in Rome go on, directed by the iron- willed, charismatic Lord Bastian Satyr. Out of nowhere, a mysterious, haunting voice calls out to him…and lures him to the site of a long-vanished temple, where vestal virgins once performed rites of erotic surrender. The temple is the find of his career, but his heart is about to face the unknown…
Michaela is a pure Ephemeral. She can enter the bodies of others—and become any woman a man might wish to possess. His choice is her pleasure. And the commanding and utterly virile Bastian is the only man she desires...
Comments
64 comments posted.
Re: Bastian

I think friendship can deter certain relationships, especially when one fears losing the friendship to go to another level. I can't wait to see how you treat it.
(Renee Brown 11:58am May 1, 2011)
I CAN'T WAIT TO READ BASTIAN, THE LORDS OF SATYR IT LOOKS LIKE IT WILL BE THE KIND OF BOOK YOU CAN'T PUT DOWN.
(Kris Bowers 12:01pm May 1, 2011)
I would love to win a copy of one of your books!!!
(Cynde Mitchell 12:17pm May 1, 2011)
I am a fan of your books and love that you give us the unexpected in characters and details. Congratulations on your new release.
(G. Bisbjerg 12:24pm May 1, 2011)
it hasn't happened to me, but my sister was friends w/ her now husband for a couple years before they fell in love & married. They've been married for about 35 years and going strong so it certainly can work out well that way.
(d Kenney 12:28pm May 1, 2011)
Wow! This sounds like an amazing series. I was just checking
my bookcase for a new series to start and I have the first
three in this series (I tend to collect until I have 3 or 4
books to start a series). Though it's been decades since I
was balancing the friendship or love in relationships, once
you crossed that line you couldn't go back. Sometimes a
great friend is better than a possible lover.
(Lisa Richards 12:31pm May 1, 2011)
Would love to win a copy!
(Amanda Welling 12:34pm May 1, 2011)
Hi all, and thanks again to Fresh Fiction for having me as a guest today. And thanks to you all for helping me celebrate. Today is officially BASTIAN RELEASE DAY!!
(Elizabeth Amber 12:56pm May 1, 2011)
Hi Renee, I used all the ups and downs of my own friendships and of a particular love triangle (in which I was the Michaela) to fuel the emotions of this frienship. I hope you relate to it and enjoy it. xox ~ EA

Hi Kris, I hope you like it! I really loved writing the romance and sexual tension between Bastian and Silvia. Enjoy! ~ EA

Thanks, Cynde! ~ EA

Thanks, G. I just replied to your email a few minutes ago. I appreciate the kind words and thank you for the congrats. Much appreciated. ~ EA
(Elizabeth Amber 1:00pm May 1, 2011)
Hi d,
My husband and I were a "love at first sight" couple. But I have had relationships that grew from friendship. I love that your sister's story has turned out well. That's so wonderful to hear! xox
~ EA

Lisa, hi,
So true. Once you cross that line, you can't go back. Maybe after many years have passed, but not right away. Bastian is part of the new trilogy within the series; 2nd after Dane. I hope you enjoy it!
~ EA

Thanks for popping in, Amanda!
~ EA
(Elizabeth Amber 1:04pm May 1, 2011)
Unfortunately, I don't think women and men can remain just friends, not close friends anyway. Every male friend I ever had a close relationship eventually hit on me and ruined a great friendship. It's great when it works out but not if you don't feel the same way.
(Pamela Stewart 1:09pm May 1, 2011)
I have not had a friendship turn more... I have to look for your books, have not had the pleasure of reading them yet! Thanks for sharing!
(Colleen Conklin 1:16pm May 1, 2011)
My husband and I were friends first, I guess I need to know some one very well before I am ready to take that next step.
(Tammy Sommervold 1:28pm May 1, 2011)
My husband & I were friends first and I think it's a
great way to begin a relationship because you
already know the good stuff, some/most of the
bad. Plus it offers a good place to start from & to
return to when life gets in the way. As for men &
women being just friends - I don't think that it can
work in the long run. Eventually one or the other
(if not both) will fall in love
(Heather L'Hoste-Hernandez 1:46pm May 1, 2011)
I have never been able to stay friends with someone after we had broken up. There are too many emotions involved but know many people that have been able to remain friends. The book sounds awesome.
(Vicki Hancock 1:47pm May 1, 2011)
Hi Elizabeth,

I was friends with my husband before we got married. In fact, I was dating his friend before John and I discovered that we had so much more in common. We've now been married for 40 years and, still adore each other, even through all our ups and downs.

It's good that Will and Kate have known each other for a number of years as they had a nice firm friendship before gettng married.

Have to go now and start doing Sunday dinner, Roast Beef, Yorkshire Puddings and all the other trimmings.

Warm wishes,

Diane
(Diane Diamond 1:59pm May 1, 2011)
i have had relationships that started both ways. i much prefer to start as friends. if you can't be friends with your lover then you really have no chance in the long run.
(Tammy Ramey 2:01pm May 1, 2011)
Yes, I think Friendship can lead to love and it's one of my favorite things to read about. My first love was my best friend. I knew he had feelings for me for a long time but pushed it away because I cherished our friendship. That all changed on one drunken nights kiss. It was an amazing relationship while it lasted, but sad to say he broke my heart twice and I also lost my best friend. At the time I regretted that kiss after we broke up because I missed my friend, now I feel that things worked out the way they were supposed to. Though my friendship to love didn't work out, doesn't mean I don't love to read about them and I love when they do work out.
(Jolene Allcock 2:12pm May 1, 2011)
I have not read any of your books yet but definately will be. Bastian is one of my favorite names and the story sounds great! Would love to win a copy.

My first love was my best friend but I was always afraid of loosing the friendship. If I had known know that it would not last anyway, I would have done things differently.
(June A, Manning 2:21pm May 1, 2011)
I can't wait to read Bastian!
(Joan Richard 3:34pm May 1, 2011)
No I haven't. But others I know have , seems to work .The book sounds great.
(Deb Pelletier 4:02pm May 1, 2011)
Your series looks like one of the more interesting I've seen
in a long time...can't wait to read all of them!
(Lisa Collins 4:12pm May 1, 2011)
I think relationships work better if your friends first...I still keep in touch with those I dated that were friends first..and I think it is important to be close friends.

I cant wait to read your book !! :)
(Kym Amaral 4:27pm May 1, 2011)
Hi Pamela,
I think this inability to remain friends was the theme of When Harry Met Sally, wasn't it? That's too bad about friendships not working out when one side is interested in more than friendship. I've been on both sides of that equation. Neither is fun if things sour!
~ EA

Colleen, hi,
You're welcome. Thank you for dropping in too. I hope the satyr novels pique your interest if you get a chance to take a look!
~ EA

Hi Tammy,
That's wonderful. It's nice to have time to be friends first. I fell for my husband at first sight, but we took a long time to get to know each other before we married.
~ EA

Heather, thanks for coming by,
It is great when that happens. I have to admit I don't know any hetero men/women friendships that have lasted without some period of there being something romantic between them. Is it possible? Hmm.
~ EA
(Elizabeth Amber 4:51pm May 1, 2011)
My guy and I started out as friends that developed into what it is today. We have been together for years so yes I believe a relationship can start out with friendship and end up as something more and something that is stronger for the friendship.
(Larena Hubble 4:58pm May 1, 2011)
Hi Vicki,
I'm so glad Bastian sounds awesome. Yay! I've never been able to remain friends after a break-up, but I have renewed friendships with former beaus after years have passed. And then things have stayed friendships, possibly because we're all happily married by now.
~ EA

Hi Diane,
So true about Will and Kate. I wish them well. They seem so much in love and I hope that continues (without much paparazzi interference.) Congratulations on 40 years! That does speak well for being friends first. I've never had Yorkshire pudding. Enjoy!
~ EA

Me too, Tammy R,
Those flashfire romances that begin as romance are something though! Mine have not lasted, but I would go back and skip them either.
~ EA

Hi Jolene,

I'm so sorry. Best friends aren't easy to find, and it must've been hard to lose yours. My bff married my boyfriend one summer while I was away at university. It was a painful love triangle. My bff and I are friends again, but that took years to happen.

I'm with you on HEAs. I always write them in my novels. As a reader, I check the back of romance novels to be sure there's an HEA before I read them.

The love triangle in Bastian, develops because of the fact that Silvia must take a series of hosts in order to survive over the centuries. However, this allows her to test Bastian's staying power as a friend and life-partner. Does he love the real her--the one inside these different hosts? She first meets him in the guise of a twelve-year-old boy, so that she can gain employment at the Roman Forum digs. Respect and friendship grow between them. Michaela sees them grow closer and realizes what it means. If Bastian ever learns that Silvia is a woman, things will change between the three of them.

~ EA
(Elizabeth Amber 5:11pm May 1, 2011)
Hi June,
I'm awed that you had the willpower to keep from taking things beyond friendship. I was boy-crazy when I was young. No way I would have been able to resist.
I chose the name Bastian because "bastion" is a strong support in a fortification or building, which made sense for an archaeologist, and also because it also refers to a person who is a strong defender. I'm glad you like it, and I hope you get a chance to try the book! Thanks for stopping in.
~ EA

Hi Joan,
Yay! I'm so glad to hear this. I really hope you enjoy it.
~ EA

Thanks for weighing in, Deb, and thanks for your kind words about my new release. I'm so happy with this one. My bff was asking me at Panera earlier why that is, and I think it's because it's possibly the most romantic of my novels to date and because that romance grew in a believable way from friendship, although there was attraction on Silvia's part right away. And there was banter and snark between them even before Bastian knows who and what she is.
~ EA

Lisa, you are a sweetheart! Thank you. I really hope you get a chance to try Bastian. Let me know what you think if you do and have time to. xox ~ EA
(Elizabeth Amber 5:21pm May 1, 2011)
Hi Kym,
Thank you! I hope you like it.
~ EA
(Elizabeth Amber 5:22pm May 1, 2011)
Hi Larena,
Good to see you! So many lasting relationships here seem to have begun as friendships.
~ EA

Question to all:
In romance novels, relationships often begin with wild passion, and afterward a friendship develops. Do you think that statement is true? If so, why is that what we like to read?
~ EA
(Elizabeth Amber 5:28pm May 1, 2011)
love your books, would love to win one.
(Frances Namuth 5:34pm May 1, 2011)
Yes, I believe that this state is true in the romance novels, and actually it
began that way with my hubby and I ..... Yes I love to read about wild passion,
it keeps the love alive! :)

Can't wait to read this one and more from Elizabeth.
(Vanetta Quintana 5:35pm May 1, 2011)
Wow... sounds like a great plot and a terrific novel.

My husband and I were friends first before we got together... It has worked out well for us.
(May Pau 5:41pm May 1, 2011)
It helps to be friends first before love, but love at first sight does happen, too. I think you can grow into a loving relationship after finding causes in common and getting to know a person better. It's the knowing somebody day to day that increases the chance you may resonate and walk together.
(Alyson Widen 6:21pm May 1, 2011)
i love your books and i love the men in your books!!!!!!!!
(Jennifer Beck 6:26pm May 1, 2011)
I've heard about your books.
(Diane Sadler 6:37pm May 1, 2011)
You had me at Vestal Virgins. BASTIAN looks like an amazing read.
(Mary Preston 6:39pm May 1, 2011)
I'm anxious to try this series.
(Susan Shapley 6:54pm May 1, 2011)
That cover is awesome!
(Renee Pajda 8:11pm May 1, 2011)
A couple needs to be friends to have a long lasting relationship, tho how they get there is often the run part of the story!
(Diane Sallans 8:20pm May 1, 2011)
Looks like a great read!
(Mary C 8:27pm May 1, 2011)
I would love to win one of your books to read!
(Brenda Rupp 8:29pm May 1, 2011)
Hi Vanetta,
I saw your note over on FB that you were headed here earlier. Thank you so much for dropping by to support Bastian!
xox
Elizabeth

Hi May,
That's wonderful! Congratulations.
~ EA

Well said, Alyson. That's more or less what happened with me. Love at first sight, then get to know each other, and then comes HEA.
~ EA

Jennifer, you rock! Thank you so much. I love that you are enjoying the satyr books. I hope you like Bastian, too. I fell in love with him myself, but since he and Silvia seem so perfect together, I let her have him! *grins*
~ EA
(Elizabeth Amber 8:33pm May 1, 2011)
Haven't had the friends to lovers situation, but I can relate to the latter. It wasn't anything serious and all of us still have good relationships with each other.
(Leni Kaye 8:34pm May 1, 2011)
LOL, Mary! You're referencing one of my favorite scenes of all time in a film. I hope you do think it's amazing if you get a chance to read the book.
~ EA

Wonderful, Susan! Fresh Fiction is so good about helping to get the word out about new books to try. I hope you enjoy the Lords of Satyr novels. FYI, the two separate clans, which do not intermingle are:
Tuscany 1820s: Nicholas, Raine, Lyon, Dominic
Rome 1880s: Dane, Bastian (May 2011), Sevin (2012)
~ EA
(Elizabeth Amber 8:41pm May 1, 2011)
Susan (Shapley),
Awesome!
~ EA

Renee, I'm so glad you think the Bastian cover rocks. I do, too! It's my 2nd fave cover, after Nicholas. Although I do kind of prefer Bastian's muscles.
~ EA
(Elizabeth Amber 8:43pm May 1, 2011)
Leni, I'm glad your triangle worked out okay in the end. It speaks well for all involved.
~ EA

Mary and Brenda, I hope you enjoy Bastian if you get a chance. Maybe peek inside in your local bookstore. xox
~ EA

Diane (Sallans),
You're so right. It is the fun part! That thrill of the ride.
~ EA
(Elizabeth Amber 8:46pm May 1, 2011)
What a wonderful excerpt. Thank you for that.

No, I've never had any types of those relationships. However, I have been very fortunate to find my one true love. We celebrated 31 years together this year!
(Cynthia Netherton 9:06pm May 1, 2011)
Thanks for sharing!! Enjoyed your excerpt!
(Dawn Staniszeski 9:24pm May 1, 2011)
Cannot wait to read your book! Sounds great!
(Sherie Lagarde 10:02pm May 1, 2011)
Love after friendship doesn't work. I could never take a friend of mine, and turn it into something more. I think that your lover turns into a friend. I don't know how to explain that one, but it just happens that way. They just seem to go hand in hand somehow. Your book sounds very hot, and I'm looking forward to reading it. Good luck with your book and your future endeavors.
(Peggy Roberson 10:19pm May 1, 2011)
Book sounds great. Can't wait to read it.
(Sheila True 11:02pm May 1, 2011)
Yes, this happened to me, in my senior year of highschool, this guy "frank" liked me, my best friend "sandy" liked him, and but I didnt know, I went to the senior prom with Frank and we dated, for only a month, but I realized he wasnt really what I wanted for a boyfriend, then I found out at graduation that Sandy was crazy for him, I was friends with frank all through highschool before we dated and after prom we never spoke again. until our 20 yr high school reunion. Sandy told me that I played with his feelings and that if I knew he wasnt for me that I should had let her have him, but he didnt want her he wanted me, i just give him his wish, to say that he had the opportunity to be my boyfriend, I never used him or hurt him, I tried to make it work, it was just that we were exactly alike and it was boring, we even had the same birthdays,it was like looking in the mirror, Geminis' need variety and space, well when i was teenager. I didnt know she liked him, snd if so he wasnt interested in her anyway, but we were kids back then. not something i think about nowadays.,
(Lisette Reyes 11:13pm May 1, 2011)
This definitely sounds like an intriguing story. Now that you mentioned them, I can recall reading 4 or 5 books dealing with the Vestals. At that time, I also read up on the Vestal Virgin history and how much they supposedly risked if they were caught in flagrante delicto. I can't remember all the details; this was probably 30 or 40 years ago.

As for the first-friendship-then-love sequence, it didn't happen to me but to my parents. My mother was first interested in my father's best friend's older brother when she was 14. I'm not certain how the whole story developed, but my mother married my father. After more than 40 years together, my father died. By chance, the older brother's wife had recently died as well and while on a trip to Europe, my mother went to see her erstwhile swain. At that point, his feelings for his deceased wife were still too strong. About a year later she got the news that he had drowned while swimming in the Baltic Sea. She was heartbroken.
(Sigrun Schulz 1:39am May 2, 2011)
Unless I miss my guess that's a picture of the Roman Forum. I'm just wondering when it was taken. Did you take it yourself? I was wondering if it looks much different from when I was there in 1975. I just know that they've been working on some parts of since then.
(Sigrun Schulz 1:45am May 2, 2011)
Neither situation's ever happened to me but I love reading books where the romantic interest is also a good friend because their romance seems more real and believable and there's so much anticipation. Plus it's sweet.
I'd love to read your book.
(Jessica Sutton 1:50am May 2, 2011)
I enjoy reading friends to lovers stories.
(Lindsey Ekland 3:40am May 2, 2011)
Well, I did find love after friendship, though it was only on my part *sigh*. And in the end the friendship didn't hold either ...
(Birgit Lehner 7:52am May 2, 2011)
My hubby was my friend before we married- it was great
(Audra Holtwick 9:28am May 2, 2011)
Sheila, I hope you enjoy Bastian!
~ EA

Hi Lisette,
This reminds me of my dating years. Sometimes I remember them as exciting and fun, which they were. But there was so much angst, too. Balancing girlfriends and boyfriends isn't easy, as your story demonstrates. I can't help thinking that social networking must make dating that much harder these days. And it was hard enough when I was dating!
Thanks for sharing this. xox
~ EA
(Elizabeth Amber 3:39pm May 2, 2011)
Hi Sigrun,

The punishment was harsh, you're so right. Amid great ceremony and public clamor, a convicted Virgin was tied to a litter and led to a small underground room, where she was deposited with only enough water, food, and oil to last a short time. This is the stuff of my nightmares! The Virgins aren't a huge part of BASTIAN, but they are part of Silvia's backstory and explain her motivation for trying to steal the relics from the Bastian. The scenes about the VVs also inform the friendship between Michaela and Silvia.

What a sad love story! Thanks for sharing it. I'm glad your parents told you this story. I don't know much about how my parents met. I'll definitely have to ask them.

Yes, I took this Roman Forum photo in 2007.

~ EA
(Elizabeth Amber 3:41pm May 2, 2011)
Hi Jessica,
I think the Bastian-Silvia romance is one of my strongest and most believable for this very reason. I used a lot of sexual tension to keep things interesting between them from the start. I love sexual tension in a romance novel.
~ EA

Hi Lindsey,
I like friendship to lovers stories, too! I do need that build-up of sexual tension I mentioned to begin very early on. In Bastian, Silvia sees Bastian in bed with another woman in chapter one, and is immediately attracted. They meet briefly, but he doesn't know the "real" her for some time. But all the while, that attraction is building and winding tight.
~ EA

Hi Birgit,
I have had this happen twice. It's hard to go back to friends when you feel more. I hope your heart has healed. xox
~ EA

Hi Audra,
Wonderful! So good to hear the happiness in your comment.
~ EA
(Elizabeth Amber 3:48pm May 2, 2011)
I have found love after friendship, but nothing permanent.
(Robin Daily 11:05pm May 2, 2011)
This really sounds like something I would love to read. With the history in it also is attrating. I love a historical fiction. Can't wait to read this.
(Diane Castiglione 4:15pm May 5, 2011)
I'm a big fan! Can't wait to read Bastian's story. :)
Please count me in.
I have had the problem of falling for he same guy my best friend fell for... and he was also a good friend of ours. Things were very awkward... they still sort of are. But we chose to be friends and stopped hanging out with him.
(Karla Vollkopf 2:53pm May 17, 2011)
Registered users may leave comments.
Log in or register now!