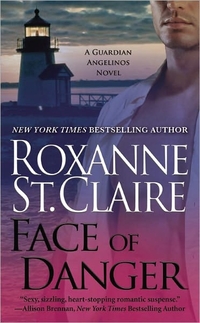 Purchase
She's a risk-taker playing a deadly role...He's a rule-follower fighting to keep her safe...Together they're facing a killer who could be anyone, anywhere, anytime...
Guardian Angelinos #3
Forever
May 2011
On Sale: April 26, 2011
Featuring: Colton Lang; Vivi Angelino
400 pages
ISBN: 0446566578
EAN: 9780446566575
Paperback
Add to Wish List

Private investigator Vivi Angelino loves living life on the edge, but stepping into the shoes of a movie starlet to bait a serial killer isn't just a thrill . . . it's a ticket to the big time for her fledgling security firm. That is, as long as a certain risk-averse FBI agent stays out of her way-and out of her fantasies.
Assistant Special Agent in Charge Colton Lang isn't above using his well-worn rulebook to stop Vivi's latest walk on the wild side. But when they learn her client is involved in something far more insidious than bad acting, Vivi and Colt must work together despite the electrifying attraction arcing between them. For each new clue is bringing them closer to a high-profile crime with a dark and deadly truth at its core . . . and a cold, calculating murderer with nothing left to lose.
More Information
Uncle Nino's Comforting Chicken Cacciatore
"It'll cure a heartache." 
 - Vivi Angelino, FACE OF DANGER, p. 372
Ingredients
2 cups all-purpose flour for coating
1 (4 pound) chicken, cut into 8 pieces
3 or 4 tablespoons extra virgin olive oil
1 Spanish onion, chopped
3-4 cloves garlic, minced
1 large green bell pepper, chopped
14 oz can of Italian peeled tomatoes or equivalent amount of fresh ripe Roma tomatoes.
4 or 5 Fresh Thyme sprigs with leaves stripped off
Pinch of dried oregano
3/4 cup dry white wine
2 cups fresh white or Crimini mushrooms, thickly sliced
Salt and freshly ground black pepper to taste
Instructions
Cut chicken into 8 pieces. Salt and pepper chicken pieces and dredge in flour and sauté in well heated olive oil. (Nino says dredge immediately before sautéing... one piece at a time)
When chicken is well browned remove from pan and set aside.
Add onions (sprinkle of salt) and a couple of minutes later add the garlic.
Sauté for a few minutes, then add pepper, tomatoes and chicken pieces, wine, thyme leaves, and oregano and salt and pepper to taste.
Simmer on medium-low for about 30 minutes and add mushrooms. Cook another 10 minutes or so and serve over pasta or with crusty bread.
Comments
3 comments posted.
Re: Face Of Danger


(Barry Payne 5:46am October 23, 2011)
This review is great and makes me interested in the book!
(Joanne Bozik 4:28pm October 23, 2011)
I love this series. I want this book. Vivi is one of my favorites from this series. My absolute favorite is Zach, so sexy, and love his chemistry in Sammi. Great books and series.
(Chris Bails 11:08am October 24, 2011)
Registered users may leave comments.
Log in or register now!