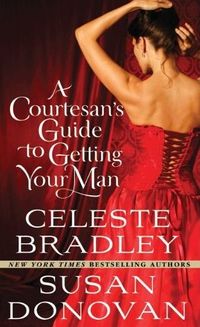 Purchase
St. Martin's Press
June 2011
On Sale: May 24, 2011
Featuring: Piper Chase-Pierpont
324 pages
ISBN: 0312532563
EAN: 9780312532567
Paperback
Add to Wish List

Romance Contemporary | Romance Historical
Regency London's most celebrated courtesan, The Blackbird, was a woman before her time–uninhibited, financially independent, and free to live by her own rules. Schooled in the sensual arts by the one man she loved the most, she recorded every wicked detail in her diaries...
When Boston museum curator Piper Chase-Pierpont unearths The Blackbird's steamy memoirs, she's aroused and challenged by what she finds. Could the courtesan's diaries be used as a modern girl's guide to finding love and empowerment? One curious curator–and one very lucky man–are about to find out...
Comments
32 comments posted.
Re: A Courtesan's Guide to Getting Your Man

The seven sins. HMMM. I think I have committed a couple...LOL
I am really looking forward to reading A CORTESAN'S GUIDE TO
GETTING YOUR MAN. It sounds wonderful.
koonie2888
(Michelle Bledsoe 10:01am May 23, 2011)
Advanced Reading Edition "Thank you !" Celeste Bradley and
Susan Donovan.I liked the mix of historical romance set in
19th Century and present time.The plot, storyline and
characters are well written and very likable.The villains
were well thought out ...you cant help hate them !I
preferred Ophelias story (19th century) to Pipers (present
time) as the story seemed a little rushed at the
beginning.As the story unfolded (present time gradually came
to the right pace) I liked how both worlds intertwined from
chapter to chapter. I loved the twists in the ending (19th
century)!! Present time was a little cheesy though. All in
all I truly liked this book and I recommend it! ♥ :)
***Warring explicit sex ***
(Jeannie Doucette 4:57pm May 23, 2011)
Who says sins are a bad thing??!! They all sound like winners to me!
Good luck and happy writing!
(Tracie Travis 12:15pm May 26, 2011)
I guess I really like sinning!
(Pam Howell 9:05am May 26, 2011)
Without those seven sins, how can anyone have any fun??? Can't wait to read the book!!!
(Dawn Staniszeski 9:34am May 26, 2011)
I am terribly guilty of # 3 & 5, cant wait to read this one!sounds like a really good patio swing escape!
(Deborah Rudd 9:35am May 26, 2011)
Well, after reading your blog entry, I must say that I began to put on a bit of a sweat!! lol This book will definately be put at the top of my TBR list!! Now I'll have to wait until I go into town again, since it's a 60 mile round-trip drive, and we only go there once or twice a month to get groceries for the month along with other necessities. The wait is going to kill me, but I'll have to live through it. You have to have quite the imagination to come up with a book like that, and I have quite the deck to sit on with the perfect drink to read it!! Thank you for the perfect book that I need to sit out here in the country with the birds and not only enjoy the scenery, but will be able to spend part of my summer with you as well!!
(Peggy Roberson 11:12am May 26, 2011)
okay that's it, i think i have commited them all at least once.LOL! the book sounds wonderful and i can't wait to read it.
(Tammy Ramey 11:59am May 26, 2011)
I guess all of us have committed some of these seven sins. I especially want to have the opportunity to commit number 3 while reading your book.
(Anna Speed 12:34pm May 26, 2011)
I think I've pretty much committed each of them, probably several times. The book sounds like a lot of fun..
(Ivy Truitt 12:37pm May 26, 2011)
Wow the seven sins never sounded so good until I read the listing you guys made up. I can't wait to read the book so thanks for the chance to win a copy
(Amanda Boyer 12:58pm May 26, 2011)
I think you're seducing me into a life of sin. Can't wait to read the book.
(r w 1:31pm May 26, 2011)
Oooh you make the 7 sins sound really really tempting with your book! Thanks for sharing!
(Colleen Conklin 1:58pm May 26, 2011)
Interesting list. I like #2--it doesn't sound as "deadly" as some of the other sins.
(G S Moch 2:46pm May 26, 2011)
I've been known to commit a few sins. Sometimes you just have no self control over your urges.
(Jane Cheung 4:03pm May 26, 2011)
#1 Lust is right up my alley, #2 to find the Appetite of your blog and book not lacking, #3 I would find some idleness to be loss in such a novel, #4 definitely covet a copy, #5 I am a firm believer in indulgence and can't wait to sink into a great book, #6 the wrath I feel is when I have to get to other things. #7 I think you should be proud of writing such an sinful book and blog
(Carla Carlson 4:18pm May 26, 2011)
Only 7 sins? I have committed them all. I think the 8th sin should be I am waiting for the next book since this one was so wonderful.

Your A Courtesan's Guide to Getting Your Man sounds awesome. Good luck everyone!
(Cathy Phillips 4:59pm May 26, 2011)
Guilty, oh so guilty.
(Carol Drummond 6:29pm May 26, 2011)
Can't wait to read! Love your take on the sins -
(Linda Leonard 6:45pm May 26, 2011)
Wow! After an intro like that I can't wait to read it.
(Robin McKay 6:49pm May 26, 2011)
This sounds like a very entertaining read. Can't wait to get my hands on it.
(Denise Boyd 7:55pm May 26, 2011)
All seven sound good to me!
Blessings,
Marjorie
(Marjorie Carmony 7:57pm May 26, 2011)
Yep I've committed a couple of those at least...but damnit! Sins are fun!!
(Ashley Applebee 8:00pm May 26, 2011)
OOHHHH! This looks good. Can't wait to get my hands on it!
(Renee Brown 8:24pm May 26, 2011)
You should be Proud of your accomplishment of writing (& that is not a sin), and I will Indulge in my joy of reading (& that cannot be a sin!).
(Diane Sallans 8:54pm May 26, 2011)
And how many sins have we commited today? I'd rather not say.
(Deb Pelletier 9:11pm May 26, 2011)
This sounds so good and just like the type of book I'd love to read. Can't wait!
(MaryAnne Banks 9:43pm May 26, 2011)
This sounds great, I would love to win a copy!
(Robin Daily 10:59pm May 26, 2011)
All seven are great but I must admit I'm definitely guilty of numbers 3 and 5. Love the idea of getting double the authors!
(Jeanne Sheats 12:13pm May 27, 2011)
I love books that deal with past and present. They always intrigue me. With such
awesome authors I just can't say no!
(Sandra Spilecki 10:17am May 27, 2011)
That sounds like fun... interesting for sure...
(May Pau 11:13am May 27, 2011)
I really do like this list, I am pretty sure it is listed in original form as bad, but....sign me up for your particular list!
(Debra Simning-Chapman 4:53pm May 27, 2011)
Registered users may leave comments.
Log in or register now!