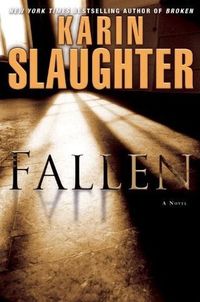 Purchase
Will Trent #5
Delacorte
June 2011
On Sale: May 31, 2011
Featuring: Sara Linton; Faith Mitchell; Will Trent
416 pages
ISBN: 0345528204
EAN: 9780345528209
Kindle: B004J4WN12
Hardcover / e-Book
Add to Wish List

There's no police training stronger than a cop's instinct. Faith Mitchell's mother isn't answering her phone. Her front door is open. There's a bloodstain above the knob. Her infant daughter is hidden in a shed behind the house. All that the Georgia Bureau of Investigations taught Faith Mitchell goes out the window when she charges into her mother's house, gun drawn. She sees a man dead in the laundry room. She sees a hostage situation in the bedroom. What she doesn't see is her mother. . . .

"You know what we're here for. Hand it over, and we'll let her go."

When the hostage situation turns deadly, Faith is left with too many questions, not enough answers. To find her mother, she'll need the help of her partner, Will Trent, and they'll both need the help of trauma doctor Sara Linton. But Faith isn't just a cop anymore—she's a witness. She's also a suspect.

The thin blue line hides police corruption, bribery, even murder. Faith will have to go up against the people she respects the most in order to find her mother and bring the truth to light—or bury it forever.
Karin Slaughter's most exhilarating novel yet is a thrilling journey through the heart and soul, where the personal and the criminal collide, and conflicted loyalties threaten to destroy reputations and ruin lives. It is the work of a master of the thriller at the top of her game, and a whirlwind of unrelenting suspense.
Will Trent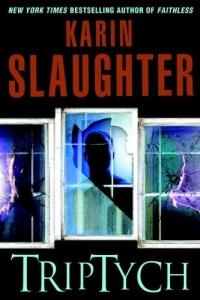 Triptych
#1.0
Amazon.com | BN.com | Apple Books | Kobo | Google Play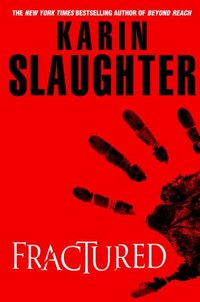 Fractured
#2.0
Amazon.com | BN.com | Apple Books | Kobo | Google Play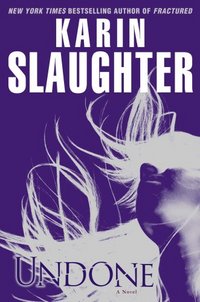 Undone
#3.0
Amazon.com | BN.com | Apple Books | Kobo | Google Play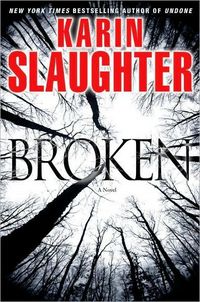 Broken
#4.0
Amazon.com | BN.com | Apple Books | Kobo | Google Play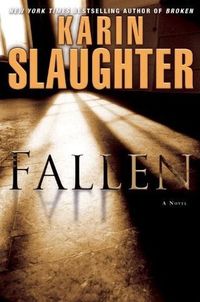 Fallen
#5.0
Amazon.com | BN.com | Apple Books | Kobo | Google Play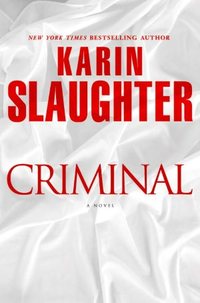 Criminal
#6.0
Amazon.com | BN.com | Apple Books | Kobo | Google Play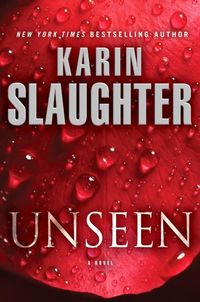 Unseen
#7.0
Amazon.com | BN.com | Apple Books | Kobo | Google Play
Comments
47 comments posted.
Re: Fallen

Wow what an exciting experiance. I think most of us judge our law enforcement too severely. I don't know what I would do in the situations they find themselves in, but I honor them for what they do. THanks for the blog and I can't wait to read Fallen.
(Patti Paonessa 6:00am June 27, 2011)
This is why I wanted to be a cop so bad when I was younger. I
ended up having kids instead... which can be a rush and scary
too!! I still think about it though.
(Michele Powell 12:06pm June 29, 2011)
what a great experience. the book sounds wonderful and i can't wait to read it.
(Tammy Ramey 1:28am June 29, 2011)
Law enforcement doesn't get half the credit they deserve these days. I've read such fantastic reviews of your books, I can't wait to read this one.
(Karen Gervasi 7:27am June 29, 2011)
Wow! Great blog..can't wait to read this one!!!
(Dawn Staniszeski 8:49am June 29, 2011)
That must have had your adreniline pumping! That is so cool that you were able to put your feelings into your book. I hope you have much success!
(Renee Pajda 9:23am June 29, 2011)
That must have been quite the experience! I worked as a bank teller and
we had training sessions on bank robberies. Luckily I never had to
experience one irl.

Your book sounds great. I am often curious about where authors get their
ideas from and their writing rituals.
(Mona Garg 9:54am June 29, 2011)
Wow. Thanks for sharing. Sounds like a good book!
(May Pau 10:07am June 29, 2011)
The book sounds great will have to put it on my TBR list!
(Deborah Rudd 11:45am June 29, 2011)
this book goes on my to read list....Thank you!!!
(Leisa Prater 12:06pm June 29, 2011)
Such a talent to put your thoughts down on paper and share with so many.
Blessings,
Marjorie
(Marjorie Carmony 12:23pm June 29, 2011)
I admire anyone who is in any type of law enforcement. There is such constant
danger and one has to be on top of everything at all times. This novel sounds
like an "edge of the seat, nail-biter" one. Look forward to reading it!
Connie Fischer
conniecape@aol.com
(Connie Fischer 12:35pm June 29, 2011)
You have such interesting and intriging ideas and experiences -- thanks for sharing them with us. LOVE your books and look forward to reading each and every one!
(Jo Anne Vincenti 12:36pm June 29, 2011)
SOUNDS LIKE A GREAT READ...I AM IN IT TO WIN IT!
(Silvana Moscato 12:44pm June 29, 2011)
My heart pounds every time I read a Karin Slaughter book. Love, love, love these novels. Thanks for visiting.
(G S Moch 1:01pm June 29, 2011)
School shootings are so scary because it is just so unexpected. No matter how many times I hear about one, it breaks my heart and I wonder how we can prevent it. I hope this is a scenario we never become used too (and I really hope I never have to hear about one again). Your book sounds so intriguing and I loved hearing how you got your idea.
(Jody Hollenbeck 1:08pm June 29, 2011)
Wow this must have been so exciting to be able to watch that training! And it obviosuly makes for a great opeing scene in your book too!!
(Birgit Lehner 1:17pm June 29, 2011)
Never really thought about the GBI having mock battles with kids in a school. I would have been terrified and in shock to witness this. I would hope I would regain my senses enough to help should I be ask to assist. I live in GA..
I would love to win Fallen and get another dose of the action of mystery, suspense and terror. Thanks for the giveaway.
(Brenda Hill 1:46pm June 29, 2011)
Sounds exciting but scary at the same time and although I would never want to find out, I enjoy reading about such things.
(Jeanne Sheats 2:08pm June 29, 2011)
I love heart pounding books!
(Lisa Garrett 2:40pm June 29, 2011)
I'm not sure I could have followed them for very long---I probably would have gotten too scared. But the experience should make your book a real page turner.
(Sue Farrell 2:47pm June 29, 2011)
I hope I win this one. It sounds like a terrific thriller.
(Anna Speed 2:50pm June 29, 2011)
Thanks for sharing. I hope I win this one. It sounds like a wonderful thriller!!
(Renee Howell 3:12pm June 29, 2011)
This is my kind of book, and I'm glad I checked my email today! This is going on my to be read list.
(Stephanie Bondlow 3:17pm June 29, 2011)
Hi, Karen! How did you get the chance to watch the GBI training? Are you related to someone that was there or what? I really admire anyone in law enforcement. It is such a dangerous field to be in and they don't get nearly as much credit as they deserve. Fallen sounds like my kind of book.
(Cathy Phillips 4:20pm June 29, 2011)
Oh Karen, Your book made the hair stand up on the back of my neck and cold shivers down my back!!! What a book. Put my name in the hat for a draw on this one. Wonderful.
(Rosemary Simm 5:07pm June 29, 2011)
Sounds great!!!!!!! Do you ever bring your dreams to your books? Like if you awake and you remember what you'd been dreaming?
(Joanne Bozik 5:29pm June 29, 2011)
A very enticing promo for your book!
(Carol Drummond 6:28pm June 29, 2011)
Way to intrigue!
I can't imagine how difficult it must be to work in law enforcement today or have to deal with a tragedy like Columbine. I can appreciate the protocols and rules that are in effect to protect the officers and public but obviously the situations that occur are not always "textbook" and have to be reevaluated frequently to keep up with the insanities of society.
Good luck and happy writing!
(Tracie Travis 7:14pm June 29, 2011)
I LIKE THE BLURB AND THE COVER THE BOOK IT STAND OUT
(Desiree Reilly 7:21pm June 29, 2011)
Hi Karin, my sister got me addicted to your books when I was still in high school. I love the Grant County series and but I do have a soft spot for Will and love how well him and Faith get along.I love how you come up with ideas and interact with real law inforcement officers, I always read the acknwledgements at the end of every book. Btw, my heart broke at the end of Beyond Reach, I cried for hours.
(Heather Chamblin 8:23pm June 29, 2011)
It sounds like a very interesting experience. I would love to read your book.
(Debbie Penny 8:25pm June 29, 2011)
Thanks for sharing that experience with us. We need to appreciate the time & effort that our emergency services teams expend in order to be prepared to deal with these types of critical circumstances.
(Diane Sallans 9:11pm June 29, 2011)
WOW, your book FALLEN sounds like a great book to read. I Pray that I win this contest and cannot wait to read it too. Thank YOU so much and GOD Bless YOU with success in writing too. Thanks, Cecilia
(Cecilia Dunbar Hernandez 9:39pm June 29, 2011)
I love police/mystery books. It is so cool that authors get the chance to spend time with law enforcement to prep for their writing.
(Jennifer Beyer 10:08pm June 29, 2011)
Wow, very interesting!
(Robin Daily 10:50pm June 29, 2011)
I too love mystery books. Am sure it will be a good one.
(Pat Lieberman 11:09pm June 29, 2011)
After reading your heart-thumping post, I'm at the edge of my seat, and can't wait to read your book!! It sounds like a real page-turner, and I haven't read a book of that genre in a long time!! I normally read a romance or something a little more upbeat, but I think it's time to read something along your caliber. You changed my mind completely, and your words have a mesmerizing effect, as well as as having a gift of bringing your story to life in such a way as to making a person really want to read your stories. Good luck with your book, and in future endeavors.
(Peggy Roberson 11:17pm June 29, 2011)
Thank you giving us the back info for FALLEN. I always appreciate it. It looks like an amazing read.
(Mary Preston 11:28pm June 29, 2011)
That must have been an incredible experience...I can't wait to read Fallen - I love that series!
(Michele Lawrence 11:53pm June 29, 2011)
Interesting post. To me "where do you get your ideas from" always seems like a silly question to ask, because I would have no idea how to answer it. But then again as a reader you kind of really want to know how the characters and story that you love came about.
(Jessica Sutton 1:54am June 30, 2011)
Wow. How exciting and scary. Besides doing things like this that are supposed to go into the writing, I go back and reread and see things from my life that I didn't even realize were going in. Do you do that? I hope to read the book this inspired sometime soon.
(Penny Mettert 6:24am June 30, 2011)
That must have been a very intense training operation to witness.
(Maureen Emmons 6:53am June 30, 2011)
It would be sooo hard to step over a screaming child!! I know the mission is what is important but I would lose focus.
SOmetimes ideas flow for jounaling so I am sure the same is true in a bigger sense for writing a story line
(Marcelle Cole 2:31pm June 30, 2011)
Fascinating blog. I'm sure the book will be as attention getting. Hope I win.
(Shirley Nienkark 2:56pm June 30, 2011)
Last year Karin came to the Poisen Pen on a Sunday and I was able to go. This time it was during the week and I missed getting to see her yesterday. I have read everything she has written! I can't WAIT to read the new book. I have gotten very attached to her characters, and have forgiven her the loss of a favorite character, because the new ones are really complex and interesting. I'm sorry I missed seeing Karin this year! She is a delightful person! My husband is a history bug and he enjoyed how knowledgeable she is about the history of Georgia. I forward him the newsletters, because he is not much of a joiner kind of guy. He really liked Karin in person and thought she was adorable. I did too.
(Sandy Fielder 3:45pm June 30, 2011)
Sounds like a really great read!
(Linda Johns 8:48am July 4, 2011)
Registered users may leave comments.
Log in or register now!