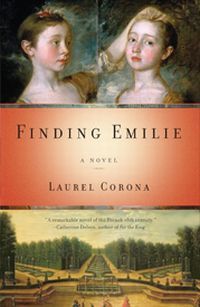 Purchase
Two young women growing up in pre-Revolution France, set against the free-thinking French Enlightenment salons of Paris
Gallery Books
April 2011
On Sale: April 12, 2011
Featuring: Delphine; Lili
416 pages
ISBN: 1439197660
EAN: 9781439197660
Trade Size
Add to Wish List

Stanislas-Adélaïde du Châtelet, known as Lili, is a thoughtful and serious girl growing up as the ward of a Parisian noblewoman, Julie de Bercy. Madame de Bercy, a friend of Lili's dead mother, the brilliant and controversial scientist Emilie du Chatelet, has a daughter, Delphine, the same age as Lili. Though they could hardly be more different, the two girls grow up as sisters, steadfast friends, and confidantes.
Lili can never understand Delphine's fascination with frivolous things like beautiful dresses, perfect curtsies, and fairytale endings. She wants the world of the mind, a life in pursuit of the truth about nature and people. Instead, she boards with Delphine at a convent school where independent thinking is punished, and she endures excruciating comportment lessons with one of the Châtelet relatives, the prim and judgmental Baronne Lomont. It is clear to Lili that she is expected to be satisfied with having no goals in life other than to be a supportive wife, charming conversationalist, and pious mother.
Home at Maison Bercy with warm and free-thinking Julie, whom both Lili and Delphine call Maman, Lili is encouraged to be herself and use her mind. Julie is one of a small group of salonniéres in Paris, noblewomen who open their homes at certain times each week to artists, writers, and the group of French thinkers known as philosophes. Here Lili is exposed to the radical and revolutionary ideas of people such as famed naturalist George-Louis LeClerc (better known as Comte de Buffon), encyclopedist Denis Diderot, and philosopher Jean-Jacques Rousseau.
But Julie cannot indefinitely hold off the pressure to conform to social expectations. In their teens, both Delphine and Lili must prepare for presentation at Versailles, followed quickly by marriage. As the world closes in on Lili, she decides that knowing more than the sketchy details she has been told about her mother's life may provide her with a better sense of herself. Hoping that this knowledge will help her chart her own future, with Delphine's loyal help, Lili ventures out to find the people and places central to her mother's story.
Set in France during the last decades before the French Revolution, Finding Emilie explores the complicated tensions between the frivolity of court and the serious pursuit of scientific knowledge, and the perils of being caught between the demand for conformity and the need to release and fulfill one's genius. Through Lili's discoveries, Emilie du Châtelet speaks not just to her but to us, about remaining true to ourselves regardless of our circumstances.
Comments
No comments posted.

Registered users may leave comments.
Log in or register now!