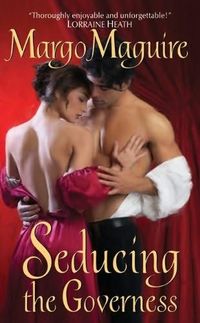 Purchase
Avon
March 2011
On Sale: February 22, 2011
Featuring: Gavin Briggs; Mercy Franklin
384 pages
ISBN: 0062018213
EAN: 9780062018212
Kindle: B004HD62NK
Paperback / e-Book
Add to Wish List

A Proper Governess Should Never. . .
Assist a handsome stranger, alone on an unfamiliar road . . . unless the rake happens to be her new employer. Take a position in a crumbling manor . . . especially if the household staff has been replaced by unruly former soldiers.
Allow her young charge entree to her heart . . . for once done, it will be impossible to maintain proper distance. Permit her charge's uncle a breathtaking kiss under a star- lit sky . . . henceforth she will most certainly lose composure whenever he is near.
And above all, she should never, ever fall completely, irreversibly in love with her employer . . . for nothing good can possibly come of it.
Comments
42 comments posted.
Your story sounds very interesting. I love all kinds of books, and historicals are one of my favorites.
(Ann Garland 2:12am March 8, 2011)
I've found that sometimes people snub fiction novels -- viewing it as
worthless fluff and a waste of time. But a couple of my favorite
contemporary authors focus on issues within their stories. I read about
bullying and school shootings in Jodie Picoult's NINETEEN MINUTES. I
read about the profession of event planning from Danielle Steel's THE
DATING GAME. Both books peaked my interest and I wanted to read
more on the subject.
(Mona Garg 8:15am March 8, 2011)
I've always been interested, so reading historical fiction and/or romance was a no-brainer for me. And like you, I am prone to trying to find out more about the eras and locations the books I read are set in.

Later,

Lynn
(Lynn Rettig 9:24am March 8, 2011)
The "what if" is the whole reason I read.
(Lisa Richards 9:38am March 8, 2011)
See? I knew I wasn't the only one who wants to know! LOL
(Margo Maguire 9:46am March 8, 2011)
It's always interesting trying to figure out what daily life was like and how they survived and that's what I like to read.
(Diane Sadler 10:41am March 8, 2011)
You can never go wrong with historical books and you have got to love the main characters. Plus you have to love the bold, daring, determined, dangerous, loyal, loving, and exclusive hero of the story.
(Anthonia Sharp 10:55am March 8, 2011)
I read both contemporary and historical books. I always want to know "what if."
(Wilma Frana 11:02am March 8, 2011)
i love historical romances !!
(Debbi Shaw 11:21am March 8, 2011)
Really interesting ! A book without a "what if" question is not so captiving !
(Anaïs Doiseau 11:28am March 8, 2011)
Historical fiction tickles my fancy. I started with Georgette Heyer and never looked back while imbibing in this genre. What if's always intrigue me and there are plenty of books out that let you choose the ending raather than having it done for you, but I like both ways: the given and the DIY. Playing a scene in different ways helps you get into the characters head, possibly figuring out motivation and definitely intention. Great blog question.
(Alyson Widen 11:49am March 8, 2011)
I read all genres from biographies to romance. One book that haunts me is Roses by Leila Meacham. Leila herself calls it a novel. Reviewers have called it everything from a Saga to a Southern Epic. I call it one of the best romance stories I've read in quite a while. Although lengthy, (600 pages), the pages flew through my fingers, and I couldn't put the book down until I finished it. I read it in a couple of days. It was that good!! The one thing I learned from it, not only what life was like in the early 1900's in Texas, was wondering what else Leila wrote. Your book sounds very intriguing, and I am very anxious to read it. It sounds like you did your homework well. Congratulations on your new book.
(Peggy Roberson 11:58am March 8, 2011)
Many years ago, a lovely lady told me it didn't matter what kind of book you read, that you learn something from each one. The books I've read have taken me to many places and have bits of information I've never heard before.
(Anna Speed 12:44pm March 8, 2011)
Books are such a wonderful thing - they entertain you and they teach you! Though I can't imagine reading while exercising on a stationary bike *lol*.
(Birgit Lehner 1:14pm March 8, 2011)
Birgit - they sell a stand that attaches to one of the handlebars - it's sort of like a music stand. you prop up your book and voila! Read and sweat for 40 minutes. :-)
(Margo Maguire 1:38pm March 8, 2011)
There have been books that had me curious about more details after... some historical info or where a place exactly was located and looked like... I should read will on my stationary bike too... get two things done at once! :)
(Colleen Conklin 2:02pm March 8, 2011)
Thank goodness for the internet! That way, when a question arises from reading a book, I can just look it up. The most recent question I had (from a fantasy novel) was whether the 1971 Pontiac LeMans is cooler than its GTO counterpart (no,it isn't but the LeMans has more horsepower).

I've also looked up the history of side saddles before, too.
(S Tieh 2:26pm March 8, 2011)
My favorite of all time historical fiction is Green Darkness by Anya Seton. I learned so much about medieval England from reading that one, and dearly loved the settings and the story. I have done just a tiny bit of research and have found out that many of the places in her book are actual historical places that date back to 16th century England. WHAT FUN! No wonder the book seemed so real to me! I love historical fiction, especially when the author takes the time to do good research!
(Sandy Fielder 2:28pm March 8, 2011)
Ilove historical romance and it is the history that draws me in more than anything. I really aprectiate all the background study you do for your books. I look forward to reading this one.
(Kathleen Bianchi 2:52pm March 8, 2011)
Thanks, Kathleen! Let me know what you think after you've finished it. :-)
(Margo Maguire 3:02pm March 8, 2011)
I love to read books with maps or genealogical lines in them, I keep referring back to the maps while I read. I've also looked up references online in various books I've read. Thats what keeps me reading. I love, love, love historical books!
(Lisa Lee 3:36pm March 8, 2011)
90% of what I read is historical. I was a history major so of course I love reading about it. The more I read the more what if's I come up with. I've even started writing some of my own. I love reading. It takes me to places I wish I could have lived and takes me on journeys that I could never take in real life.
(Linda Young 3:41pm March 8, 2011)
Lots of books make me want to know more. Sometimes after reading historical romances, I'll do on-line research on particular people or times that have sparked my interest.
(G S Moch 4:19pm March 8, 2011)
Historical romances are the best. They are my favorite!
(Dawn Staniszeski 5:12pm March 8, 2011)
What..If? I've been reading lots of historical romance lately and I sometimes found myself wondering what if I woke up one morning and found myself 200-300 yrs back or more, and I'm no longer in the 21st century!??!! What would I do in such a world where women's rights, choices and freedom were so limited. The word "scandalous" wouldn't begin to describe me! :)
(Joy Johnson 5:42pm March 8, 2011)
I like most Romance novels, If I read a Historical romance,I can refer to my book on Kings and Queens of England ,ect. It's a fun way to learn.
(Deb Pelletier 5:48pm March 8, 2011)
I love your books historicals are my favorite. I'm looking forward to reading this one.
Great interview today. Thanks for being here!
penney
(Penney Wilfort 6:39pm March 8, 2011)
I've become addicted to historical romance since last year,
shamelessly admitted here. ;) Like it even better when the
characters, names, events, places were ones I could related
to in real history. Made me want to be able to go back in
time back and forth at will, although I don't think I can
live there. Especially those dresses!! They are beauty and
gorgeous, but how could one walk, talk in those things, not
to mention dance and eat in tight corset and yards and yards
and yards of cloth!! Wonder what they'll think when I popped
up in jeans, T-shirt and sneakers!??!! Oh! and with
sunglasses and baseball cap on too. Ha..Ha.. :)
(Jk Vaid 7:00pm March 8, 2011)
Historical novels have been great sources of all sorts of facts but it was a couple of contemporary romances that had a great impact on me. They told why teenagers run away from home, go on the streets and end up in prostitution. It convinced me to start financially supporting a charity that works with streetkids, helping them off the streets.
(Carol Drummond 7:02pm March 8, 2011)
hi i used to take the book to the gym and then end up reading it all most thorgh the work out i love any kind of book and will blog on it
(Desiree Reilly 7:57pm March 8, 2011)
I've learned more about historical events from historical novels than I ever did from school, and many times have read more on the events on my own. So, keep up the writing for our continuing education.
(Diane Sallans 9:00pm March 8, 2011)
I love history and historical novels. Very often the novel gives us a more in depth knowledge of events that are not readily available in the general history books. So, I am learning at the same time as I am thoroughly enjoying myself reading my favourite authors. Can't wait for my copy of Seducing the Governess to arrive.
(Jenny Wilcox 9:17pm March 8, 2011)
I love books that ask different questions!
(Tracy Brown 10:08pm March 8, 2011)
I usually always keep a map close at hand when reading. I love reading and learning. One series that I am currently enjoying is Monica McCarty's Highland Guards. It is set in the time of Robert the Bruce and has alot of history and geography involved. I always learn something new and end up having to look up something while reading a new book.
(June Manning 10:54pm March 8, 2011)
I've picked up little bits of history or "how it may have been then" info from reading historicals. Looking forward to reading your latest.
(d Kenney 11:04pm March 8, 2011)
I love historical fiction because it's interesting how different the rules of society was when compared to today's world.
(Ginger Hinson 11:54pm March 8, 2011)
Historical fiction is my fave and I do learn things I didn't know!
(MaryAnne Banks 12:19pm March 9, 2011)
I read historicals primarily with "other" when I need a break from one time is
history so they don't get jumbled in my mind. I want to escape "NOW" and melt
into another time. Your books give me that. Thank you.
(Sandra Spilecki 10:11am March 9, 2011)
transports me to a new place i love these kind of books
(Debbi Shaw 1:15pm March 9, 2011)
I love historical books, they take me to a completely new place and time.
(Clicia Tremblay 7:21pm March 9, 2011)
The What Ifs are what always bother me. I started taking risks instead of having regrets later on. That would be my life disappointment if I let the what ifs stop me.

As for historical events that changed the world to what we have now, I wouldn't change a things because what if we lost the American Revolution, would our lives be better? or what if the end of the world happens a million years from now? Why worry about the future, when we should be living in the now and making a difference for the better of mankind.
(Kai Wong 9:09pm March 9, 2011)
I love historicals, please count me in!

dancealert at aol dot com
(Brenda Rupp 12:07pm March 10, 2011)
Registered users may leave comments.
Log in or register now!