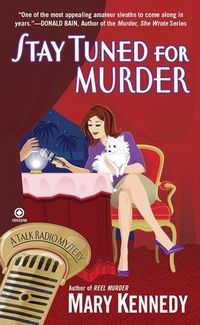 Purchase
Talk Radio Mystery #3
Obsidian
January 2011
On Sale: January 4, 2011
Featuring: Madame Chantel; Maggie Walsh
310 pages
ISBN: 0451232356
EAN: 9780451232359
Kindle: B004DI7IBY
Paperback / e-Book
Add to Wish List

Maggie Walsh, Florida's newest radio talk show psychologist, thinks that being tucked away in her studio will keepher safe from all the crazies. But when she hits the airwaves, there's no telling whom she's reaching–and who wants to reach back.
Maggie is a natural on the radio, but she's still learning how to play the ratings game. Her big guest star is self-proclaimed oracle Madame Chantel, whose on-air "chats" with the dead are the talk of Cypress Grove–until Chantel makes some grim predictions at a seance and one of the town's most beloved citizens is found murdered.
Meanwhile WYME is busy promoting the opening of a fifty-year old time capsule. But the more Maggie learns about what might be unearthed, the more she suspects that the timing of the murder was no coincidence. The appearance of another body has Maggie rushing to find the killer–and wondering if there might be something to Chantel's ghost stories.
Talk Radio Mystery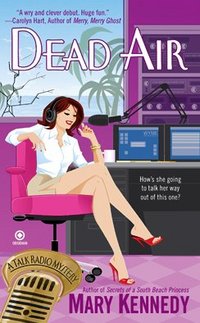 Dead Air
#1.0
Amazon.com | BN.com | | |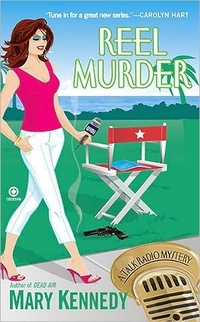 Reel Murder
#2.0
Amazon.com | BN.com | Apple Books | Kobo | Google Play
Comments
11 comments posted.
Thanks for the great advice, Mary. I bet you were terrific on the show!

~ Krista
(Krista Davis 9:50am January 16, 2011)
Thanks, Krista! It really was a hoot, and Taylor and Kenny Z (who happens to be a stand-up comedian) were hilarious. They invited me back to promote STAY TUNED for MURDER, and asked me to come into Manhattan to the studio. The weather has been horrendous and I haven't gotten in there yet.
(Mary Kennedy 1:18pm January 16, 2011)
What a great article! Thank you!
(Brenda Rupp 7:33pm January 16, 2011)
What a wonderful story and a great promotion for your book.
You'll have to let us know when you are going to promote STAY
TUNED, maybe some of us can tune in.
(Lisa Richards 8:22pm January 16, 2011)
I loved the tips. Well done!!
(Mary Preston 9:20pm January 16, 2011)
well, I am all set now if anyone wants me for their show---oh, wait, I don't write or do anything to talk about:) there's always my grandkids---someone surely would want to list to me talk about them!!!
(Barbara Studer 9:49pm January 16, 2011)
It sounds like you had a great time doing your interview on the radio. I wish I could have heard it. I guess I'll just have to wait for the book!! lol I love the storyline, and think the cover is well done. I like the retro microphone in the corner. Good luck with the book, but after your interview, I'm sure it will do well!!
(Peggy Roberson 11:16pm January 16, 2011)
I couldn't get on line last night,but I want to thank everyone for their comments! Barbara, I bet your grandkids are adorable and I know I would love to hear about them. Peggy, a few people have asked me about the retro microphone...I guess it was just an artistic touch, not sure. Molly, (waving madly), I would love to hear you on the radio anytime, I think you need your own show!
(Mary Kennedy 8:08am January 17, 2011)
What a fun way to promote your book! The book sounds great, Sure hope you sell a million ;0)
(Vickie Hightower 9:01am January 18, 2011)
Thanks for the tips. I thought preparation for being interviewed means having a cheat sheet composed of points you want to make similiar to a politician only more gracious.
(Alyson Widen 1:37pm January 18, 2011)
Sharon, I'm so glad you liked STAY TUNED for MURDER. Just got from a two week research trip to Ft. Lauderdale. Love the sunshine state! And for some reason Florida seems the perfect place for a mystery.
(Mary Kennedy 9:50am March 6, 2011)
Registered users may leave comments.
Log in or register now!