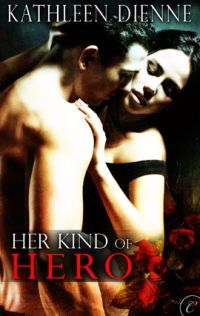 Purchase
Carina Press
December 2010
On Sale: November 22, 2010
Featuring: Vanessa Bingham; Derek Lane
ISBN: 1426890788
EAN: 9781426890789
e-Book
Add to Wish List

Kissing him is better than nothing.
Young widow Vanessa Bingham is ready to stop mourning. She misses the intimacy and tenderness of a man's touch. It's obvious her old friend Derek Lane wants her, so why does her first attempt at seduction cause him to flee?
Kissing her is a dream come true.
Derek has been in love with Vanessa forever. His feelings have kept him from having a serious relationship—or a casual one—with any other woman. So when she finally turns to him, he doesn't want to settle for being friends with benefits. But Vanessa is a hard woman to resist for long...
Someone doesn't want them kissing at all.
Just as things with Derek begin heating up, disturbing photos start to arrive at Vanessa's door. Someone is watching her every move: someone she may know. Terrified by the stalker's very real threats, Vanessa soon realizes that Derek may be just the hero she needs after all.
Comments
23 comments posted.
Re: Her Kind of Hero

Well, we didn't start out as friends. But I did resist meeting/dating my hubby, because all our shared friends kept doing the "you have got to meet him, you two would be perfect together." Except I got the feeling that they thought I would be perfect for the nerdy, quit guy they knew who had a hard time getting dates.
After several monthes of this, it finally worked out that we all ended up at the same camp-out. And I had had a bad week before getting there. AND my car broke down just as I arrived. So he ended up helping me out a lot that weekend.

Before anyone knew it, we were seriously dating, and a year later getting married. We have been married almost 14 years now. And one of the important things that make our marrage work so well is that we make sure that we stay friends as well as lovers! My mom married her best friend (he was the shy, quiet guy always around when she needed him) when I was 12, and they have stayed friends the whole time. Her best advice in my life was to be and stay friends with my husband. And it is what I always give out on cards for weddings, too.
(Victoria Colyer-Kerr 6:03am November 23, 2010)
We started as work buddy friends, but I attended a party for his sister and he ended up being one of my best friends and from there we became a couple. Things didn't work out eventually, but I will never forget him and his love/friendship.
(Joanne Reynolds 6:09am November 23, 2010)
I met my husband at a school disco, he was going with a friend of mine. He seemed to go out with all my friends for a short while and eventually got round to me. We got married when I was 18years and 3 months and he was 20years and 1 month. Luckily we were meant to be togther and have now been married 28 years and are still very much in love.
(Barbara Hanson 8:40am November 23, 2010)
Actually, I met my husband a long time ago. The first time I met him, I said to myself "that's the guy I'm going to marry." Of course, he never knew that. My best friend knew it, even though I never said anything. We both went our separate ways, and got back together almost 20 years later, as friends again. The next thing I knew, he proposed to me, and of course I said yes!! I wasn't about to let him go this time!! We've been happily married for 27 years now. I suppose it was fate that brought us together, because he said that the night he ran into our mutual friend, he wasn't planning on going out, but something told him to. If it wasn't for that night, we'd never be together, and I'd still be holding a torch for him!!
(Peggy Roberson 11:59am November 23, 2010)
My longest love was a chance meeting at a popular watering hole frequented by yuppies. I looked for room on my calendar planner, back when everybody carried a hard copy around, then didn't look back by making more and more time for him.
(Alyson Widen 12:16pm November 23, 2010)
HER KIND OF HERO sounds like my kind of read!!! No friends to more story to share... but it is nice to read everyone elses.
(Colleen Conklin 1:03pm November 23, 2010)
It was approximately 60 years ago when I met my future husband while walking with a friend to a geography class. That is a day that stands out in my memory.
(Anna Speed 1:56pm November 23, 2010)
One of my friends and one of my husband's friends met online and began talking. Through them we were introduced. We talked on the phone for a couple of months before actually meeting. He truly became my friend first. I found out later that after he met me he told his friends that he had met "the one." We have now been married 2 years and are still best friends.
(Tabitha Monroe 2:21pm November 23, 2010)
We're still friends and no, he's never married. According to my mom he told her it was a combo of things, fear of losing even our friendship and then I met someone & married before he could work up the nerve. He's still one of my best friends and I love him dearly.
(Ivy Truitt 3:08pm November 23, 2010)
I met mine at a friends house an ex brought him over and aI was a gonner.
(Vickie Hightower 4:50pm November 23, 2010)
I had a whirlwind romance. We met and married within six months! After 32 years of marriage and eleven kids, we are still friends and lovers.

Valerie
in Germany
(Valerie Bongards 4:50pm November 23, 2010)
No friendship turned love for me. No happy ever after sadly.
(Mary Preston 5:00pm November 23, 2010)
So far, I have never been tempted to change a friend into another relationship, but it sure does make for great stories.
(Leni Kaye 5:58pm November 23, 2010)
We met in 7th grade and were friends in high school. When the "Girl ask Guy" dance came up our Senior year, I asked 2 guys and he was my 3rd try. We dated steady from there, married after college(the 2nd guy I ask that said 'no' stood up for my husband), and are still happily married 34 years later.
(Winnie Kowalski 8:16pm November 23, 2010)
My future husband asked me to dance while I sat with a group
of friends waiting on my then boyfriend to show up. As I was
more than a little POed because I'd been waiting awhile, I
said yes. Danced two or three dances with him until the
tardy boyfriend showed up. Needless to say, a couple of
weeks later I was free again. I again danced with the future
hubby and this time he asked me out. He had noticed that I
appeared to be single and took a chance and asked me out.
Needless to say, 30+ years later, we still go out dancing.
(Lisa Richards 9:56pm November 23, 2010)
I met my hubby on match.com we did have a whirlwind romance, we are married now 12 1/2 years! Extremely happy.
I always told everyone he came over to pick me up for the first face to face date and never went home. LOL We did the emailing, then calling, etc. before.
(Brenda Rupp 9:56pm November 23, 2010)
I'm actually not dating anybody at the moment. The last guy that I dated I met at work. We hit it off and were able to talk about serious things or funny things. He ended up working somewhere else so we wouldn't be at the same place. After we had dated for about a year he had to move to a different state and we tried to talk, but it didn't work out and we started arguing over just about everything. My sister keeps telling me I need to get out and date, but I just can't seem to find anybody that I'm interested in.
(Amy Christian 10:24pm November 23, 2010)
Sounds like a great book.
(Ginger Hinson 11:33pm November 23, 2010)
I can't say my husband and I were terrific friends than lovers. It was the other way around. We are now best friends. I would and do trust him with everything including my life. He knows the same about me. We have never had to worry about another person coming into the picture because we are both truly loyal.
(Kathleen Bianchi 1:21am November 24, 2010)
My husband and I met at work---and were in the same circle of friends that did a lot of things togething---golfing, Friday night parties at bars, baseball games---and were all at lunch together, etc. We ended up being the only single ones in the group, so I guess we just spent so much time together that it became natural not to be apart.
(Sue Farrell 11:44am November 24, 2010)
My husband met on a blind date in 1962. Still happily married!!!
Blessings,
Marjorie
(Marjorie Carmony 12:36pm November 24, 2010)
I had attended the same church since very small, so by the time I was in the Junior High Department in Sunday School I knew all the young people at our church. One Sunday I was sitting in the main auditorium of the church and a friend was seated next to me. On the other side of my friend there was a new boy whom my friend obviously knew. I asked my friend whom the new boy was and he told me. It happened that the new boy had just moved to town and had started attending the same school as my friend and my friend invited him to our church. Well, not only did I end up marrying that new boy although years later and my friend who introduced us that Sunday in church ended up being a groomsman at our wedding.
(Gladys Paradowski 9:37pm November 24, 2010)
I met my husband when he was a co-op at the place where I worked. At the time a lot of college students were co-oping there and we all hung out together after hours. My husband was a pretty quiet guy and he finally asked me out. At our first date I knew that I had met my soul mate. We got married two years later and we've been together 37+ years.
(Anna McKenrick 11:21pm November 24, 2010)
Registered users may leave comments.
Log in or register now!