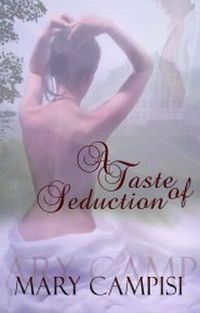 Purchase
The Wild Rose Press
March 2011
On Sale: March 1, 2011
Featuring: Meriel; Anthony
324 pages
ISBN: 1601548834
EAN: 9781601548832
Kindle: B004QGYF50
e-Book
Add to Wish List

A young woman of noble blood, raised as a peasant girl . . .
An orphaned stable boy, now grown and the surrogate son of a powerful earl - the same earl who just so happens to be the young woman's father . . .
Meriel and Anthony have nothing in common--she runs barefoot and talks to animals, he won't loosen his cravat unless the bedroom door is firmly closed. Meriel believes in love, hope, and happily ever after. Anthony believes in keeping a safe distance from anything resembling an emotion. They have nothing in common but an undeniable, burning desire for one another they can't ignore or understand, and an ailing "father" who will do anything to see them together. Unfortunately, there are others, cunning and manipulative, working behind the scenes. Others who will stop at nothing, willing even to kill, to keep them apart.
Buy E-Book Version From Publisher
Comments
45 comments posted.
This is a great book.
(Janice Reyes 1:31am March 11, 2011)
I don't know how you managed to create such a compelling hero while stretched out on a hospital bed in pain. You did a great job! I was drawn simply to find out more about Anthony to find about the who, why, and what about his character.
(Susan Lathen 2:30am March 11, 2011)
I'm sorry for your suffering and pain -- but creating Anthony I'm very happy about! Very glad you had all that love and support [although I'm not keen on liver even from a Mom's loving cooking..]
(Cate Sparks 4:21am March 11, 2011)
Surviving all that surgery is great--surviving all that liver (if only a small
amount) fantastic. To top off all that success, to develop such interesting
characters, to write such an inviting book is phenominal! Way to go!!!!!
(Sandra Spilecki 6:18am March 11, 2011)
Sorry about all your health troubles, hope you are well now and if a great book came out as a result, then, something good came of it. Stay well.
(Clio Teixeira 6:18am March 11, 2011)
So glad to hear that you are doing better. Being sick and restricted on what you can do really sucks. I have been on bed rest before due to blood clots and it can drive you crazy to be laid up. Luckily, you have a wonderful imagination and was able to use the time to start a new book.
Your book sounds great and I would love to win a copy of it. Best of luck with the release.
(June Manning 6:33am March 11, 2011)
I have to say that you used a very difficult time in your life to be very productive! Grateful that you are recovering well with the help of family, wonderful Molly, and leafy vegs.
Blessings,
Marjorie
(Marjorie Carmony 6:44am March 11, 2011)
I loved that you included some of your personal life in your post. I'm
always curious about authors' real lives.

Sounds like an interesting book and I like the cover.
(Mona Garg 7:19am March 11, 2011)
Hi Ladies:
Thanks for the comments and well wishes. For the record, I am healthy and feel great! As I write this, it's blustery and very white outside. More snow on the way. I'm off to walk our rescue lab mix, Cooper, who looks at a three mile walk as a warm-up. We lost our sweet Molly a few years ago. She was an old girl at 12 with double ACL surgeries and much slower paced than Cooper, who is 4 and never slows down!
Thanks again for stopping by and good luck winning A Taste of Seduction!
(Mary Campisi 8:36am March 11, 2011)
Thank you for sharing the inspiration for your characters. I love the cover of "A Taste of Seduction". I can't wait to read it.
(Robin McKay 8:47am March 11, 2011)
glad you're doing better and that you Anthony to "help" you through it all and that you're able to share him with the rest of us.
(d Kenney 8:49am March 11, 2011)
Three surgeries in six weeks! Liver and greens; yes, Mom does know best. All I can say is "Thank You" for giving us Anthony Weston during a most trying time during your life. The strength it took tells its own tale.
(Cynthia Netherton 9:53am March 11, 2011)
Wow...you are a strong person. Hope you can continue enjoying
better health.
(Leanna Morris 10:22am March 11, 2011)
Thank you for sharing the story of how Anthony came to be. Hope all is well with you and your health now.
(Jean Patton 10:36am March 11, 2011)
When I'm reading, I always wonder about characters; did they live in the author's brain for weeks, months, years? Or did they just appear out of a situation? I like to think of Anthony as everybody's wounded hero:) Okay, here's another secret - I named him after my doctor because if not for him, there might well never have been an Anthony!
(Mary Campisi 10:45am March 11, 2011)
I recall seeing your name before, but can't say that I've read any of your books. After reading your blog, along with your excerpt, I have to make it a point of looking for your books now!! You have a way of captivating an audience!! I'm sorry that you had to go through your surgery, and hope that you're feeling much better now. I know that Moms' always have a way of making you feel better, no matter what age!! Unfortunately, mine passed away 8 years ago, so I only have her comfort food recipes to help me through the rough spots. Congratulations on your new book. It should do well.
(Peggy Roberson 11:00am March 11, 2011)
hi well i now what you had to go through but my went form losing my twins to cancer to pop hysterectomy in less than
3 days but your book sound great and will be going tops
and if you really like some one to read pick me i blog a lot on bookd i read
(Desiree Reilly 11:11am March 11, 2011)
I don't see how you managed to come up with such an interesting plot while going through such a trying time in your life. You are one very strong lady.
(Anna Speed 11:59am March 11, 2011)
When I had my hysterectomy last summer, I had a bit more time to prepare, and took piles of books with me (for an overnight stay!), but never thought of dreaming up a new charactor!! (I also didn't have a mom around to feed me the green leafies and liver!)

The book sounds very interesting, which means I'll have to go searching out your back-list. I hope they're out in print!

Later,

Lynn, waving "Hi!" to Molly!!
(Lynn Rettig 12:10pm March 11, 2011)
This is certainly a remarkable group of ladies. Thank you for sharing your own experiences with me. Moms and comfort food are one of the best prescriptions for recovery. My own mother, who is 82 and still full of pep and tons of wisdom, is a wonderful 'from scratch' cook and a former nurse. It really doesn't get any better than that. On a similar note, my husband and I made cookbooks for each of our kids last year comprised of favorite recipes; meatballs, aglio olio, penne pasta with spinach, pizzelles, banana bread . . . okay, now I'm hungry - lunchtime!
(Mary Campisi 12:29pm March 11, 2011)
This books sounds exciting. Now if I closed my eyes in pain I just wish I could fantasize/dream about such an exciting character as you described. Not that I write books, but for the fun of it. Thanks for writing books for all your fans out here!!
(Renee Howell 12:47pm March 11, 2011)
I'm not one to read much Historical, but I'm gonna have to pick this one up! Congrats on a healthy recovery!
(Kelli Jo Calvert 1:16pm March 11, 2011)
I'm amazed how you were able to let your creativity reign in your situation! Be well!!
(Birgit Lehner 1:22pm March 11, 2011)
There is something very intriguing about scars. A scar temps your curiousity about how did it get there...what were the circumstances? Is there a good story behind the scar? I bet there is a very intersting story behind Anthony's scar. This sounds like a good "escape" kind of read....one that reduces your stress, because you are so caught up in the storyline!
(Sandy Fielder 1:25pm March 11, 2011)
Congrats to you for dealing with your pain by pushing through and going to that spot deep inside you to write a creative and passionate piece.
(Darci Paice 1:27pm March 11, 2011)
Scars are indeed intriguing..Badge of honor? Dangerous encounter? Mark of courage? The possibilities are endless. Much of Anthony's refusal to open his heart is in the story behind the scar.
(Mary Campisi 1:57pm March 11, 2011)
I AM LOOKING FORWARD TO READING THIS BOOK..
(Debbi Shaw 2:20pm March 11, 2011)
Having to go through all of that... I am amazed at how you were able to have a story come to you... thank you for sharing!
(Colleen Conklin 3:11pm March 11, 2011)
You certainly made lemonade out of your lemons.
(Anne Muller 3:43pm March 11, 2011)
My goodness I don't think I would be able to be creative if I was in pain. I get migraines regularly and that is enough to keep me from doing most anything. Good for you!
(Stacie Deramo 3:45pm March 11, 2011)
Book sounds great. Thanks for giving me a chance to win it.Hope you are feeling better.
(Linda Hall 4:58pm March 11, 2011)
Mary, I'm so glad that I checked out the Fresh Fiction blog today. This books sounds terrific and now I most find out more about Anthony!
(Jeanne Miro 5:00pm March 11, 2011)
I truly understand the hard road of Drs. taking the steps to a hysterectomy. I had mine when I was 33, 3 yrs ago. My appendix was wrapped around my uterus ready to explode and they preform a full removal and appendicomy. I was ill for a while and they couldn't figure what was the cause. It was a hard road traveled and a hard recovery. Your strength and focus on such a character to build is inspiring. I am lucky to be here and I look forward to reading your book. Thank you for sharing your story and letting me share mine.
(Carla Carlson 5:29pm March 11, 2011)
This is the time when loved ones are so important.This book sounds like a good one.
(Deb Pelletier 7:12pm March 11, 2011)
Again, ladies, thank you for sharing your heartfelt personal stories with me. I'm not sure how long this blog runs but I'll be popping in and out for the rest of the night. I'll try to find out when the winner of the download for A Taste of Seduction will be picked!
(Mary Campisi 7:21pm March 11, 2011)
Just found out the contest closes tomorrow morning:)
(Mary Campisi 8:56pm March 11, 2011)
What a great way to come up with Anthony Weston character. As they say, when it raining lemons, make lemonade. This book is a great read.
(Kai Wong 10:54pm March 11, 2011)
The book sounds great. Would love to read it.
(Brenda Rupp 10:55pm March 11, 2011)
I;m so glad you're doing ok now; sounds like this book is an example of a silver lining out of a difficult time.
(Diane Sallans 11:06pm March 11, 2011)
Glad to hear you are recuperating, and sorry that you had to go thru 3 surgeries. Curious though that you chose to give birth to "Anthony" just before "the factory is closed" permanently, fortunate for us to be able to share this "hero" with you with your new book. Must be the morphine induced responsible for this particular "birth"!?!?!! :)

P.S. Like the look of your new book cover, very sensual.
(Joy Johnson 11:12pm March 11, 2011)
This sounds like a great book. I just came home from being in the hospital all hooked up but I wasn't thinking of a book..You are awesome. I do hope this finds you well and on the lookout for spring. It has been an awful two months here..between having respirtory failure, having a tree fall down and crushed our new riding mower and then being flooded and surrounded with 10 inches of water..I am so ready for spring and lots of sun. Happy St.Patrick's day. susan Leech
(Susan Leech 9:47am March 12, 2011)
I'm sorry for all the pain you went through, but there is a plus to it -- Anthony Weston.

I would love to read A Taste of Seduction.

God bless!
(Cathy Phillips 11:15am March 12, 2011)
Congratulations to Mona Garg on winning the download of A Taste of Seduction! Great chatting with everyone and best wishes for good health, prosperity, and happy endings.
(Mary Campisi 4:15pm March 12, 2011)
Creating a hero is more of less a mind game. Thanks for sharing how you came up with yours.
(Alyson Widen 5:22pm March 12, 2011)
Hi Everyone:

There was such an overwhelming response to this blog that I asked Fresh Fiction if they would select a second winner to receive A Taste of Seduction. Susan Leech, you're the winner!
(Mary Campisi 8:04pm March 13, 2011)
Registered users may leave comments.
Log in or register now!