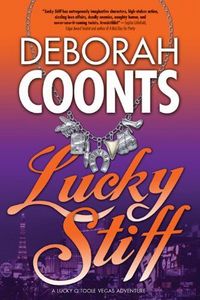 Purchase
Lucky O'Toole Vegas Adventure #2
Forge
February 2011
On Sale: February 15, 2011
Featuring: Lucky O'Toole
368 pages
ISBN: 0765325446
EAN: 9780765325440
Kindle: B00457X83A
Hardcover / e-Book
Add to Wish List

Other Editions
Mass Market Paperback (reprint - December 2011)
Lucky O'Toole--Head of Customer Relations at The Babylon, premier mega-resort on the Vegas Strip--thinks it's just another night in Las Vegas. A tractor-trailer has spilled its load of a million honeybees, blocking not only the Strip but the entrance to her hotel... the District Attorney for Clark County—apparently the odd man out of a threesome on the twelfth floor—is hiding in the buff in one of the hotel's laundry rooms... and Numbers Neidermeyer--one of Vegas' less-than-savory oddsmakers--is arguing with Las Vegas' ace private investigator, the Beautiful Jeremy Whitlock.
The next day, Lucky discovers Ms. Neidermeyer was tossed into the shark tank at the Mandalay Bay Resort as a snack for the Tiger Shark. When the police show up at the Babylon with a hastily prepared search warrant, applied for by the District Attorney himself, and Jeremy lands in the hot seat, Lucky realizes her previous night was far from routine.
Amid the chaos of fight weekend, the hiring of an eccentric new French chef, and her madam mother's intentions to auction off a young woman's virginity, Lucky is drawn into a deadly game where no one is what they seem, a game that will end only when she discovers who made fish-food out of Numbers Neidermeyer.
Lucky O'Toole and Fabulous Las Vegas—life doesn't get any better.
Lucky O'Toole

Wanna Get Lucky?
#1.0
Amazon.com | BN.com | | |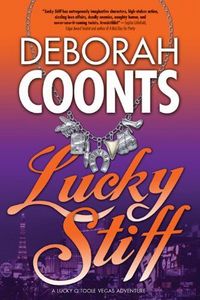 Lucky Stiff
#2.0
Amazon.com | BN.com | | |

Lucky in Love
#3.0
Kindle | BN.com | | |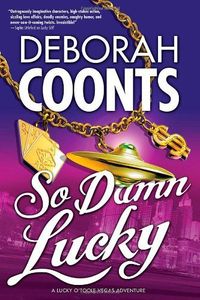 So Damn Lucky
#3.0
Amazon.com | BN.com | | |
Comments
21 comments posted.
Re: Lucky Stiff

I'm no writer but I can't imagine doing w/out the escapism afforded by reading. I HAVE to read daily just to be fit for public consumption, even this it's often iffy...*G*
(Ivy Truitt 9:15am February 15, 2011)
I don't think that anything you wrote sounded nuts to me. Anyone who decides to be an author just has the gift of having a story that they need to get out, and that story runs deep in their bones, be it real or imaginary. To be able to take others along for the ride and have them let you know how much fun it was, you know you've succeeded. I'm sure that I'll love your new book. From the sounds of it, it's as if I'm already at the Babylon, looking for Lucky.
(Peggy Roberson 10:34am February 15, 2011)
I love escaping to another world - even if it is still ours, just NOT ours. Those characters become my friends and I'm often upset when a series comes to an end. Besides, our first friends WERE our imaginary ones. ;)
(Kelli Jo Calvert 10:49am February 15, 2011)
I spend a lot of time reading and writing. You'll never see what I write because it truly is the voices in my head. Sometimes the start to tell me stories and then they go away while other times I invite your stories which tend to have an ending. I live in a small house in a small town with a small group of animals and sometimes the animals decide what's happening in my life, but even when they do it's a look they give me that I have somehow learned to understand. Who needs reality? There's plenty of ways to escape it.
(Christina Harrison 11:07am February 15, 2011)
Since we all have our own ways of dealing with reality, I have no problem with spending my time with my imaginary friends, whether between the covers of a book, or them telling me their stories and making me write them down. I'm with Christina on this: Really, who DOES need reality?!?

Later,

Lynn
(Lynn Rettig 11:17am February 15, 2011)
Deborah--I love escaping into the covers of a book, whether it be historical, paranormal, or just a contemporary just down the street. You have such a gift, to be able to take others into the worlds you write.
(Ann Garland 1:18pm February 15, 2011)
The key is keeping control of my imaginary friends:) I'm finding that to be
more difficult now that others know them as well. It's a bit surrealistic to
hold entire conversations with folks I've just met about mutual friends that
don't exist.
(Deborah Coonts 4:22pm February 15, 2011)
Reading is supposed to be a way to escape to other worlds other realities other other subjects and others. I read primarily romance and it is pure escapism.
(Diane Sadler 5:17pm February 15, 2011)
The older I get, the more I need my own imaginings or those of others.
Quite often the real world is too real.
(Deborah Coonts 5:25pm February 15, 2011)
If you didn't join your imaginary friends, we wouldn't have your great stories. So keep imagining because my imagination is not as good as yours!
(Linda Pillow 5:33pm February 15, 2011)
Oh, darling, we join you each and every time we add the most
recent book in our series love affair to our "preorder" at
Amazon. You really didn't think you were in it alone, did ya?
At least you have the keys to the car, the rest of us "crazies"
are just along for the ride.
(Lisa Richards 6:38pm February 15, 2011)
I am so thankful for 'Serially Crazy' writers! Being able to escape my reality and live with new people and places for awhile is why I read. Thanks for creating a place where I can go, even for just a short time ....
(Karen Cherubino 11:54pm February 15, 2011)
Yea! for those who like you take us non-writers along into your worlds. The closest I come to inventing a world is continuing an adventure I've read about just before I went to sleep. No sleep for me unless I read first.
(Sigrun Schulz 1:42am February 16, 2011)
I love your books! Really good books let us "drop our shields" and move into an
alternate reality where we can "let down our hair" and go along for the ride. BTY
what is the title (working or final) of book #4? I want to be first in line.
(Sandra Spilecki 8:49am February 16, 2011)
With your hubby I'm sure it helps that you are beautiful and your books are great.
(Vickie Hightower 9:13am February 16, 2011)
I think we all need escapism to survive in today's world.
(Sue Farrell 11:08am February 16, 2011)
Working title of book four is LUCKY LAY-DOWN (a poker term that,
whilecit has nice innuendo, it may be a bit forced). Not a great title, but
something will come to me.
(Deborah Coonts 6:41pm February 16, 2011)
So glad you enjoy Lucky. The stories are hers--but we do have the same
personality. I'm just the note taker, or perhaps I really do have a split
personality:). If that's the case, I want Lucky's wardrobe...and her car.
(Deborah Coonts 6:47pm February 16, 2011)
I am envious of Lucky so I hve to be happy living vicarously thru your books.
(MaryEllen Hanneman 3:59pm February 19, 2011)
When a long term relationship disintegrates, the need to have someone listen to your anguish is great. So, why not create the ears you need and attach them to a dream or imaginery person. It gives such relief to kids that I'm sure for older kids or adults, it's a similiar feeling.
(Alyson Widen 10:40pm February 27, 2011)
marcia brooks 07-19-2011
Looking for lucky stiff
(Marcia Brooks 12:43pm July 19, 2011)
Registered users may leave comments.
Log in or register now!