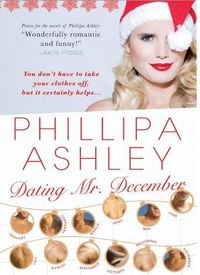 Purchase
You don't have to take your clothes off, but it certainly helps...
Sourcebooks
November 2010
On Sale: November 1, 2010
Featuring: Emma Tremayne; Will Tennant
288 pages
ISBN: 1402241429
EAN: 9781402241420
Paperback
Add to Wish List

When a nice girl asks twelve men to get naked, it's sure to cause a scandal...
Emma Tremayne leaves her high-powered PR job and moves to the Lake District looking for peace, quiet-and celibacy. So perhaps it's not the best idea when, in the spirit of "community-mindedness," she agrees to help the local mountain rescue team fund raise by putting together a "tasteful" nude calendar. Especially since quite a lot of the community seems to mind what she's up to-including the tall, dark and handsome Mr. December, Will Tennant, who appears to have gotten the wrong impression about Emma's intentions. So how does she convince him that he's more than just the flavor of the month?
Comments
49 comments posted.
It was interesting to see how you get your ideas. The book looks charming.
(Marlene Breakfield 9:33am November 22, 2010)
What inspires both with my family and at work is to find something in each day to be thankful for and something to inspire them. My husband kids me that I feel it's going to be a great day if I wake up and have to look DOWN to see the grass!
(Jeanne Miro 9:33am November 22, 2010)
I really enjoyed reading this, Phillipa. Best of luck with the book!
(Rosy Thornton 11:05am November 22, 2010)
Just seeing my kids enjoy a show or playing with their toys- inspires me everyday-keeps me plugging away at my job
(Audra Holtwick 11:24am November 22, 2010)
What great inspirations. Thanks for an enjoyable column.
(G S Moch 11:48am November 22, 2010)
Hi there from the UK, really enjoying your comments on family inspiration in daily life. I definitely wouldn't have been able to keep on writing (and hoping to be published one day) without the support of my husband and daughter.
(Phillipa Ashley 11:54am November 22, 2010)
It is always nice to hear what inspires authors. I guess it can be true for whatever our passion is. We need those that encourage us and inspiration.

Thanks for a wonderful post.

Valerie
in Germany
(Valerie Bongards 12:48pm November 22, 2010)
Thanks for a wonderful post!!! :)
(Colleen Conklin 12:49pm November 22, 2010)
love a new book with endless possibilites. not to mention hot guy characters.
(Anthonia Sharp 12:57pm November 22, 2010)
Sounds like a very interesting book, and fun to know what inspired it.
(Shirley Nienkark 1:20pm November 22, 2010)
looking forward to reading Dating Mr. December
(Betty Jo Hill 1:22pm November 22, 2010)
The future and possibility inspire me. Also, those days when a stranger is kind or someone smiles or holds your door or says 'thank you' when you have had a really crappy day, and suddenly you feel better. You feel hopeful again.
(Michele Powell 1:26pm November 22, 2010)
hi wish to win and wish you t he best of the year to come the book sound great
(Desiree Reilly 1:58pm November 22, 2010)
It is interesting how a little bit here & there piques our interest & snowballs into a great idea. Whether it is a person , an experience, or just a new dinner on the table!
Good luck with the book it sounds like a winner. Happy Thanksgiving!
(Jean Merriott 2:19pm November 22, 2010)
Hey, I'm absolutely delighted to see so many posts - thanks for reading the story behind the book! I had such an amazing journey of discovery while I was writing it especially as it was my first novel.

Michelle - I know exactly what you mean about the kindness of strangers. These little things can restore your faith in human nature.

Good luck, everyone and Happy Thanksgiving t you Jean and everyone here too (I've been learning all about this holiday from Sourcebooks Casablanca authors blogspot.)
(Phillipa Ashley 2:46pm November 22, 2010)
This looks like a book I would enjoy very much. I'm looking forward to reading it.and Happy Thanksgiving!
(Joyce Bruner 2:51pm November 22, 2010)
Please enter me in this fantastic contest and please let me know when I am a winner too. I love entering and winning contests from freshfiction.com
Thanks, Cecilia
(Cecilia Dunbar Hernandez 3:22pm November 22, 2010)
This book looks great, and I love your homepage. Very interesting and "funky". Happy Holidays!
(Debra Simning-Chapman 3:22pm November 22, 2010)
Best of luck to you!! What inspires me in my family is to see what wonderful
young men my boys are turning into!
(Cindy Lacey 3:27pm November 22, 2010)
This book sounds really good. I am adding it to my Must Read list.
(Cheryl Lynne 3:36pm November 22, 2010)
This books like a great read, hope I can win a copy.
(Linda Pillow 3:48pm November 22, 2010)
Sounds like a great book. Looking forward to getting a copy to read.
(Sharon Engel 4:53pm November 22, 2010)
I am inspired by the support I receive.
(Mary Preston 4:55pm November 22, 2010)
Your book sounds wonderful. I'm inspired by my family and friends.
(Yuka Liew 4:55pm November 22, 2010)
It is folks like you who can take what they see & hear shake it up with a dose of imagination and put it into words that keep me going.
(Donna Antonio 5:50pm November 22, 2010)
I admire people who have the imagination and skills to write books. I don't have that ability, but enjoy reading the stories written by others. Dating Mr. December sounds like an interesting book.
(Anna Speed 7:08pm November 22, 2010)
What inspires me---watching my dogs and seeing the total adoration and unconditional love in their eyes.
(Sue Farrell 7:20pm November 22, 2010)
would really like to read this one
(Natalie Kozaczka 7:32pm November 22, 2010)
You writers may think you add only a dash of magic, but when we
read it, it's all magic.
(Lisa Richards 7:51pm November 22, 2010)
Would love to read this!
(Brenda Rupp 9:05pm November 22, 2010)
I love the dry British humor. This sounds like a wonderful read. I enjoyed hearing how you get inspired. It's a gift, truly. Some have it & some don't. I fall in the latter category...but that's ok, I'm a heck of a reader!
(Ivy Truitt 9:05pm November 22, 2010)
This sounds like it will be delightful.
(Shannon Scott 9:13pm November 22, 2010)
Would love to win this book. Have just recently heard about it. Sounds like a fun read.

Happy Thanksgiving.
(Pat Lieberman 9:59pm November 22, 2010)
I thouroughly enjoyed reading your blog, and I'm sure I'll enjoy reading your book as well. It's refreshing to know what makes an author "tick" instead of just picking up a book and reading it. That little personal touch makes turning the pages a little more special. As for me, it's sort of a weird story about what inspires me. I didn't like the direction my life was taking. I wasn't a bad person or anything, but one day I woke up and decided I was just going to be the best person I could possibly be, and changed the way I was. I never looked back. It was the best move I could have made, although that former monster does have to come out from time to time, depending on the circumstance. Dealing with major health problems, I do my best to ignore those problems, and concentrate on being there for others instead. I started living by this philosophy about 30 years ago, and I still follow it today. It's made me a better, well-rounded person, and I have many friends from all walks of life.
(Peggy Roberson 10:15pm November 22, 2010)
Sounds like a great book! I'd love to read it.
(Alice Xiao 10:18pm November 22, 2010)
Enjoyed reading about how you get your ideas for a new book. Looking forward to reading Dating Mr December. Sounds like a fun read. Thanks for the contest. Love the Fresh Fiction website.
(Teresa Ward 10:21pm November 22, 2010)
I saw the movie "The 12 Men of Christmas" based on your book and really enjoyed the show. I'm sure I would also love your book. :)
(Ginger Hinson 11:35pm November 22, 2010)
I'd have to say I'm a people watcher and get a lot of inspiration from them. I've been known to just sit on a bench at Disneyland and watch people as they go by. I find you can learn so much if you just sit back and watch.
(Marsha Saenz-Jones 12:31pm November 23, 2010)
Good morning from a misty England...

You know what? I wish I had the ability to stay awake 24 hours because these days everything happens when I'm asleep! I just woke up to all these fantastic comments and stories - thanks to everyone who sent good wishes and has entered the contest.

Ivy - glad you like a touch of British humor. I always wonder how it will travel across the Atlantic but Jane Austen, Briget Jones and Richard Curtis have done Okay so I live in hope!

Peggy - yours is an inspirational story in itself.

Ginger - the book and movie are a bit different but I think the fun part is spotting the changes and the scenes that stayed just the same.

Marsha - people watching can be a lot of fun, but sometimes sad too if there's a conflict going on or people aren't being so nice to each other. Makes you think.

Phillipa x
(Phillipa Ashley 3:27am November 23, 2010)
What inspires me is love and safety. The love of my hubby and family. The safety we have made and found for ourselves (growing up poor didn't always lead to feeling that no matter how much my Mother may have tried). I have ended up very lucky with my hubby in his care of and for me!
(Victoria Colyer-Kerr 5:51am November 23, 2010)
i would love to read something Christmasy
(Catherine Myers 12:05pm November 23, 2010)
I get inspired to do a good job by the people around me and learning more about my crafts of nursing and writing.
(Alyson Widen 12:14pm November 23, 2010)
I am a teacher and am inspired daily by the effect I have on my students. There is no better feeling than when a student grasps a concept. It only makes me more dedicated and work harder when a student says thank you and gives me a hug. Passion for my work and love for my family is what gets me up every morning.
(Tabitha Monroe 2:28pm November 23, 2010)
I like how you get your way in writing and want to wish you
the best on the book and all that follows. Thank you for the
chance to win.
(Cynthia Plaza-Harney 3:21pm November 23, 2010)
I like seeing how others minds work.
(Vickie Hightower 4:51pm November 23, 2010)
It's those funny moments that inspire me in whatever it is that I'm doing. Those are some of the best times to have.
(Leni Kaye 6:00pm November 23, 2010)
Hi there,

Thanks for sharing your stories about how families, experiences and jobs inspire you - and for the comments about my book.

Tabitha - I know what you mean about being motivated by feedback from your students - it's the same with an author, when you get a message or comment. I don't think readers realise how much it means to an author when they take time to say hello or say they've enjoyed a book (especially when I've had a bad day!)

I'd like to wish everyone here and at Fresh Fiction a very Happy Thanksgiving!
(Phillipa Ashley 7:05am November 24, 2010)
It looks like it will be a great read... To be honest... I've never read any of your books before... But I love finding one great author after another...:)
(Victoria Chico 5:57pm November 26, 2010)
Dating Mr. December sounds like a very interesting read!
[email protected]
(Chrissey Dormer 10:42am November 28, 2010)
Registered users may leave comments.
Log in or register now!