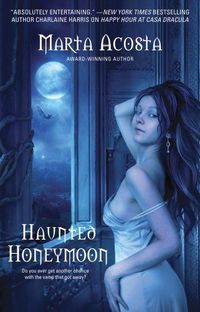 Purchase
Do you ever get another chance with the vamp that got away?
Casa Dracula #4
Gallery Books
October 2010
On Sale: October 1, 2010
Featuring: Ian Ducharme; Milagro de los Santos; Dr. Oswald Grant
368 pages
ISBN: 1416598871
EAN: 9781416598879
Trade Size
Add to Wish List

Paranormal Romance | Paranormal
Milagro must figure out how she fits in the vampire world, and who it is she really loves: her current lover Ian Duchame, her ex-fiance Oswald Grant, or maybe the new bloke she meets on a trip to England.
Whenever Milagro is near decadent aristovamp Ian Duchame, her hormones hijack her brains. Yes, she is bothered by his mysterious trips and his unwillingness to tell her hte full scope of his role with the secretive Vampire Council. But does that really matter when the man is so powerful and sexy?
Then there is Dr. Oswald Grant, the hardworking and fabulous man Milagro had planned to marry before crazy relatives an unknown enemy sabotaged her wedding and endangered her life. But Milagro yearns for hte chance to do things over--and do them right this time.
Things are already complicated when Milagro heads to England to pursue a job opportunity and meets the free spirited Wilcox Spiggot. He seems to be the whole package: an idealistic vamp who is always ready to party. Would a fling with count if it takes place across an ocean?
The fun ends once Milagro returns home and makes a grisly discovery. One terrible event leads to another and Milagro seeks refuge at the place she has always felt safest: Oswald's wine country ranch, nicknamed Casa Dracula. When severe trauma and remorse lead to amnesia, Milagro forgets her entire history with the vampires and goes back to being the happy-go-lucky party girl seh once was. With her memory erased, will Milagro have a chance to win back the vamp that got away--or will she make the same mistakes all over again?
Comments
51 comments posted.
love reading
(Brenda Hook 5:08pm December 23, 2010)
I like a good, hot, steamy, love story and I am doing it just now bc we are buried under snow right now!!
(Clio Teixeira 9:54am December 27, 2010)
This looks awesome! My friend is home on leave from Guam, and she's stolen all my good books! I'd love a new one to read!
(Veronica Jarvis 10:25am December 27, 2010)
I love a new book that I don't know what to expect. Then I can hope I am surprised and love it and then can stay up all night reading it.
(Pam Howell 10:44am December 27, 2010)
Hot steamy sex with an alpha male that can be in charge without being controlling.
(Pam Hager 11:36am December 27, 2010)
Hi, everyone! Thanks for sharing what you like to read on cold nights. I have a gift certificate to a bookstore, so your suggestions will help me choose.
-Brenda, this is a great site if you love reading.
-Clio, sometimes I read chilly scary stories out in the summer sun, because the warmth keeps me from getting too afraid!
-Veronica, I was just talking about this sort of "book sharing" yesterday. You've got to let them go!
-Pam, it's a wonderful feeling when the book is unexpected, yet terrific.
-Pam, "in charge, but not controlling" is a difficult balance.
(Marta Acosta 11:46am December 27, 2010)
My wife will be interested.
(Pat Connors 11:53am December 27, 2010)
I have just read Maya Banks' first 2 books in her KGI series, and they will really keep you warm on a cold night. There is just the right mix of protective/possessive Alpha Male, steamy sex, warm romance, and scary suspense!
(Cheryl Castings 12:03pm December 27, 2010)
Winter reading, Wonderful!!!
Blessings,
Marjorie
(Marjorie Carmony 12:19pm December 27, 2010)
I just love any book. That way I don't have to think about all the snow and ice out there, or think about how much my heating bill is going to be. A book that can take my mind off that, is surely a good one.
[email protected]
(Debbie Penny 12:28pm December 27, 2010)
I love all kinds of books as long as they hold my attention & have: a happy ending & romance. They can be suspense, paramormal, humor, adventure, historical or contmporary. So much to read...so little time. Today may driveway has been plowed, I've shoveled the walk & edges & am now ready to start a new book sitting under my new cosy lap robe I got for Christmas.
(Diane Sallans 12:48pm December 27, 2010)
-Hi, Pat, how nice of you to think of her!
-Cheryl, I love suspense and wish there was a section of the bookstore for it.
-Marjorie, hoping your winter is wonderful.
-Debbie, I've become one of those people to tell children, "Close the door! We can't afford to heat all of outside."
-Diane, I'm not particular about genre, which is why I can't go into a bookstore and leave soon. I wander everywhere before buying a book.
(Marta Acosta 12:53pm December 27, 2010)
It all depends on my mood at the time, but it has to have romance in it... I enjoy the many genres in romanc... so many great choices!
(Colleen Conklin 12:53pm December 27, 2010)
I like a good, scary book, suspense, mystery in the winter, so I can cuddle up in bed and under the covers!!
(Maria Antunes 1:01pm December 27, 2010)
I love to read and especially love the title of your book.
(Susie Kerner 1:01pm December 27, 2010)
I would really like to have the chance to read your book I have not read any of your books before and this one sounds good
(Cj Swier 1:30pm December 27, 2010)
I love a good romantic /thriller
(Adrienne Kelligan 1:30pm December 27, 2010)
Any Harry Potter book or Dark Tower books 1-3 or, and I say this with a little embarrassment as I am 44... Twilight. These books take me far away and they each connect with a different person in me that needs feeding on occasion.
(Michele Powell 1:35pm December 27, 2010)
My favorite no matter what time of year it is is Romantic Suspense!
(Kelli Jo Calvert 1:38pm December 27, 2010)
I like a light cozy mystery--nothing too taxing at the end of a long day.
(Sue Farrell 2:03pm December 27, 2010)
In January I need help keeping warm even if I'm sitting in front of a blazing fire so give me a historical romance. Take me back to those times of romance when a lady was swept off her feet and when there was still mystery in romance. Add in a brave sometimes funny hero and let the cold wind blow.
(Jeanne Miro 2:11pm December 27, 2010)
I like anything that makes me laugh! In front of a fire, I would have problems staying awake! I would need somthing that would keep my attention and I think laughter is the best way. A little romance thrown in is always great!
(Brenda Rupp 3:34pm December 27, 2010)
I like all kinds of books and today is a perfect day to be inside reading while the wind is howling and the snow is blowing.
(Maureen Emmons 3:38pm December 27, 2010)
-Colleen, it was fun to write for the Mammoth Book of Scottish Romance and have something steamy with a happy-ever-after ending.
-Maria, I get too caught up in scary stories and freaked out, so I can't read them at night at all.
-Susie, glad you like the title. I've got to come up with a title for my young adult, and that's really a challenge. Of course, it all depends on what my editor says.
-CJ, good luck in the contest!
-Adrienne & Kelli Jo, in terms of movies, I love Alfred Hitchcock's romantic thrillers and suspense. MARNIE is one of my favorite movies.
-Michele, you're not alone. I'm really thrilled with all the adults reading young adult books. The category is very exciting right now.
-Sue, I always enjoy those mysteries where some unlikely person gets caught up with a murder. I especially like it if there's a romance and humor.
-Jeanne, I loved Forever, Amber because of all the historical details and all the steamy relationships and intrigue. It was a book you could really sink into.
-Brenda, comedy is essential! It's easy to make someone cry, but making someone laugh takes skill.
(Marta Acosta 3:43pm December 27, 2010)
There is a GREAT deal of comfort in a good story, nay a GREAT story.
(Mary Preston 4:06pm December 27, 2010)
I love books that take you from the expected, I enjoy humour and love. I enjoy anything upbeat that makes you think...hey maybe it is possible!
(Darci Paice 4:19pm December 27, 2010)
Marta,
I love mysteries and romance has to be a part of it. But I also love comedic romances and science fiction adventure with romance of course. Oh and paranormal adventure with that romance! Your book sounds like just what the doctor ordered for this winter's reading... something hot to warm my bones.

I'm glad to see that you're going to take some time to do some reading, to replenish your well. I would suggest something really outside your comfort zone, maybe in a steampunk line? Get something that will take you out of the everyday and just plunge in!

Good luck and happy New Year.
(Wanda Hughes 4:30pm December 27, 2010)
Oh, it depends on my mood....an exciting paranormal....a thriller....a light historical romance....a sexy erotic contemporary....a high fantasy.....if there are words, I'll read it...hehe!!!

Thanks for the nice post.

Valerie
in Germany
(Valerie Bongards 4:44pm December 27, 2010)
I love the continuity of a series! A series offers an opportunity to weave all those characters you come to know (and frequently love) into the lives of the characters in the future books. As a result they continue to exist and sometimes even play major roles in the new books!
(Marguerite Guinn 4:46pm December 27, 2010)
-Mary, I agree. I like a story that gives you a deeply satisfying feel as you reach the conclusion.
-Darci, I love it when the author creates a scene that's so vivid you can see it in your mind.
-Wanda, I think you'd like my books! Yes, I like steampunk and one of my favorite books rather predated the steampunk trend, Jasper Fforde's The Jane Eyre Affair. I have a copy of Cherie Priest's Boneshaker that I can't wait to read.
-Valerie, I know the feeling. I'll read a cereal box if it's all that's around.
-Marguerite, I really enjoyed the opportunity to develop my characters in a series. As a reader, I like seeing characters evolve as time goes on and they're put in different circumstances. I want them to grow.
(Marta Acosta 5:41pm December 27, 2010)
I usually go for a good romantic suspense or a mystery novel to keep my mind off of the weather.
(Leni Kaye 5:45pm December 27, 2010)
I love otherworldy romances. Love paranormals, fantasy, and sci fi stories especially. They allow me to escape elsewhere. Love great world building.
(Cherie Japp 6:08pm December 27, 2010)
It depends on my mood: a hot romance, a good romantic suspense or like today a wonderful paranormal.
(Diane Sadler 6:25pm December 27, 2010)
Right now anything sound good, yours included. My TBR pile is gone and I need to his BN. Got a giftcard for Christmas. I can hear the books calling my name.....
(Maude Allen 6:29pm December 27, 2010)
I have a good stack of a TBR pile for which I can find just the right book to keep my mind off the weather. I don't even want to go out when the weather is crappy! I love books that involve time travel but don't think I have any of those. A good one of those is hard to find.
(Brenda Rupp 6:47pm December 27, 2010)
Thanks for giving me a chance to win a new good book.Happy Holidays.
(Linda Hall 6:58pm December 27, 2010)
It got even colder around dusk when I went on a walk with my daughter who's flying into where the snow hit hard on the East coast tomorrow. For a book anything cozy like a mystery or something where food has a starring role would be fine with hot chocolate to warm the soul and toes.
(Alyson Widen 7:09pm December 27, 2010)
A good book to read by the fire would be whatever book I grab from my TBR
pile with my eyes closed. After all anything in my TBR pile was specifically
chosen by me so that any one of them would be great. I am always to be
found with a book in my hand, usually any category of light fiction. I read to
relax and escape
so anything that is not like my life is best, especially if there is light humor
within.
(Sandra Spilecki 7:31pm December 27, 2010)
-Leni, it's always a delight when my favorite suspense writers come out with a new book.
-Debra, I have a special fondness for Barbara Michaels' (aka Elizabeth Peters) mysteries, because I always learn something about archeology or history.
-Cherie, I hope you'll check out my romantic comedies...with vampires!
-Diane, I wish there was a station in bookstores where you could request specific books, like "quirky, funny, romantic story set in New Orleans" or whatever.
-Maude, good luck making a choice you like!
-Brenda, time travel is fun, but tricky for the author in terms of worldbuilding.
-Linda, happy holidays back atchya!
-Alyson, I just read about a new mystery involving chocolates. I wish I could remember the title.
-Sandra, you're a very daring reader, but a TBR pile with light fiction would appeal to me, too. I love humor in a story.
(Marta Acosta 8:03pm December 27, 2010)
Reading is my passion! I especially love a good mystery but read just about anything. I love the paranormal,historical romance,fiction,and anything on the scary side. Looking forward to reading this. Thanks for the contest!
(Teresa Ward 8:43pm December 27, 2010)
The Mammoth Book of Scottish Romance would be most excellent on a cold winter's night. I enjoy reading anthologies because you can read an entire story at night or during your lunch hour. :D
(Molly Wilsbacher 8:56pm December 27, 2010)
I'm a huge historical fiction fan. I really like Scottish romance and some Regency. Occassionally I'll read something like Steve Berry that has historical elements in it. :)
(MaryAnne Banks 9:10pm December 27, 2010)
I'm not picky, just needs well developed characters and a good plot.
(Vikki Parman 9:41pm December 27, 2010)
i would love to win
(Catherine Myers 9:44pm December 27, 2010)
A good book and a comfy chair while the snow is piled up.
What can be better!
(Jacquelyn Lane 10:29pm December 27, 2010)
I would say that nothing warms you up better by the fire than a good old-fashioned love story. The glow you feel inside when you can find an author that really touches that certain part of your heart as you are reading as the love story unfolds, does wonders for you by the time you get to the end of the book. I'm not referring to the cheeky novels, but a real good, old-fashioned love story!! It even puts you in a better frame of mind, and boosts your mood considerably!!
(Peggy Roberson 11:03pm December 27, 2010)
I'll read just about anything, but lately I'm reading alot of fluff books. I need something to let my mind relax after all the day to day stresses and anything with love and a happy ending is a good thing.
(Joelle Beebe 12:04pm December 28, 2010)
I love to read, it helps to relax with a book and forget about everything else for a little while.
(Jane Thompson 2:21am December 28, 2010)
I love to read. I read every night before bed anywhere from 30
minutes to several hours. I hop around from PR, UF,
contemporary romance, historical fiction to chick fic. It
totally depends on my mood and what I've recently been reading.
(Lisa Richards 12:06pm December 28, 2010)
-Hi, Teresa, my books have the paranormal, but not too much of the scary...although my neighbor told me that one scene gave her a nightmare!
-Molly, anthologies are also great for introducing you to writers so you can sample their style.
-MaryAnne, I love learning the odd details of everyday life in historicals.
-Vikki, my taste is toward more character-driven stories, but I like a complex plot that holds together when you think about it later.
-Catherine, good luck!
-Jacqueline, I'd add a hot cup of tea and a pet nearby!
-Peggy, while I enjoy cynical stories, I love characters with a sense of right and wrong and a willingness to do the right thing even at personal cost.
-Joelle, I think that people assume that grim stories are more "serious," but there are badly written grim stories and beautifully written "fluffy" books.
-Jane, I want to get so caught up in a story that I forget what time it is.
-Lisa, I can't read before bed, because if I like the book, I'll keep reading instead of going to sleep.
(Marta Acosta 4:50pm December 28, 2010)
Its funny you ask that question because I just wrote a little review of a book I just read and said "this is the type of book you would curl up in front of the fire with" some books just do that to you. The book was Vampire Vacation by C.J. Ellison. I read a review a little while back and a blogger had said the same about your Casa Dracula series. I just received your post cards and book marks so to remind me to get your series because they sounded very good. I'd love a chance to win book 4!!
(Tanya Wires 10:28pm December 29, 2010)
Registered users may leave comments.
Log in or register now!