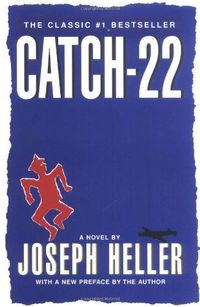 Purchase
Simon & Schuster
September 1996
On Sale: September 4, 1996
464 pages
ISBN: 0684833395
EAN: 9780684833392
Paperback
Add to Wish List

Catch-22 is like no other novel. It is one of the funniest books ever written, a keystone work in American literature, and even added a new term to the dictionary.At the heart of Catch-22 resides the incomparable, malingering bombardier, Yossarian, a hero endlessly inventive in his schemes to save his skin from the horrible chances of war. His efforts are perfectly understandable because as he furiously scrambles, thousands of people he hasn't even met are trying to kill him. His problem is Colonel Cathcart, who keeps raising the number of missions the men must fly to complete their service. Yet if Yossarian makes any attempts to excuse himself from the perilous missions that he is committed to flying, he is trapped by the Great Loyalty Oath Crusade, the hilariously sinister bureaucratic rule from which the book takes its title: a man is considered insane if he willingly continues to fly dangerous combat missions, but if he makes the necessary formal request to be relieved of such missions, the very act of making the request proves that he is sane and therefore ineligible to be relieved.Catch-22 is a microcosm of the twentieth-century world as it might look to some one dangerously sane -- a masterpiece of our time.

Media Buzz
Morning Edition - November 20, 2012
NPR Books - October 13, 2011

Comments
4 comments posted.
Re: Catch 22

Great idea Half Price Books has for recruiting booksellers in their stores. Hope they find jobs!
(Fresh Fiction 2:32pm August 2, 2011)
I'm so glad that there is something for all those employees who got laid off.
(Jencey Gortney 7:32pm August 2, 2011)
Looking out for one another in these tough times is the only way to make it. Networking within many channels is where people learn about jobs relevant to their niche and others they may have some interest in.
(Alyson Widen 8:21pm August 2, 2011)
I love that Half-price Books is reaching out!
My husband is a victim of the economy in a different field,
and we know first-hand how much having a chance at a job
means!
(Diana Troldahl 10:47am August 3, 2011)
Registered users may leave comments.
Log in or register now!