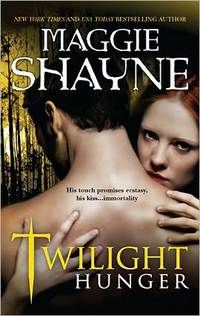 Purchase
Return with Maggie Shayne to the dark, erotic world of wings in the night . . .
MIRA
October 2010
On Sale: October 1, 2010
Featuring: Morgan DeSilva; Dante
400 pages
ISBN: 0778328716
EAN: 9780778328711
Mass Market Paperback (reprint)
Add to Wish List

He is every woman's fantasy, yet he remains alone and untouched. His world is one of secrecy and solitude, darkness and danger. Now one woman has found his journal. She has told his secrets. He must stop her, and there is only one way . . .
When struggling screenwriter Morgan DeSilva uncovers the ancient leather diaries in the attic of an old house in Maine, she is swept into the seductive world of a long-dead madman who had believed himself a vampire. Now, though Dante's story has made her rich and famous, Morgan is wasting away. At night she dreams of him, an erotic fantasy so real she can see the marks on her neck, feel her life's blood draining from her. Almost as if he were real . . .
He comes to her at night. Watching her. Wanting her.She is one of The Chosen. She can be his, if he desires. And he desires it so much that he is filled with a terrible fear. He knows that his kiss can save her from destiny's curse, and from the enemies who stalk them both. But to save her, he must trust her. With his life. With his love. With the promise of immortality.
Comments
47 comments posted.
Re: Twilight Hunger

Your books sound fascinating and I am so glad that you were one of the first to start this particular genre.
(Joanne Reynolds 6:21am October 21, 2010)
I'm looking forward to checking your books out.
(Pam Howell 7:38am October 21, 2010)
Thanks goodness you didn't give up, I have only read Edge of Twilight and the rest of your books sound great and I can't wait to read them.
(Barbara Hanson 8:54am October 21, 2010)
Yay, love vampire books!!!! Yours sound fantastic!!!

Valerie
in Germany
(Valerie Bongards 11:01am October 21, 2010)
I have been reading Maggie's books since "Reckless Angel" came out while I was in HS. I had the great pleasure of meeting Maggie at this year's RWA to get my copy of "Reckless Angel" signed. I would love to get a collector's edition of any of the Wings In The Night series! Thank you Maggie for such awesome books!
(Jenn Baker 11:46am October 21, 2010)
I would love a chance at this prize, thank you kindly!
(Freda Mans-Labianca 12:34pm October 21, 2010)
Wow, and now that is such a popular genre. How cool is that? I'll bet it makes you very proud to be one of the first.
(Vicki Hancock 12:44pm October 21, 2010)
I have read your later books but would love a chance to read this book!
(Susan Mahaffey 12:52pm October 21, 2010)
Have read several of your books and
now have quite a few on my TBR shelf.
I'll have to check the reading order.
The list will also help me fill in the
blanks so I can look for the books I
don't have. I prefer to read books in
order if I can.
Thanks for the interesting post.
(Patricia Barraclough 12:56pm October 21, 2010)
I'd like to this prize. I've read your romantic suspense books but now I'm eager to read the vampire series - especially knowning it laid the foundation for the vampire genre.
(r w 1:01pm October 21, 2010)
love vamp romance thanks for the peak and love the cover art :)
(April Strength 1:03pm October 21, 2010)
Enjoyed your column. Congrats on this month's re-release.
(G S Moch 1:15pm October 21, 2010)
Thanks for sharing your story!
Blessings,
Marjorie
(Marjorie Carmony 1:45pm October 21, 2010)
Have to add your name to my list of authors to read... sounds like a great bunch of books to get into!
(Colleen Conklin 1:46pm October 21, 2010)
You are a poster girl for not
(Elizabeth Parzino 1:58pm October 21, 2010)
You are a poster girl for not giving up! glad you stuck to it as I've read a couple of your books and am looking forward to the rest.
(Elizabeth Parzino 1:59pm October 21, 2010)
Memories, thanks for being one of the first authors to start me on the Vampire Road.
(Esther Carrillo 2:29pm October 21, 2010)
Your books are great I'm a Big Fan, I love them and Please keep them coming.
(Vickie Hightower 3:09pm October 21, 2010)
Twilight Hunger was a gem amongst the rubble of a paperback grab bag I bought at a library sale a couple of years ago. Since then I have tried to get my hands on as many of your books as I can!
(Amanda Miller 3:57pm October 21, 2010)
I can't believe its almost the end of the series! I'm surprised this was originally a stand alone. It would have been so strange to only see one story from the world.

Thanks for writing!
(Rae M. 4:22pm October 21, 2010)
It is so wonderful to read a story from an author who doesn't just put pen to paper, but puts all of her being into her books!! I hate reading a book that somebody slaps together, just to get it off to press!! I apologize for not reading your books, due to the fact that this genre doesn't normally grab me, but I am definately going to put yours on my list of books to read!! You've made me a believer!! Thank you for going the extra mile all these years!!
(Peggy Roberson 4:37pm October 21, 2010)
Congrats for being at the forefront of a genre which has taken off like a rocket! :-) With the plethora of "wannabes" now, it's so interesting to read of your beginning, and of your continued success!
(Jl Welling 5:01pm October 21, 2010)
I agree that there are more authors out there writing about vampires and we see a lot of genres grow with their popularity, but overtime readers are able to separate a good story from a bad one. I'm glad that you tell your stories as stand alones because that makes it easier for someone to jump into a series.
(Leni Kaye 5:42pm October 21, 2010)
Your books are one of the reasons I started getting into paranormal romances to begin with. I started reading your books with your Brand series, which I loved and because I got caught up in your stories I started rading your twilight series books and have been hooked ever since. Before that you couldn't get me to even try a paranormal
(Amanda Boyer 5:54pm October 21, 2010)
It takes great writing to get me into paranormal. Thank you.
(Mary Preston 6:01pm October 21, 2010)
I love paranormal and your books are the best. I didn't realize that you were one of the first to write in that genre.
(Sherrie Maner 6:57pm October 21, 2010)
I've enjoyed a few of your Wings in the Night books. Thank you! I especially love Amber Lily (Edge, not as much).
(S Tieh 8:24pm October 21, 2010)
I would love to win this! Thank you so much for the giveaway!
(Lisa Garrett 9:41pm October 21, 2010)
congrat on your book and hope you have more i be happy to read it and blog
(Desiree Reilly 9:49pm October 21, 2010)
Haven't read any vanpire romances,did enjoy reading Bram Stoker's "Dracula". Your books sound like a great read. Thanks for the give away.
(Sheila True 10:18pm October 21, 2010)
I would love to win the book! Thanks so much for the giveaway.
(Brenda Rupp 10:31pm October 21, 2010)
Your book sounds exciting I can't wait to read it!
(Jane Thompson 11:31pm October 21, 2010)
This is so strange, but I'm actually reading "Obsession" by Lori Herter. I didn't know that it's a trilogy. I love vampire books and yours sound great.
(Ginger Hinson 11:34pm October 21, 2010)
So sorry I wasn't here yesterday. Daughter had medical tests and I spent the day at the hospital with her. Nothing diagnosed as yet and I'm 100% sure she'll be fine, but it'll be a relief to get to the bottom of her health issues. Anyway, wow on all the comments! I'm enjoying them all so much! Thank you!
(Maggie Shayne 8:39am October 22, 2010)
I remember when there was nothing & then BAM....Very interesting how it all came about for you. Hope alls cleared up w/ your daughter asap.
(Ivy Truitt 9:01am October 22, 2010)
I have read several of the Twilight series books and look forward to reading your newest editions. As always, your books are great, keep them coming!!!!!
(Nancy Wolfe 9:29am October 22, 2010)
I've managed to read all your Twilight books, as well as a few of your others, the first was about 10 years ago and I remember searching all book stores many in vain for your books or others similar, now I share them with my daughter who has already started her own collection, so thankyou twice, once for giving me somewhere to escape to when i needed to, and for helping to give my daughter (who has just turned 18) and i much needed common ground.
(Lynnette Nankervis 9:40am October 22, 2010)
I love vampire books so I want to read all of yours. They sound great!
(Cheryl Lynne 11:06am October 22, 2010)
The life of a writer is making more than enough revisions to 80/20% satisfy editors. I'm glad you had other books in the works that suited the publisher's fancy. No one sees the exactly the same things in a book or a reading, it's all open to interpretation and discussion. Vampires are all the rage and now even more since Halloween is soon. I know you'll keep plugging away, afterall, writing is in your blood.
(Alyson Widen 1:46pm October 22, 2010)
Haven't read any of your books yet! Looking forward to it though!
(Michele Powell 2:40pm October 22, 2010)
I get frustrated with reissues of books when I don't know the correct order. When I am in a bookstore and find a book I like, I look in the front and back of the book to see if there are other books listed. It really helps if the publishing year is also listed. It helps to keep me organized :>)
(Karin Tillotson 2:59pm October 22, 2010)
Mira's great about listing all the other Mira titles in this series, but the problem is, they were not all MIRA. There were 3 shadows, several novellas, a Single Title, and an Intimate Moments too. And soon to be a Nocturne. And they never list those. For a full reading list you can email me and I'll send it. [email protected]
(Maggie Shayne 4:17pm October 22, 2010)
That's amazing that there are 20 stories in your series.
(Maureen Emmons 5:02pm October 22, 2010)
Your book sounds very interesting thank you for giving me a chance to win it.
(Linda Hall 7:19pm October 22, 2010)
Sounds interesting, I hadn't heard of any of these books. I'll have to check out the series.
(Dani Brantley 10:04pm October 22, 2010)
Win or not, I'm going to have to
read this!
(Jennifer Crocker 10:33pm October 22, 2010)
I read every one of your Twilight series. I love them. It is good to know that there are two more books coming soon.
(Kai Wong 11:49pm October 22, 2010)
Registered users may leave comments.
Log in or register now!