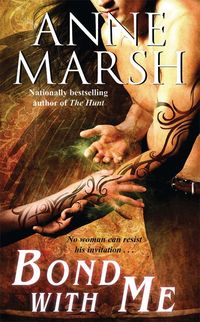 Purchase
A Novel of the Fallen #1
Dorchester
September 2010
On Sale: August 24, 2010
Featuring: Brends Duranov; Mischka Baran
324 pages
ISBN: 0505528584
EAN: 9780505528582
Paperback
Add to Wish List

Fallen angels... They rule Moscow's seedy underworld, promising untold pleasure to the females who dare to mate them. That promise – and Brends Duranov's own raw sexual power – has hopefuls mobbing the velvet rope outside his elite club G2's.
But Mischka Baran has no intention of hooking up with one of the Fallen. Not even after Brends gives her an unforgettable taste of the sin and seduction he can deliver with those wicked lips. She's after information, not a stint as some Goblin's toy of the month. What she doesn't know is that with a sadistic killer carving up his brethren, Brends is playing for keeps, hunting the one woman whose bloodline can end the mayhem, whose bond can restore his lost wings.
Comments
9 comments posted.
Re: Bond With Me

This sounds like such an intriguing book, and Russia sounds like such a wonderful backdrop as well!! It's a country that is a bit mysterious to us, even now, which will make this book that much more fun to read. It will definately be on my list of books to read -- perhaps by early fall will be the perfect setting for this type of book. It seems proper for some reason. I can picture the snow falling around the Kremlin, and this book in hand.
(Peggy Roberson 10:31am August 25, 2010)
I've read a few books with Fallen Angels before and they have been an entertaining read.
(Diane Sadler 2:05pm August 25, 2010)
Love the idea of Russia. Will be reading this.
(Mary Preston 6:45pm August 25, 2010)
WOW book sound great, just the stuff I enjoy reading.
(Vickie Hightower 8:15pm August 25, 2010)
Russia reminds me of Barishnikov(ballet) and Dr. Zhivago (movie.) They all seem so foreign and intriguing.
(Alyson Widen 8:55pm August 25, 2010)
Sounds like a good read!
(Brenda Rupp 9:10pm August 25, 2010)
The cover raises all kinds of questions.
It is certainly intriguing. Russia has
always projected a "dark" image. It is
foreign, remote, cold and powerful.
The Alphas are usually depicted the
same way. I am very curious about
your book and will be looking for it.
depicted
(Patricia Barraclough 10:01pm August 25, 2010)
I love fallen angel stories and
the Russian setting would be
refreshing!
(Jacqueline Cook 10:46pm August 25, 2010)
I love your cover. Can you
tell us without ruining the
book (which is on my wishlist
since reading your BBB
interview)if their is a significance that Brends
tattoo seems to go right from
his arm to Mischka's(I'm
assume they are the ones on
the cover)?
(Lisa Richards 9:14pm August 28, 2010)
Registered users may leave comments.
Log in or register now!