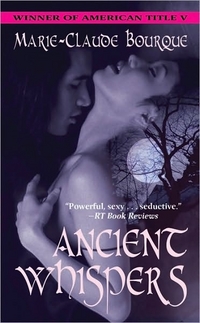 Purchase
Love Spell
June 2010
On Sale: May 24, 2010
Featuring: Lily Bellefontaine; Gabriel
320 pages
ISBN: 0505528339
EAN: 9780505528339
Mass Market Paperback
Add to Wish List

After being separated from his fiancée centuries ago, Gabriel binds himself to a sorceress who makes him immortal and promises to help him find his lost love. But when the woman he's been looking for is discovered living in modern times, Gabriel finds the sorceress has no intention of letting him go.
Comments
45 comments posted.
Re: Ancient Whispers

Congrats on your win and book!
As for going out of my comfort
zone, does getting laid off
count? Even if I was so
unhappy at that job that I
gained 35 pounds? Whether for
better or for worse, change is
uncomfortable. Still, after
the initial panic, I was glad
(and promptly started to lose
the extra weight).
(S Tieh 3:36am May 31, 2010)
Congratulations on the temertity and faith that you had in your book! It is definitely on my must read list now!
(Joanne Reynolds 7:04am May 31, 2010)
Congrats on pushing yourself. I am getting ready to start nursing school, I'm no longer "just out of high school" and picked the hardest route of nursing possible (two full time degrees to be earned at once), so I am learning how great (and trying) it can be to push yourself out of your comfort zone of security.
(Jessica Badeaux 8:06am May 31, 2010)
The bigger the challenge the better we are.
(Barbara Hanson 10:18am May 31, 2010)
Many congratulations on participating in and winning The American Title competition! I stepped out of my comfort zone when I decided to travel abroad instead of jumping into searching for work immediately after college. Had expected to be gone 3-6 months. Instead, met and married my husband and lived in various countries for over a decade and a half before coming home.
(G. Bisbjerg 10:55am May 31, 2010)
Congratulations on your win.
(Sherry Russell 11:52am May 31, 2010)
Congrats!!! Well it is hard to pick just one(I'm shy) but I would say it wasjoining our local fire department when I was 18. I was young and only the 2nd woman to be a fireman in our area. It is a very small community and alot of the commuities around us WOULD NOT allow or black-balled females as firemen. I made it and stayed on until I had children. It was a very very rewarding experience and to think I almost didn't because I was scared and out of my element, seems well abserd!!!

I love the sound of your book and I'm putting it on my list!!! I would love to read and vote on some experts, when are they going to hold the contest again?
(Brandy Blake 12:16pm May 31, 2010)
Each time I must give a presentation at work or introduce myself, I'm out of my comfort level. I just prefer to stay in the work, unseen, and do my work!

Every day is a challange for me. I don't like doing those things and I'm not getting better at them, but I don't get as nervouse as I used to!

Thanks!
(Tracey Dent 12:18pm May 31, 2010)
Every day can be a challenge since I retired. Nothing is the same and there are so many new things that I never considered because I "had to work", not enought time, blah blah blah.
(Elizabeth Parzino 12:30pm May 31, 2010)
I had to change jobs and get new training for a new one and I didn't want to go through the whole process of sign-up and evaluation, but I'm glad that I did because I found out that I did not want to train for the trade that I was going to take.
(Leni Kaye 1:07pm May 31, 2010)
Congratulations-sounds great!!
(Diane Pollock 1:17pm May 31, 2010)
Congratulations on winning The American Title competition. The biggest challenge my husband and I have had are when he lost his job last (still not working). For the first time in our lives, we had to go on food stamps and LIEP (gas and electric payments). We are now off of them, but the going is still tough since we are living on my Social Security disability.
(Cathy Phillips 1:20pm May 31, 2010)
Congratulations! Sounds like a really good read.

I have tried going out of my comfort zone a number of times. I am rather introverted so I make myself attend public and social functions since I know it is not healthy for me to be home all the time. Not easy for me but I know it is necessary.
(Cherie Japp 1:28pm May 31, 2010)
Congrats on your book and your win...how exciting for you! I forced myself to step out of my comfort zone when I started doing volunteer work. I am very shy around strangers and it was hard on me for a while, but I forced myself to do it and it felt good.
(Patsy Hagen 1:35pm May 31, 2010)
I really stepped out of my comfort zone when I signed the papers for my first back surgery. I was a nurse so I had a good idea what would go one and I was really scared.
(Julie Swaney 1:37pm May 31, 2010)
I stepped out of my comfort when I left the big city and married a farmer. Best decision I ever made!
Blessings,
Marjorie
(Marjorie Carmony 1:40pm May 31, 2010)
Congratulations on all of your
success! I have a child with
special needs and I have
trouble standing up for myself
(I blame it on childhood
shyness and living in the
shadows of some very vibrant
siblings) let alone anyone
else, so putting myself on the
hot seat as I fought for her
benefits really pushed me out
of my comfort zone. I'm not as
bad now - probably because
I've been fighting for so many
years to get her the care she
deserves, I don't even think
of my own discomfort any more.
The mama bear personality has
really taken full effect with
me now!
Margay
(Margay Roberge 1:47pm May 31, 2010)
great post and congrats on your win.

I don't step out of my comfort zone too often. I guess the last time was some years ago when I went alone, across the Atlantic to spend three weeks in Ohio to meet some lovely ladies I had met and got to know online.

I had a wonderful time and it was the first time I travelled so far, alone.

My family were great in letting me got too.
(Valerie Bongards 1:50pm May 31, 2010)
Congratulations on your win and am looking forward to reading your book!
(Teresa Ward 2:05pm May 31, 2010)
Congrats!!!
I am not big on doing things that I am not used to... so sometimes I have to push myself to go out of my comfort zone... I am one that tries to do things in small steps...
(Colleen Conklin 2:11pm May 31, 2010)
For someone who is naturally shy, it took me out of my comfort zone to take an active part in a fight to protect our neighborhood from the actions of a mayor who is currently running for governor of our state. Alas, the extremely-wealthy developer we were up against was the mayor's financial supporter and we eventually lost our cause; but we did protect our neighborhood for almost four years.

Congratulations to you for winning the well-deserved The American Title competition.
(Gladys Paradowski 2:29pm May 31, 2010)
HI everyone :)
Thank you so much for your congratulations and for sharing your stories with me! You all rock!
(Marie-Claude Bourque 2:43pm May 31, 2010)
WOW what a way to get pub. CONGRATS. I do think I need to read your book cuz I'm sure you are talented to have won agin WOW
(Vickie Hightower 2:49pm May 31, 2010)
Congrats on your win!

katoree@hotmail.com
(Katherine Reese 3:15pm May 31, 2010)
Congrats on winning the American Title contest and on your debut release, Marie-Claude.
(Jane Cheung 3:30pm May 31, 2010)
yes, ive been forced to give a speech
(Sagrario Vigil 3:57pm May 31, 2010)
That's some ride you took. I must say after all that to win your book MUST be sensational. I can't wait to read it.
(Mary Preston 5:07pm May 31, 2010)
Wow--what an inspirational journey. Thanks for sharing your story with us today.
(G S Moch 5:10pm May 31, 2010)
First of all let me congratulation you on the release of your debut novel, ANCIENT WHISPERS. Second let me say that going out of our comfort zone is never easy. I remember how nerve racking it was to trying to get back in the job market after 20 plus years spent raising my family. It was a whole new world out there!
(Rosemary Krejsa 5:13pm May 31, 2010)
Ancient Whispers,sounds interesting and Congrats.
(Deb Pelletier 6:01pm May 31, 2010)
Congrats on your deput novel. It must feel wonderful after all your hard work. Three years ago, my dh and I both gave up our jobs and moved 400 miles away with only one part time job between us. We were definitely way outside our comfort zone. We've had lots of days we looked at each other and wondered what we had gotten into. We have great sucess and things are now great.
(Maude Allen 7:11pm May 31, 2010)
I entered the job market after spending 20 years raising my kids and working for my husband.

The hardest part was having to get up in front of a crowd and speak....I felt absolutely paralized.

Today (after 10 years) I'm still not confortable with public speaking but I know if I want to be successful...I simply have to.

Congrats on your win. I would love to win a copy of your novel. Best Wishes!!!
(Mitzi Hinkey 7:21pm May 31, 2010)
You are an inspiration. Congrats. I've done a few things that put me out of my OCD comfort zone....
(Cathie Veres 7:22pm May 31, 2010)
First of all, congratulations on your
win and debut novel. It certainly took
stamina to hang in there and face the
public critiques and voting.

I was always very shy. Even in college
I managed to get out of the public
speaking course required for all
teachers. I paid for that. I joined the
Peace Corps and found myself in a
very public position overseas. Working
with classes and workshops for
teachers was no problem. However,
within a few months of arriving on
assignment I was introduced to the
entire town and led to podium to give
a speech. I discovered that day that
your knees really to shake and knock.
If I had not had the podium to hold on
to, I would have not been able to
stand. I really don't think I have ever
been so nervous. I survived and
public speaking doesn't bother me
anymore.
(Patricia Barraclough 7:37pm May 31, 2010)
Congratulations on the win for the publishing contract. You are an inspiration and I would love to win a copy of your novel.
(Cindy Olp 7:41pm May 31, 2010)
I was asked if I would help teach a knitting class once a week. Here I was, a transplant in a new town, not really knowing anybody, including the person I was going to teach with. I was taken by surprise at first, then decided to jump at the chance, and it was the best decision I could have made. I now have a lot of new friends, and we have a great time every week, and something good to look forward to. It's also made me stronger mentally.
(Peggy Roberson 8:32pm May 31, 2010)
Yes, I had volunteered to be a proctor for an organization's test. I hadn't realized that part of the test had me reading aloud several paragraphs. I'm pretty shy and don't talk to groups of people, but I DID make myself do it, and the guy who was watching over my proctoring said I did really well!

Thanks for the giveaway!
(Joanne Schultz 8:32pm May 31, 2010)
Wow! That sounds like quite a process! Congrats on the win!

Now, I think we all do things that put us out of our comfort zone on a regular basis. In fact, I think that is what helps us to grow as individuals. Each day I try to push myself beyond what is comfortable to see what is possible. Sometimes, even just asking to get together for a playdate with a new friend for my kids can be uncomfortable.
(Melissa Maringer 8:45pm May 31, 2010)
Hello Marie, Please enter me in your fantastic contest and please let me know when I am a winner too! May God bless you with alot of success,
Cecilia
(Cecilia Dunbar Hernandez 9:24pm May 31, 2010)
Congratulations! Thanks for the chance to win a book!

Brenda
(Brenda Rupp 9:27pm May 31, 2010)
Congrats, Marie-claude. Look forward to reading your book.

I have never like confrontation. When ever confronted, I have always back down or run the other direction.

I have taken an office clerk position in public services after I have graduated from college. When I was offered a management assistant position, I took it. I didn't realize that the position was dealing in the public (and I didn't really want to go back to my old position). I can barely hold my own in public speaking, let alone supervise. But I had a supervisor that really didn't know what was going on and promising that upper management of things that our section couldn't deliver.

Since I was out of option, I was forced out of my comfort zone to keep the office running. I was holding meetings, dealing with vendors, and department staffs. In a way, I do thank her for forcing me out of my comfort zone otherwise I would have people to continue stepping all over me.
(Kai Wong 9:30pm May 31, 2010)
Marie-claude congratulations on the
win!

I found myself with half a week's
notice leaving home and flying to
another country for an unknown
period of time to take care of a sick
sibling. It was a stressful five months
and a very emotional time. I learned
some good things about myself and
more importantly some bad things
about myself and what my limitations
are.
(Sue Ahn 10:17pm May 31, 2010)
OMG, public speaking makes me
barf. My kids are kinda spread
out, 8 years between the first
two and 7 between the last
two. So needless to say, they
were never more than one in
any school at the same time.
So the year my baby was
graduating from the 5th grade,
I decided that I would host a
thank you tea for the teachers
at the elementary school as I
had had kids going there for
18 years nonstop. As we are a
small school, probably only 25
or so teachers, I'd known most
of them for a long time. I was
just going to circulate and
say a few words and thank some
of them that had actually had
all three of the kids and
update them on the older ones
accomplishments. Well, the
principle thought I should
stand up and say a few words.
I did but I detest speaking in
front of a group(even those
that are friends. I was
surprised that so many of them
came up to congratulate me on
the middle ones full ride to
the state university and the
oldest promotion at the fire
dept. They were very sincere
in their thanks for all the
years we had helped at the
school functions from planting
flowers to helping move
furniture over the Christmas
holidays when the kids moved
from a very overcrowded tiny
school to a brand new
school(across the road). It
was nice to know that we would
be missed. I did promise to
provide them with the next
generation of the family in a
few years.
(Lisa Richards 11:38pm May 31, 2010)
Congratulations of finally getting
published! It's a dream of mine, but I
don't have the stamina.
(Molly Wilsbacher 11:42pm May 31, 2010)
Thanks for sharing with us the challenges you had to face to actually see your name in print. As a mom I constantly tell my teen that winning America's Idol isn't just standing on stage for a few moments and you show it is also true for other professions and give me more than just "Mom says so" to show my daughter and send her out on her own for her claim to fame after graduation.
(Susan Lathen 3:27am June 1, 2010)
Registered users may leave comments.
Log in or register now!