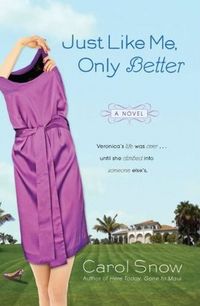 Purchase
Just Like Me, Only Better
Carol Snow
Veronica's life was over... until she jumped into someone else's...
Berkley
April 2010
On Sale: April 6, 2010
Featuring: Haley Rush; Veronica Czaplicki; Brady Ellis
336 pages
ISBN: 0425232484
EAN: 9780425232484
Paperback
Add to Wish List

From the author of Here Today, Gone to Maui, the story of a woman who finally got a life...some else's.
Ever since Veronica's husband found the love of his life- not her-she's been a walking zombie with runny mascara. It doesn't help that she keeps getting mistaken for Haley Rush- the Hollywood starlet whose dazzling life is plastered on every magazine.
When Haley's manager offers Veronica a job as a celebrity double, it only takes a moment before she says yes. Veronica gets to drive Haley's car, wear her phenomenal clothes-and have fun with her hot celebrity boyfriend, Brady Ellis. Too bad the job's only part-time, and at the end of the day she has to return to her life as a cash- strapped substitute teacher and cub scout mom.
But when real sparks fly with Brady, is it a fantasy come true or a disaster in disguise?
Comments
17 comments posted.
My child told me he wants to "work on airplanes". I think whatever makes him happy.
(Sherry Russell 9:39am April 27, 2010)
I have two sons who couldn't be more different from each other if they tried. Neither has settled on a career choice, but as long
as they can support themselves I'll be happy!
(Sandi Shilhanek 9:42am April 27, 2010)
I love this, Carol.
(Andrew Smith 11:42am April 27, 2010)
I have 3 daughters,all very different in what they want to do even though for 1 it changes almost daily :D Anyway I think you just have to encourage them no matter what, weither its a pro athelete, vet, doctor, hair stylist or what ever as long as they are doing what they want to do and are enjoying it, With that said if they come home and say "Hi Mom I'm a stripper then they are getting locked in a closet!!!" :D
(Brandy Blake 11:55am April 27, 2010)
Carol, I enjoyed your post. Don't you think that at one time or another we all want to be a writer? I think it's because our written words will be around long after we are gone. It's our way to guarantee imortality.
(Rosemary Krejsa 1:48pm April 27, 2010)
My 8 year old nephew seems to change his mind every couple of months... one time it was a race car driver, another time football player, then a cop... etc... we will have to wait and see...
(Colleen Conklin 2:00pm April 27, 2010)
We all are creative in one way or another. Writing is one of the best ways to share that creativeness.
Blessings,
Marjorie
(Marjorie Carmony 3:01pm April 27, 2010)
It always makes me laugh when wishes for what to do when grownup is asked of a child. When I see it match up to what they're doing towards making their dreams come true, then I really believe along with them. To write is a solitary endeavor, but after words are in hand, that's when the editing begins. It's hard to rewrite without outside intervention (other people telling what they think you mean to make it more readable).
(Alyson Widen 4:32pm April 27, 2010)
Life finds a way to sort out what the future will be.
(Mary Preston 4:53pm April 27, 2010)
Sounds like a riot!!!! Cool idea
(Lori Roche 5:09pm April 27, 2010)
My mother, father, brother, aunts, in-laws, and I were all teachers. I told my daughter to pick anything except that - so she is a lawyer?
(Karin Tillotson 5:41pm April 27, 2010)
I sm rather surprised that none of the authors seemed to list "patient" or "persistent." The way I keep reading about how long it takes an author to first get published and even how long it takes between when a book is submitted and when it is accepted, I feel that "patience" and "persistence" must be a requirement for authors more than any other qualities. I just read where one author stated that "After 21 years, I am an overnight success." It seems to be a frequent type of comment by authors.
(Gladys Paradowski 5:59pm April 27, 2010)
Hello Carol, Please enter me in your fantastic contest. I love entering and winning contests on FreshFiction.com
God Bless YOU, Cecilia
(Cecilia Dunbar Hernandez 6:09pm April 27, 2010)
Lets face it, the image of authors, at
least with people I know, is that you
are successful and financially secure
once that book gets published and
sales are made. You can just keep
pumping out more books and filling
your bank account. No problem. Lets
face it, unless you are familiar with the
publishing business, you have no clue
what it really is like. Most people,
even aspiring authors, think you write
your book and in a few months it is on
the shelf, you have people lined up
buying it and waiting for you to sign it,
and the money starts rolling in. They
don't realize how many years it can
take to get something published and
how much of the book's sale price they
will really get as profit.
I guess all those adjectives you listed
apply for good reason.
(Patricia Barraclough 10:17pm April 27, 2010)
I don't have any children and never could tell my parents what I wanted to be when I grew up as I never knew! I guess you have to be really talented as a child to be doing something you can build a career on, I guess I wasn't.
Please enter me in the contest. Thank you.
(Brenda Rupp 11:16pm April 27, 2010)
Wow... my son aspires to be a writer one day and he's already more that 80 percent there with those adjectives... maybe he is on the right track. LOL

Meanwhile, he's also just finishing his 4th year of college for his Bachelors in Psychology with double minors in Criminal Justice and Political Science.
(Donna Holmberg 1:29am April 28, 2010)
As long as they are happy with
what they are doing and earn
enough to feed and clothe their
selves, the shy's the limit.
(Lisa Richards 5:34pm April 28, 2010)
Registered users may leave comments.
Log in or register now!