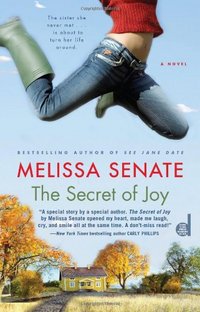 Purchase
Downstream Publishing
November 2009
On Sale: November 17, 2009
Featuring: Rebecca Strand; Joy Jayhawk
352 pages
ISBN: 1439107173
EAN: 9781439107171
Paperback
Add to Wish List

As 28 year old New York paralegal Rebecca Strand's widowed father lays dying, he confesses a secret: he had an affair 26 years earlier when Rebecca was just a toddler. Now he wants Rebecca to deliver the secret stash of letters he wrote, but never mailed, to the daughter he fathered.
Rebecca's lawyer boyfriend, Michael, is adamant that she forget the woman exists. He's sure the woman will be an opportunist who will demand half of Rebecca's father's million-dollar estate. But Rebecca, now without any family in the world, can't help but wonder about her one living relative. With her relationship with Michael in tatters, Rebecca drives from New York City to Maine to find Joy Jayhawk, who operates a Weekend Singles Tour service out of an orange mini-van that her regulars dub "The Love Bus."
Enter a cast of lovable, colorful characters, from Joy's eccentric mother to the singles on The Love Bus, and a sexy carpenter for whom Rebecca finds herself unexpectedly falling in love...
Comments
8 comments posted.
During the depression children were 'farmed out' because the families couldn't afford to keep them. Mainly farmers 'adopted' them thus the term. My cousin's husband found his half-brother several years ago. Said brother lived a short distance from our cousin's husband but he was an adult before he knew anything about it.
(Karin Tillotson 9:33am January 28, 2010)
Secrets have a way of coming out when you least expect them.
(Alyson Widen 11:04am January 28, 2010)
This book looks so interesting!
It's on my wish list.
(Margay Roberge 11:23am January 28, 2010)
Every family has some sort of secret & it makes for an intriguing and interesting read.
(Mary Preston 3:39pm January 28, 2010)
Sounds like an interesting book, can't wait to read it.
(Theresa Buckholtz 4:32pm January 28, 2010)
Sounds like a very effective way of working through what must have been an emotional minefield. Good for you and your half sister.
(Susan Driskill 7:23pm January 28, 2010)
I agree with Susan, and I hope everything has gone as well as possible with you and your half-sister.

I don't think it's likely happen in my family, though, and I certainly don't have the talent to turn something like that into an interesting book like you did!

Later,

Lynn
(Lynn Rettig 8:55pm January 28, 2010)
This sounds like a very intriguing book. I've never had anyone tell me that I have a half-sister. However, about 15 years ago I learned from my uncle, my mother's youngest brother, that their father had a daughter with another woman. When I mentioned this too my mother, she just said that she was never interested in this child never interested her. I know she was always very protective of my grandmother. But I certainly would have been interested. It feels kind of odd to have, or have had, another aunt.

I hope you and your half-sister found much common ground and joy in each other.
(Sigrun Schulz 9:56pm January 28, 2010)
Registered users may leave comments.
Log in or register now!