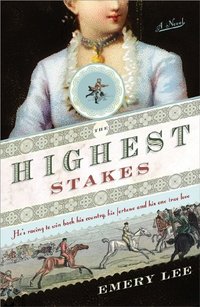 Purchase
The Highest Stakes
Emery Lee
He's Racing To Win Back His Country, His Fortune And His One True Love
Sourcebooks Landmark
April 2010
On Sale: April 1, 2010
Featuring: Charlotte Wallace; Captain Philip Drake; Robert Devington
560 pages
ISBN: 1402236425
EAN: 9781402236426
Paperback
Add to Wish List

When the blood of the desert kings ruled the English turf, and fortunes might be won or lost at the cast of the dice or defeat on the turf, a hero returns from war to claim the girl he has loved since spying her riding hell-for-leather across the Doncaster heath. Determined to have her at any cost, he risks everything in a wager for love.
THE HIGHEST STAKES is an epic tale of drama, danger, thwarted love, and final retribution, set in the world of high stakes 18th century horse racing, where entire fortunes could be won...or lost...
Comments
35 comments posted.
Wow, how amazing these facts are! Tracing heritage back to 3 main horses! Small world, right?
(Joanne Reynolds 6:20am April 1, 2010)
I enjoy stories with some suspense added in.
(Sherry Russell 8:38am April 1, 2010)
I find it fascinating to mix fact with fiction. Looks like a great book.

Valerie
in Germany
(Valerie Bongards 8:44am April 1, 2010)
Your book sounds great. Thanks for visiting.
(G S Moch 10:13am April 1, 2010)
One of the most thrilling experiences I ever had was getting to ride a horse that ran in the Kentucky Derby.
I would be very happy to read your book.
debp
twoofakind12@yahoo.com
(Debbie Penny 10:38am April 1, 2010)
I enjoy historical fiction. It enables me to better understand what was happening historically in a lighter way!
(Karin Tillotson 10:54am April 1, 2010)
Grew up around horses, but not a good rider, but the experience was great. Love the way you research your books.
(Pat Wilson 11:00am April 1, 2010)
I am not sure I have ever read a book about horse raceing, since I am from KY I think I would really enjoy this one!
(Gail Hurt 11:43am April 1, 2010)
Hello Emery, Please enter me in your fantastic contest to Win The Highest Stakes. Sounds like great reading and I love winning contests from FreshFiction.com Thank You, Cecilia
cecilia74@sbcglobal.net
(Cecilia Dunbar Hernandez 11:54am April 1, 2010)
I love historical fiction and
this sounds like a sure winner.
Horse & history & romance--Oh,my!
(Lisa Richards 11:56am April 1, 2010)
i broke my ankle, send books!!
(Debbi Shaw 11:58am April 1, 2010)
Hi Emery,
Your book sounds wonderful. I love how yu mix the fact w/ fiction. From what I read it's a good mix. Hopefully I can win yur book but if I don't I'm still going to order it. thanks again....
(Heidi Shafer-Wilson 12:25pm April 1, 2010)
I think the sign of a good historical fiction is the ability of the author to weave fact and fiction so seamlessly that the reader can not tell the difference. Your book sounds like a wonderful read.
(Robin McKay 12:59pm April 1, 2010)
I love horses and horse racing and would love to read this book. Thanks!
(Shannon Scott 1:09pm April 1, 2010)
Sounds very interesting! And the mixing of fact with fiction - OH!
(Kelli Jo Calvert 1:32pm April 1, 2010)
Congrats on your release! It sounds like a terrific read... love horses!
(Colleen Conklin 1:33pm April 1, 2010)
Lately I've become more intrigued by the so-called Thoroughbreds and have wondered how it all came about. A fascinating TV show ended up featuring the Lippizan breed and I wondered if the producers had also delved into the past of the others: Arabians and the like. It seems certain that you have laid at least some of the groundwork for the Thoroughbreds. I'm looking forward to your book.
(Sigrun Schulz 3:10pm April 1, 2010)
I love historical fiction -history is one of my fave reads. Happy Spring!!!
(Audra Holtwick 3:50pm April 1, 2010)
I love the history of horse racing in the 18th century. Sounds like a great story.
(Phyllis Lamken 4:13pm April 1, 2010)
A WINNING COMBINATION, I'M SURE-ROMANCE AND HORSE-RACING.
(Eileen Blackmore 4:41pm April 1, 2010)
I love the mix of historical fact & fiction. I feel more involved in the story if the facts are correct & woven in.
(Mary Preston 5:42pm April 1, 2010)
An unusual combination, but a very interesting one. I'd love to read this book. Thanks!
(Cheryl Snyder 5:43pm April 1, 2010)
This book sounds so good. I would love to read it!
(Deb H. 6:43pm April 1, 2010)
sounds like a great book to read!
(Ann Unger 7:49pm April 1, 2010)
A very imaginative combination of fact and fiction. This sounds like a very intriguing twist to an established historical fact.
(Rosemary Krejsa 9:08pm April 1, 2010)
Horses...love books with animals in them. And to learn about horse racing in that era, another bonus.
(Kai Wong 9:16pm April 1, 2010)
Sounds like an awesome combination.
Very creative.
(Elisa Varey 9:19pm April 1, 2010)
I always love when an author puts actual facts into a novel. This article shows how well some novels are researched. Thank you for sharing.
(Cindy Olp 9:54pm April 1, 2010)
Truth they say is stranger than fiction. So
I love to have it added to the mix.
(Jung Ja Ahn 11:11pm April 1, 2010)
Love to read historical fiction too. Looking forward to reading this book.
(Teresa Ward 11:18pm April 1, 2010)
Having lived in South Carolina, I'm intrigued by this book. I love a novel that is well researched, and one based in an area I'm already familiar with is even better.
(Donna Holmberg 11:38pm April 1, 2010)
Hope I am in the running for the Highest Stakes.
Blessings,
Marjorie
(Marjorie Carmony 12:12pm April 2, 2010)
i love history stories like this
(Melissa Roberge 3:32pm April 2, 2010)
Wow! I am overwhelmed by your enthusiastic response to my post!
I would like to respond to your commkents:
JOanne- This little known fact is what made me want to write the book and weave the histories of the 3 progenitors into the tale.

Sherry- If you go to my web site, I have posted some of the reviews. All of them agree that the plot is completely unpredictable!!

Valerie- It was so much fun to do!

GS - I am honored to have been able to share this with you.

Debbie- There's nothing like the thrill of a gallop!

Karin- I wanted to be informative but also entertaining. I hope I have succeeded.

Pat- If you grew up with horses, you understand how intelligent, quirky and capricious they can be. I tried to show persoanality in all of the equine characters.

Gail - Seabiscuit by Laura Hillenbrand was a fascinating nonfiction about horse racing. I highly recommend it as well as the movie by the same title.

Cecilia - I hope you will review the book on Amazon or B&N if you win!

Lisa- YES! A winning combination I think!

Debbie - It's 538 pages. I think it'll keep you entertained for a while!!

Heidi-
Awesome. Please do - and Enjoy the ride!!

Robin-
I think that many of the facts will appear to be fiction (as in my blog)!
BTW- this even applies to my equine characters - most of them were real horses!

Shannon- There are at least six nail-biting racing sequences in the book. You'll love them!

Kelli- It was a blast to write and I hope you find it an enthralling read!

Colleen - You have great taste in animals!

Sigrun- THE HIGHEST STAKES explains precisely how this wonderful breed (thoroughbred)was created and even explores the origins of the American Quarter Horse.

Audra - Add horses and star-crossed lovers and you have my novel.

Phyllis- The horses and racing history was very carefully researched. I think you will enjoy learning about some of the famous racehorses of the past such as Flying Childers, Teazer and Re
(Emery Lee 7:40pm April 2, 2010)
Hello Emery, Please enter me in your fantastic contest and please let me know if I am a winner! I love winning contests on freshfiction.com
God bless, Cecilia cecilia74@sbcglobal.net
(Cecilia Dunbar Hernandez 9:40pm April 2, 2010)
Registered users may leave comments.
Log in or register now!