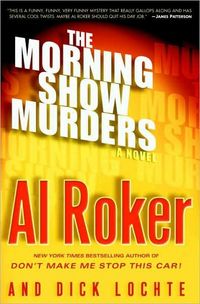 Purchase
The Morning Show Murders
Al Roker
Delacorte Press
December 2009
On Sale: November 24, 2009
Featuring: Billy Blessing
320 pages
ISBN: 038534368X
EAN: 9780385343688
Hardcover
Add to Wish List

Nobody can dish morning TV like Al Roker, who's seen every side of a business that looks good on camera—even when sharks are circling inside the gleaming glass Manhattan media headquarters. Treachery abounds in Roker's riotously thrilling debut novel—at once an ingenious murder mystery and a delicious behind-the-scenes look at network TV. As fact and fiction collide and the backbiting ignites, The Morning Show Murders will make you wonder: How much of this stuff is real?

Network TV can be murder. Just ask Billy Blessing, famous for his smile, charm, and ability to survive the shark tank that is high-stakes morning TV. But though Billy has outlived his fair share of prima-donnas, his cooking segment on Wake Up America! is a staple of the American diet, and his Manhattan bistro is a mega-success, his career has just taken a very dangerous turn: His show's perky cohost, Gin McCauley, has launched into some brass-knuckles contract negotiations. A visiting Mossad agent is about to tell all on the air. And then the network's head honcho is murdered in his luxury apartment, and an ambitious D.A. decides that Billy is to blame.

Forensics show that Gerry Gallagher was poisoned and that the fatal coq au vin came from Billy's restaurant. Gerry had an impressive list of women in his black book—and a news assignment in Afghanistan had plunged the TV exec into the heart of a violent international secret. Now unsavory characters are coming out of the woodwork, and another murder strikes the show's inner circle. Billy knows that someone's trying to frame him. He also knows that a ruthless international assassin has just arrived in New York City. And suddenly, for the most trusted guy on TV the ultimate career move is not about ratings. It's about staying alive—and stopping the next murder from becoming tomorrow's breaking news.
co-written by Dick Lochte

Media Buzz
Extra - January 8, 2010

Comments
No comments posted.

Registered users may leave comments.
Log in or register now!