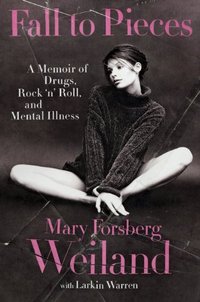 Purchase
A Memoir Of Drugs, Rock 'n' Roll, And Mental Illness
William Morrow
November 2009
On Sale: November 1, 2009
304 pages
ISBN: 0061719153
EAN: 9780061719158
Hardcover
Add to Wish List

In March 2007, twenty-four hours after Mary Weiland dragged her husband Scott's pricey rock-star wardrobe onto their driveway and torched it, she was locked up in a mental hospital. Watching all this were her frightened extended family, a conflicted husband wrestling with demons of his own, and a tabloid industry gone gleeful at the "Bonfire in Toluca Lake!"
To the outside world, Weiland had led what seemed to be an enviable life. A successful international model in the nineties, she married her longtime sweetheart—famed lead singer of Stone Temple Pilots and, later, Velvet Revolver, Scott Weiland—in 2000. Mary was the sane one, went the story—it was the tempestuous, unpredictable Scott who was crazy. In her gripping memoir Fall to Pieces, Mary Weiland reveals that the truth is somewhere in between.
From her earliest days in San Diego, Weiland displayed signs of trouble: a black depression that sometimes left her immobile for days, a temper that sent her into wild rages she didn't understand, an overdose. But her fierce determination to "have more" led to early success as a model. At sixteen, she fell in love at first sight with Scott Weiland, then an aspiring musician who was hired to drive her to and from modeling gigs. Slowly, her casual relationship with beer and pot grew into an affair with cocaine and heroin that rivaled her love for Scott, who was addicted as well.
From rehab to rehab, from breakup to reconciliation to eventual marriage, the couple fought their way back, welcomed the babies they'd dreamed of, and hoped their struggles were behind them. Then came the bonfire breakdown and the full onset of Mary's bipolar disorder, a widely misunderstood and misdiagnosed mental illness that affects more than five million Americans and had been, in fact, stalking Mary Weiland since her teens.
With refreshing candor, innate comic timing, and earned wisdom, Weiland recounts the extreme highs and lows of her life, including an unforgettable love affair with the man she always knew she'd marry, the careers and rock tours that took them around the world, and her fight to finally come to grips with the addictions that could have killed her. In her journey to understand and manage her bipolar disorder, she takes the reader on a wild ride into the dark and back into the light.
Comments
No comments posted.

Registered users may leave comments.
Log in or register now!