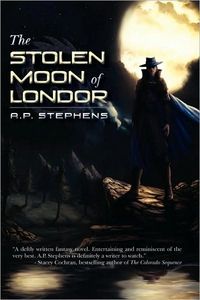 Purchase
The Stolen Moon of Londor
The White Shadow Saga #1
Fanda Books
September 2009
On Sale: September 14, 2009
296 pages
ISBN: 1615396489
EAN: 9781615396481
Paperback
Add to Wish List

The era of peace among the elves, men, and dwarves comes to an end when one of Londor's twin moons disappears from the heavens. Without the moon's balancing effect, evil forces grow bold, and warfare, sickness, and chaos threaten life itself.
Hearing the prayers of desperation that ride on the violent winds, the ancient wizard Randor Miithra, servant to the elf-gods, takes it upon himself to mend the world he has sworn to protect. The task will not be an easy one, though, for the wizard, too, has begun to feel the effects of the world's imbalance. As Randor struggles to maintain some semblance of his powers, he meets a secretive band of colorful characters from all walks of life, drawn together by a common goal: to find the stolen moon, whatever the cost. It does not take Randor and his motley company long to see that someone or something does not want the moon returned to the heavens.
The road is perilous...the stakes have never been greater...will they find victory...or will they only find their deaths?
Comments
24 comments posted.
Man, the more I read about the efforts authors have to use to get established in their writing profession, the more I am in awe of their pursuing their dream. There is so much competition that it has to be discouraging to a beginning author.
(Gladys Paradowski 2:09am May 20, 2010)
Thanks for your insight about the publishing world.
(Robin McKay 5:52pm May 20, 2010)
Not only does it take passion, it takes a lot of guts to go that route!! I wouldn't know where to begin!! Designing the cover, having it printed, printing the book, the process leaves me breathless!! I wish you much luck in the future.
(Peggy Roberson 6:02pm May 20, 2010)
Sounds like it is getting harder to get published instead of easier. What happened?
(Brenda Hill 6:03pm May 20, 2010)
Thank you for the great advice and encouragement!
(Diane Pollock 6:06pm May 20, 2010)
The three P's of Professionalism, Persistence and Passion are for every writer, not just fiction.
(Alyson Widen 6:16pm May 20, 2010)
I agrree with Alyson. I would like to add that I know several published authors who also follow your three P's even though they are not self published.
(Karin Tillotson 7:37pm May 20, 2010)
wish i could win and bog aobut the book pick me
(Desiree Reilly 8:50pm May 20, 2010)
I just hope that they keep publishing "books".
Blessings,
marjorie
(Marjorie Carmony 9:29pm May 20, 2010)
cool
(Sagrario Vigil 11:41pm May 20, 2010)
Really appreciated the indie perspective on publishing, although I am sure it applies, regardless what route you ultimately follow.
(Gloria Shaw 11:51pm May 20, 2010)
WOW sounds like alot of work but anything in life worth having is worth working for. Keep sending great books our way
(Vickie Hightower 1:50am May 21, 2010)
Loved the insight. Thank you!!
(Mary Preston 3:31am May 21, 2010)
Sounds like you have to be so well-rounded and gifted also. Sounds pretty tough, and I hope that authors stick to it. We need your books!
(Joanne Reynolds 6:28am May 21, 2010)
That just makes me appreciate the authors word even more - thanks for the insight.
(Barbara Hanson 8:41am May 21, 2010)
Persistence definitely pays off.
(Sherry Russell 9:04am May 21, 2010)
Authors must be very brave, I admire them. To rely on your thoughts to sustain your life is very daunting.
(Annette Mendez 10:41am May 21, 2010)
Excellent write-up. Thanks for
the insight and perspectives.
(Michael Clark 11:37am May 21, 2010)
looks like a winner,
(Debbi Shaw 1:41pm May 21, 2010)
hi good luck with the book and would love to read it
(Desiree Reilly 2:09pm May 21, 2010)
You brought out some very good
points for the aspiring author. Self-
publishing may be the "short-cut" to
getting published, but it isn't the
easiest way to be successful. The job
is only half finished.
Good advice for anyone who is
promoting a product or business.
(Patricia Barraclough 5:35pm May 21, 2010)
Thanks for the insight into the publishing world. Not much information are given. Too bad the information is not share as often.
(Kai Wong 7:59pm May 21, 2010)
Hello A P Stephens, Please enter me in your fantastic contest and please let me know when I am a winner too!
May God Bless YOU with Success,
Cecilia
(Cecilia Dunbar Hernandez 11:07pm May 21, 2010)
Thanks for all the great comments. I will be doing a series of articles on my website (www.apstephens.com) and share some of the tools I used to bring my fantasy book out into the market. Where to get the ISBN, how to make a good cover, etc.
(A P Stephens 12:47pm May 22, 2010)
Registered users may leave comments.
Log in or register now!