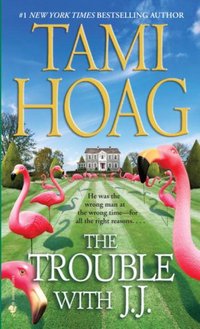 Purchase
The Trouble With J.J.
Tami Hoag
He was the wrong man at the wrong time for all the right reasons
Bantam
May 2009
On Sale: May 19, 2009
Featuring: Genna Hastings; J. J. Hennessy
320 pages
ISBN: 0553592505
EAN: 9780553592504
Kindle: B00296SVRW
Mass Market Paperback / e-Book (reprint)
Add to Wish List

In this romantic, funny, and heartwarming classic novel, #1 New York Times bestselling author Tami Hoag poignantly captures one eventful summer in the life of a woman facing the ultimate relationship dilemma.
It took only one look for Genna Hastings to make up her mind about her new next- door neighbor, J. J. Hennessy. She knew his type all too well: Jared Jay Hennessy was tall and handsome, a man who thought he was God's gift to women. From the pink flamingos dotting his front yard to the all-night boozy barbecues, he threatened to disrupt Genna's peaceful summer off from teaching.
But beneath his carefree smile and teasing nature, J.J. was a man as serious about the future as he was about Genna. He'd come to this quiet Connecticut town to change his life, and he challenged Genna to help him become Mr. Right. It was a challenge she knew she'd be smart to refuse . . . and one J.J. knew she couldn't resist.
Comments
16 comments posted.
My favorite hero type is the alpha type Macho/Navy Sear/Warrior.

My least favorite is the guy with a lot of insecurities and lack of self confidence.

I have not come across a hero that I would not consider reading...but If the Hero is not appealing to me, it won't stay on my keeper shelf.
(Mitzi Hinkey 1:02am September 7, 2009)
Sara: Thank you for your article and your request.

My favorite type of hero? In both fiction and real life, I think brains are sexy. It helps if he has a heart. I'm a great believer in the adage, "If you want to be loved, be lovable."

He should be courageous, resourceful, open-minded, capable of learning and changing---for the better, of course. Whether or not he's physically strong, he should be so emotionally.

Soulful, sensitive, charming men are at the top of my list. Some chicks think Scarlett O'Hara was out of her mind because she carried a torch for Ashley Wilkes when she could've had Rhett Butler. I don't; I'd have felt the same way.

My least favorite men? I'm probably going to tick off lots of Fresh Fiction readers, but I don't care for the standard romance-fiction hero, Arnold Alpha-Male. Nothing turns me off quicker than arrogance, egotism, closed-mindedness, callousness, obnoxiousness, and sexism.

Toting around a lot of emotional baggage isn't appealing either. That goes for lead characters of both sexes. A guy's girlfriend double-crossed him years ago; now he despises and distrusts all women. I want to shout, "Good God, what's the matter with you? Get over it!"

Also, I wish I could find heroes who aren't rich and powerful. The rich guy-poor girl bit sounds too much like legalized you-know-what.

I mean, what's wrong with the average Joe? Think of all the plot and character possibilities when the hero must watch his spending, live within his means, and deal with money issues the same as the rest of us.

Too often, a romantic hero has a problem just so the heroine can "save" them. He's wrong about something just so she can be right about it. Sorry, I'm not buying it. That reduces a story from a real romance to a power fantasy.

Now that I've shot my mouth off, I'm eagerly awaiting what other readers think.

---Mary Anne Landers, www.facebook.com/maryannnelanders
(Mary Anne Landers 3:20am September 7, 2009)
Really I love all kind of heroes. Some I totaly can't resite like jocks or bad boys (SEP, Rachel Gibson... they have the recipe for my ideal hero).
I can't wait to read the Trouble with J J. I read great reviews and since the book has been reissued...
(Joeelle Jappissont 3:40am September 7, 2009)
I do like the smart ones too if the character is made right. I am blanking on the title, but one of Nora Roberts trilogies had that type of character and I loved him.

I do think the plotting revenge type of character has its place, and I agree they have moved to the urban fantasy/ paranormal type of story- the hero who was cursed and has to break it kind of guy. Again, those are great when written well and I do have a leaning toward that kind of hero.
(Sara Edmonds 11:53am September 7, 2009)
Sara, great post.

My kind of hero is smart, self-confidant, sensual with a sense of humor but totally Alpha-male type just madly crazy over his heroine. I just loved Jamie Fraser from Diana Gabaldon's OUTLANDER,and Drustan and Daegus MacKeltar from KMM's Highlander series. And let's not forget SEP's Chicago Stars heroes, they are so lovable.
(Armenia Fox 12:03pm September 7, 2009)
my hero is the strong silent type. A man who will always come through for you and be by your side when you need him, but will allow you to be who you are and not dominate you.
(Rosemary Krejsa 1:22pm September 7, 2009)
Sara Reyes and Sara Edmonds: Thanks you for replying to my comments.

I can't discuss urban fantasy heroes, vampires and the like, because I'm not one of their target readers. That's not my cup of blood. But considering how popular this type of romance fiction is, clearly I'm in the minority.

Perhaps I should've used an adjective other than "standard" to describe the cynical, revenge-driven, mucho-macho type of romance hero. "Substandard," maybe?

At any rate, I think the point of this discussion is that there are potentially many different types of romantic heroes. Which one is "best" depends on the tastes of the individual readers. However, which type predominates in the market depends on which one editors and publishers think will sell best.

If a reader has her idea of a dream man, and a heroine she can identify with, starring in her idea of an exciting romance story, and it doesn't happen to be in the new-release fiction market, she has alternatives. One is to to daydream. Another is to turn those daydreams into fiction manuscripts and submit them to agents.

She can always hope that not only will they sell, but also by the time they reach the market readers will be ready for something new and different. Guess what I'm doing!

---Mary Anne Landers, www.facebook.com/maryannelanders
(Mary Anne Landers 1:44pm September 7, 2009)
I do enjoy reading about alpha heroes. I like their take charge attitude, but also want them to have a humorous and sensitive side.
(Jane Cheung 3:10pm September 7, 2009)
I love the heros who are strong and protective but have a definite soft spot for the heroine.
(Theresa Buckholtz 3:13pm September 7, 2009)
For me, the best fantasy is to pair a straight-laced heroine with a somewhat wilder man on the assumption that they'll meet somewhere in the middle. I also like strong, silent types though I'm not sure I'd fit with one: I'm too silent myself. lol What I don't like are the really tough-talking people whose every second word starts with f-. I can hear that anytime I go out or even at night from my bedroom when people are shouting outside.
(Sigrun Schulz 4:43pm September 7, 2009)
I like Navy Seals, "Black Op" Warriors, "Steele Street" boys, heroes like that!! Strong, but tender.
(Martha Lawson 4:59pm September 7, 2009)
I love most heroes; since I really like paranormal books at this time, vampires and shifters are top of my list. I don't usually pick heroes that are players, football, baseball or hockey, I'm not a great fan of sports in general, so i don't pick up books with those characters.
(Diane Sadler 6:31pm September 7, 2009)
I love all different kinds of heros. I tend to gravitate towards heros that are dark and mysterious but have a softer side as well.
(Jenny Ng 6:40pm September 7, 2009)
I was drawn to Easterbrook, too. I just knew there was more to him and with his background.
I just finished Laura Lee Guhrke's "With Seduction in Mind" and Sebastian Grant is definitely a bad boy. Whew!!!
(Elaine Carlini-Davis 7:47pm September 7, 2009)
A character that is too perfect is not my favorite read. People that I know who think they are perfect tend to be VERY boring - they only talk about themselves. Other than that, I like them all.
(Karin Tillotson 10:27pm September 7, 2009)
It is true, mostly I love hero's that are tormented, but in life, there are at long so difficult to live with.

In romance, they change with love. How long and how much, of course, we do not know, and we want more and more of them. Dreaming "this time..." Let's keep dreaming!
(Julie Kertesz 7:42am September 9, 2009)
Registered users may leave comments.
Log in or register now!