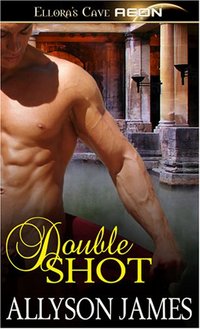 Purchase
Elloras Cave Pub Inc
July 2008
On Sale: July 16, 2008
280 pages
ISBN: 1419957740
EAN: 9781419957741
Paperback
Add to Wish List

Tales of the Shareem - Maia and Rylan By Allyson James DNAmo created the Shareem--males genetically altered to be the ultimate in sexual pleasure. Hidden in their files is record of a secret experiment--the first and only female Shareem, a black-haired, blue-eyed woman named Maia. Inside the DNAmo compound, Rylan, a level-two Shareem, is the bright point in Maia's life. Though forbidden to see the experimental Shareem female, Rylan finds secret ways to meet her, to befriend her, and to teach her every sinful game he knows. But on the day DNAmo shuts down, Maia disappears without a trace. Heartbroken, Rylan will do anything to find her... Tales of the Shareem - Rio By Allyson James Book Three in the Tales of the Shareem. Rio. A Level Three Shareem complete with black leather, handcuffs and a whip. Genetically programmed to provide every woman's wildest fantasy, Rio is the ultimate Dom. His bad-boy smile and Shareem-blue eyes can make the most frigid woman fall to her knees and beg him to be gentle. But not too gentle. Nella, Princess of Ariel, has never heard of Shareem. She sees Rio only as the man who rescues her from assassination and who hides her until she can get back to her family. A friend. But Rio can't fight his programming, and before long he's taking the sexy princess aside to give her some very interesting lessons in trust...never dreaming she's giving him lessons in love.
Comments
No comments posted.

Registered users may leave comments.
Log in or register now!