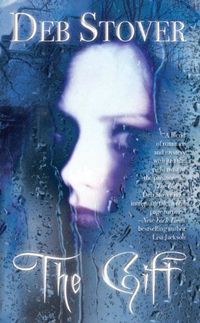 Purchase
A gift turned nightmare drives Beth Dearborn to abandon all she holds dear, until fate demands she face Ty Malone, danger, and destiny....
Love Spell
November 2009
On Sale: October 27, 2009
Featuring: Beth Dearborn; Ty Malone
304 pages
ISBN: 0505526069
EAN: 9780505526069
Mass Market Paperback
Add to Wish List

Romance Suspense | Romance Paranormal
Blood. Rivers of it.
The visions are overwhelming. They come every time Beth visits the scene of a murder. She lives the victim's last moments, feels the pain, sees the perp. And it's driving her mad.

A flat tire. A deserted country road. A man too hot to be true.
Trading life as a Chicago homicide detective for a job as a nomadic insurance inspector was supposed to keep her safe. Ty Malone is anything but. What isn't he revealing about the missing person's claim on his 'runaway' wife? What really happened to beautiful Lorilee Brubaker-Malone? And just how far will Ty take his seduction of the one woman whose gift can uncover the terrifying truth?
Videos
Comments
23 comments posted.
Re: The Gift

Deb's written a interesting paranormal book I have added it to my wish list for Christmas.
(Susan Lathen 8:39pm November 29, 2009)
In late September of 1991, the Navy moved us to Portsmouth Naval Shipyard on the Maine/NH border. Then they made the mistake that would haunt us for a long time. They screwed up our pay and had trouble fixing it.

By mid-December, we were on our third straight month of half pay. Our savings were depleted, and we weren't going to make it through December without help. We did something I'd hoped never to do...asked Navy Relief to cover half the December shortfall. They told me to ask for more, but Tamer and I were proud and young and asked for only what we needed to survive not what we needed to get a real pay check. They claimed no one could survive on what I was asking for, but they gave it to us.

Once I was done with paying all the bills and shopping for food, we had enough left to buy inexpensive gifts for close family members...nothing like we'd usually give them and at the expense of the few comforts we usually enjoyed in the budget.

In the end, we had $20 left and made the decision that we would have Christmas, no matter how meager. So, we each took $10 and went shopping for the other. Tamer bought me a new pair of tennis shoes, because mine had holes and I owned no winter boots. I bought him an inflatable sled.

We went home and wrapped our gifts in the comics section. We didn't have anything else. We had dinner that night and decided we were going to have an early Christmas, just because we needed it. It was the 16th or 17th.

That afternoon, I'd finished making the cross-stitch star that we top the tree with to this day. We placed it on a shelf by the wood-burner and opened our gifts.

I probably didn't mention that we were both sick...me with pneumonia and Tamer with the flu. Neither of us could breathe worth crap, but we sat there, passing the sled back and forth to put a few wheezing breaths into it.

By the time it was inflated, we were in a fairly good mood. As if someone knew we needed just a little more pick-me-up, the doorbel
(Brenna Lyons 8:08am December 8, 2009)
By the time it was inflated, we were in a fairly good mood. As if someone knew we needed just a little more pick-me-up, the doorbell rang...at 8 pm. It was UPS with presents from Tamer's parents. We opened them too.

That remains the single best holiday memory I have, and I don't think I will ever beat it.
(Brenna Lyons 8:12am December 8, 2009)
One of my best (probably the best) Christmas memory that I have occurred Christmas Eve of 1946. We gathered around the tree at my maternal grandparents house - lighted by candles and home-made decorations - as we always did. It was a large gathering as my mother was one of ten children and there were dozens of cousins pretty much covering the floor of the room.

We had just finished opening the presents from the grandparents, which was the purpose of the event as each family would have their own Christmas the next morning. Suddenly the front door opened and lo and behold, Santa entered the room complete with with fat tummy, red suit, and whilte hair and beard. "Santa" opened his huge sack and began to hand out presents to all the cousins. One of the younger cousins, I think she was about three or four, reached up and gave Santa's beard a tug.

"Oh, my God," screamed my grandmother, and dropped to the floor, just about fainting. Santa was my uncle home from the Navy. He had been away for over three years in the Pacific. He had participated as a landing craft botswain in several of the Island invasions including Iwo Jima (although we did not know that at the time), He had arrived home two days before and had arranged for the Christmas Eve Santa surprise with an aunt and uncle who did not have children and thus he was able to hide out there for the two days waiting to provide us all with the Great Santa Surprise.

The real Santa was delayed several hours that Christmas Eve as everyone was wrapped up in a homecoming celebration, until one of my uncles reminded everyone that Santa would not come until all of the family, especially the cousins were asleep. Over the years, I have had many wonderful Christmas memories, but this one still stands out.
(Rod Summitt 11:45am December 8, 2009)
I love hearing all your stories. Keep them coming!
(Deb Stover 2:24pm December 8, 2009)
We had a tradition of looking at lights every Christmas. We hung our stockins and sit and listened to Christmas movies. We also watched Christmas shows on the television. Grandma would fill our stockings with candy, fruit and nuts. Back when I was around 12 years old, I slept on the cot next to Grandpa's bed which had a great view of the Christmas tree in the living room. I was bound a determined to see Santa arrive. Of course I fell asleep and awoke in the morning to a new desk and typwritter. I still have the picture somewhere. But more than anything I remember the smells in the house of Grandma's cooking. She made tons of candy and cookies but the Turkey and ham, dressing and all her infamous traditional dishes could not be beat....to this day.
(Debra Brown 9:29pm December 8, 2009)
Your story is very touching. I was blessed with twins girls born in 1989. I thank God every day for their healthy, full-term birth. I, too, was also high risk and on bedrest for 3 months. I believe my best Christmas was that year they were born. We had five healthy children, a too small house and one-salary income yet we had they best Christmas ever. The kids were young and didn't care that Santa had very little money as long as their were presents under the tree. Those were the days when an empty box was just as fun to play with than the present itself. When a stocking filled of candy, toothbrushes and small little toys kept them busy for hours. And where the brand name of the clothing was not important as long as is fit and was comfortable and no one cared if it didn't have a special "Name". Everyone was so innocent back then including my husband and me!
(Lisa Glidewell 9:30pm December 8, 2009)
Rod Summitt - What a beautiful story about your Uncle.

Brenna Lyons 8:08am today - Also a touching story. My brother-in-law was in the Navy for 30 years si you reminded me about how the family would be apart at times when he was out doing inspections and audits.

The only Xmas memory that I have is when I was 8 or 9 years old receiving a doll house (I think it might have been a Barbie one) if I remember it because maybe I was really excited. I was really sick as a kid having a birth defect which was corrected and my memories are not good.

I am bipolar so my current and past memories are even worse. I am going to TN to be with my family for Xmas this year since I had a really hard time at Thanksgiving being all alone.
(Rachel Morse 9:33pm December 8, 2009)
The most memorable Christmas for me was in 1997. After 15 years with no family to share the holidays, we now lived near my sister and her family. It was fun planning festivities to share. I'd always gone the extra mile (or two!) to make sure our four girls didn't feel the lack of family and we had developed a few traditions that I thought still lacked the fun they could be, with more family.

I expected our girls would also be excited about having more people for celebrations since they loved their cousins but, my two teens made sure I knew that extra people and parties were OK but I wasn't to mess with OUR traditions. I felt like I'd been handed a trophy for motherhood, by mistake. LOL!
(Terri Patrick 9:41pm December 8, 2009)
I would love to win a copy of your book, The Gift. In reading the excerpt here, it sounds just like the kind of book I would really get into!
(Melissa Cleaver 9:55pm December 8, 2009)
Many, many years ago, money was tight, so...I got the most beautiful (to me) 'silk' scarf (store-bought) from my grandmother. I was an adult before I found many similar nylon scarves for about $5. in every store imaginable. It was a most frivolous, fanciful gift, and I loved i!
(Susan Driskill 9:56pm December 8, 2009)
I lost a family member to cancer two years ago. I don't talk too much about it. For me, the lost is still painful. The only thing I can say is that she was my light when I stumbled in the darkness.
(Kai Wong 9:58pm December 8, 2009)
Deb, I think that our first Christmas
with my daughter is still the most
memorable. To experience the sights
and sounds of the holidays with a new
baby (though my daughter was born
in July, so she was a little more
"interactive" with the tree than Barbi)
brings the Christmas message alive in
so many ways.

I love Barbi's wedding photo.... tell
Princess Bonnie she almost stole the
show in that dress!

Merry Christmas!
(Mary McCoy 10:54pm December 8, 2009)
I have a great holiday memory
that is straight out of a
Griswold Family movie, lol.
Our neighbor had a pine that
grew in her front yard, it
really irritated my dad and he
had asked her repeatedly to
cut it down. She refused. So
late one night my dad and his
brother cut down the tree and
tossed it into the woods
behind our house.
A few months later it was
Christmas, and my dad had live
tree in the living room
waiting for us to decorate
when we got home from school.
It looked awesome! We were
so proud of the decorating job
we did! Three days later my
mom came home from work on her
lunch break and when she went
into the living room to water
the tree ALL of the needles
had fallen off!
That night my dad admitted
that he hadn't bough the tree
at a lot but had in fact
dragged the tree from the
woods that he had cut down on
our neighbor's front lawn!
Seriously, if you looked
up the definition of frugal in
the dictionary there would be
a picture of my dad!
That is one of my favorite
holiday stories to tell every
year, I hope it gave you a
chuckle too! Merry Christmas
(Erin Thompson 11:02pm December 8, 2009)
My Fave is when i surprise my nieces whit some thing they wanted bad but they new that the stores were out and people where paying a lot on the over the computer to get but they did not know that I already sent for the things that they wanted three mounts before from finger hut and they where so surprised that they got there furbes that was when furbes where big because they had just come out that summer.thay love there little talking furballs for less then a year but for awile thay where happy kids grow out of things fast.
sasluvbooks(at)yahoo(dot)com
(Stacey Smith 3:37am December 9, 2009)
Christmas time isn't the greatest time for me. I had lost my second daugher in 1985, followed in the two next suceeding yrs with miscarriages when in '89 I received the greatest news, it's a GIRL. But when we were cruising around town looking at XMas lights I felt the little one performing gymnastics and suddenly nothing. When I got out of the car it felt like I had a bowling ball strapped to my belly. The next am the dr. said little Michelle got the cord wrapped around her neck and she was gone. I was told I should go into labor soon but I carried my lost angel till Jan 5 when they induced.
(Susan Lathen 5:31am December 9, 2009)
WOW...we've got them all, from heartwarming to heartbreaking. My heart goes out to all of you who've lost people, especially children, around the holidays. Both of my husband's parents died around the holidays, and it was so difficult those years.

My SIL had three late miscarriages before she managed to carry my niece to 30 weeks. One was a set of twins (both girls) that she lost at 24 weeks. Even in 1996, that wasn't late enough. She finally delivered my niece and four years later...my nephew (on Dec 23rd). They released her early Christmas morning, so she'd be home when T woke up for the day.

Brenna
(Brenna Lyons 6:20am December 9, 2009)
How about a Christmas that wasn't on Christmas?

The subs were always the worst on holidays. Unlike boomers (which have a rotating set of two crews), fast attack subs are just gone...300 days out of 365 one calendar year I can name. Our guys did three northern runs (4 month runs+) in less than two years, plus all the incidental runs and 24-hour duty days, and fast cruising... They missed Christmas two years out of three, on average.

That was never a big problem, until there were kids to consider. I decided that we'd have "Santa Christmas" for the kids while he was underway and "big Christmas" when he was home in Feb, and I let Tamer know when he hit a port. Note that there was no mail on submarines...no e-mail back then, either. We had only six 40-word "familygrams" (telegrams)...one way from home to boat. No really good news. No bad. All pablum. It was a rough life with a 95%+ divorce rate.

The minute Tamer told the guys about my plan, they went into high gear. It was something to look forward to, after all. They told me to plan it for the first weekend home. They bought an 8-foot potted pine that they later planted in the front yard of the house. They decorated the house as if it was really Christmas. I made a huge dinner, like I always did for Thanksgiving and Christmas. (We usually served 8 or more guys dinner on the holidays.) It was magical.
(Brenna Lyons 6:31am December 9, 2009)
What beautiful stories--both the joyous and the sad. Thank you so much for sharing. Kai, we miss those we've lost every day. Time helps, but it doesn't make the pain vanish. One thing I've learned is that we must learn to accept the pain in order to feel the joy. Memories are special--all of them.
(Deb Stover 9:39am December 9, 2009)
We lost our great and great-great grandfathers a couple of years ago. Christmas is a time when all the family gets together and remembers them both falling asleep in the afternoon or Grandad asking for an orange juice with a little whiskey in it.
(Barbara Hanson 10:28am December 9, 2009)
In 1984 My mother gave me a porcelain Christmas doll that plays I Saw Mommy Kissing Santa Claus when you wind her up. She has been displayed every Christmas now for 25 years.
Also, back before I married my mother and I would bake Christmas goodies and take them to the neighbors on Christmas Eve. The Christmas Eve of 1981 was special because at my aunts house there was a man dressed in the full Santa Claus outfit.
He wound up being the preacher that would perform the marriage ceremony for me and my husband three years later.
(Gigi Hicks 9:23pm December 13, 2009)
I missed out on a lot of things that you all experienced, my family was extremely disfunctional, a drunk for a stepfather, no Christmas memory's that are worth sharing. My memory's of Christmas were all from my Grandmothers house. She had those bubble lights on her trees every year and I still to this day find them fascinating!
(Brenda Rupp 8:15pm December 18, 2009)
Oh, I'll have to show this to my hubby, he is the baker in our house (and the pecan pie eater). Thanks!

Happy Holidays!
(Victoria Colyer-Kerr 11:57am November 30, 2010)
Registered users may leave comments.
Log in or register now!