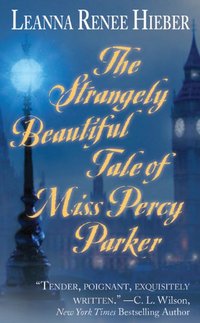 Purchase
The Strangely Beautiful Tale of Miss Percy Parker
Leanna Renee Hieber
Leisure Books
September 2009
On Sale: August 25, 2009
320 pages
ISBN: 0843962968
EAN: 9780843962963
Mass Market Paperback
Add to Wish List

What fortune awaited sweet, timid Percy Parker at Athens Academy? Hidden in the dark heart of Victorian London, the Romanesque school was dreadfully imposing, a veritable fortress, and little could Percy guess what lay inside. She had never met its powerful and mysterious Professor Alexi Rychman, knew nothing of the growing shadows, of the Ripper and other supernatural terrors against which his coterie stood guard. She saw simply that she was different, haunted, with her snow white hair, pearlescent skin and uncanny gift. This arched stone doorway was a portal to a new life, to an education far from what could be had at a convent—and it was an invitation to an intimate yet dangerous dance at the threshold of life and death...
Comments
10 comments posted.
Re: The Strangely Beautiful Tale of Miss Percy Parker

I have this on my to get soon list it sounds great,
Penney
(Penney Wilfort 11:29am September 12, 2009)
It's completely delightful, a great launch for the quartet series.
(Hope Tarr 3:58pm October 10, 2009)
This would be a great gift for my brother. He's a fantasy fan.
(Jane Cheung 5:00am December 4, 2009)
I would give it to my coworker Natasha - who always makes me laugh and it is as much as an avid reader as I am
(Jennifer Rayment 8:25am December 4, 2009)
I would give it to my mother
because she's always looking for
something to read and I think
she might enjoy these books.
(Margay Roberge 8:37am December 4, 2009)
I have heard a lot about this book. I would love to give this to a friend I met a few years ago. We became close just from our interest in reading and she has had it rough this past year.
(Gail Hurt 11:49am December 4, 2009)
You are a new name for me... I will have to look for your books...
My sister would be my choice for this gift!
(Colleen Conklin 1:18pm December 4, 2009)
My daughter will enjoy reading this book. After the holidays when things wind down she will be missing her hubby who passed away in Oct 09. She is raising his daughter but still misses him.
(Brenda Hill 7:18pm December 4, 2009)
I would like to give this gift to my daughter's sister-in-law who's husband was tragically killed in an industrial accident just a month ago. A young mother with 2 young children who will only have pictures to remember him by.
(Lisa Glidewell 8:48pm December 4, 2009)
I would love to give this to my sister, she loves to read and can't afford to buy new books.
(Brenda Rupp 11:36pm December 9, 2009)
Registered users may leave comments.
Log in or register now!