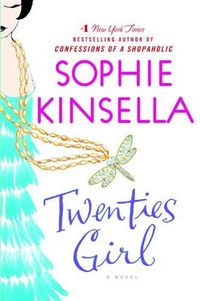 Purchase
The Dial Press
August 2009
On Sale: July 21, 2009
448 pages
ISBN: 0385342020
EAN: 9780385342025
Hardcover
Add to Wish List

Lara Lington has always had an overactive imagination, but suddenly that imagination seems to be in overdrive. Normal professional twenty-something young women don't get visited by ghosts. Or do they?

When the spirit of Lara's great-aunt Sadie–-a feisty, demanding girl with firm ideas about fashion, love, and the right way to dance–mysteriously appears, she has one last request: Lara must find a missing necklace that had been in Sadie's possession for more than seventy-five years, and Sadie cannot rest without it. Lara, on the other hand, has a number of ongoing distractions. Her best friend and business partner has run off to Goa, her start-up company is floundering, and she's just been dumped by the "perfect" man.

Sadie, however, could care less.

Lara and Sadie make a hilarious sparring duo, and at first it seems as though they have nothing in common. But as the mission to find Sadie's necklace leads to intrigue and a new romance for Lara, these very different "twenties" girls learn some surprising truths from each other along the way. Written with all the irrepressible charm and humor that have made Sophie Kinsella's books beloved by millions, Twenties Girl is also a deeply moving testament to the transcendent bonds of friendship and family.

Media Buzz
Good Morning America - June 29, 2009

Comments
12 comments posted.
Re: Twenties Girl

Anywhere is exotic if you put your mind to it. I like learning about different settings and cultural traditions especially in this holiday season.
(Alyson Widen 4:06pm December 26, 2009)
Wild, desolate moors. I am heavily influenced by my love of Wuthering Heights.
(Mary Preston 5:30pm December 26, 2009)
I like books that are written about places I know. That covers a lot of ground since I have been to Europe several times (Back packing in my younger days and not back packing in my older days!), my husband and I have visiten all but 7 of out National Parks in the lower 48, I have been to Australia and New Zealand. I am game to return to any of the above or try the 3 A's I haven't yet readched - Asia, Africa, Antartica!
(Karin Tillotson 5:52pm December 26, 2009)
The British Isles, Europe, Australia, New Zealand, parts of Canada (not all of it, sorry!). I've been to a lot of these, but not Australia or New Zealand yet (cross fingers, knock on wood!), or the eastern and western coasts of Canada, or the parts along the St. Lawrence Seaway. Since I love to travel, having books in places I've been to and loved and would go back to in a heartbeat if I could afford it really helps with the wanderlust.

Later,

Lynn
(Lynn Rettig 6:09pm December 26, 2009)
I don't have a preference as for the location; so long as the story suits the location and vice versa I'm good.
(Diane Sadler 6:48pm December 26, 2009)
I love to read about the Low Country on the East Coast, and the Gulf coast.
(Vikki Parman 9:45pm December 26, 2009)
Karin- I agree with you about places you know. There is jsut something to knowing where the author is decribing that makes the story much richer sometimes.
(Sara Edmonds 10:38pm December 26, 2009)
I like reading books written in a location I'm familiar with, it always seems much more interesting!
(Brenda Rupp 12:04pm December 27, 2009)
I love reading about locations set in TX, Wy, and Mt. They are my favorites. I enjoy the historic and modern day ones. But I read everything I get my hands on, including junk mail[now thats really bad]
(Evelyn Day 1:34pm December 27, 2009)
I love settings of places I have never been, England, Ireland, Scotland, Germany, Australia....really, no preferences!
(Sharla Long 8:56pm December 27, 2009)
Diana Gabaldon's Scotland...love Jamie Frasier!! After that, anyplace 'spacey' from Linnea Sinclair. I discovered a long time ago, that I prefer sparsely settled places to those teeming with people. Who needs to make reservations for their lounge chair on an overcrowded beach?
(Susan Driskill 11:58am December 28, 2009)
Since I love both traveling and history, I'm so glad that U.S. authors have been branching out to include more exotic places and times. Of course, I'd love to read more about places abroad that I already have some knowledge of--I like to be able to follow the characters' moves in my mind--but those that I know nothing about yet are even more exciting. And no, I don't like crowded places either and am very glad that I was able to see some of nature's and man-made beautiful areas before the current travel frenzy found them.
(Sigrun Schulz 12:35pm December 29, 2009)
Registered users may leave comments.
Log in or register now!