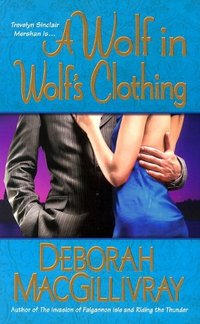 Purchase
Sisters of Colford Hall #3
Love Spell
August 2009
On Sale: July 28, 2009
304 pages
ISBN: 0505527812
EAN: 9780505527813
Mass Market Paperback
Add to Wish List

Revenge — that was Trev's goal when he first set his sights on Raven. And a delicious revenge it would be. He and his two brothers had each selected a Montgomerie sister to systematically seduce and destroy, and this quiet granddaughter of his enemy was perfect. She lived simply in a cottage in the English countryside, a painter, and socialized only with gypsies and a menagerie of misfits: her fat orange tabby, her one-legged seagull and midget pony. And in addition to beauty, Raven had a delicious vulnerability begging to be exploited. Trev was happy to oblige. In fact, it felt like destiny.
Magic and fate have brought a self-proclaimed wolf to Colford Hall. He's dressed in a designer suit, drives a Lamborghini Murciélago and apologizes for nothing. And though Trev doesn't realize it, wolves mate for life.
Comments
4 comments posted.
The first two books in this series were wonderful and after reading this review, I'm definitely looking forward to reading the third. Who can resist a one-legged seagull?
(Jacquie Rogers 7:43pm July 13, 2009)
I had the ultimate pleasure of watching as this book came to fruition. A wonderful read, magical with romance, hysterical with laughter. Take your pick. Ms. MacGillivray has done it again! All I can say is: I want more!
(Diane White 8:47pm July 13, 2009)
Fantastic review for a Fantastic book! This is a wonderful series that I would highly recommend. Each book in the series is so unique that you just can't put it down and A Wolf in Wolf's Clothing is no exception. It's a must read...not to be missed.
(Candy Thompson 11:56pm July 13, 2009)
it sounds like a fun read and that's what I enjoy
(Diane Sadler 6:21pm July 16, 2009)
Registered users may leave comments.
Log in or register now!