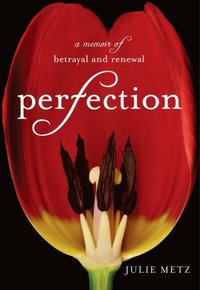 Purchase
A Memoir Of Betrayal And Renewal
Voice
June 2009
On Sale: June 9, 2009
352 pages
ISBN: 1401322557
EAN: 9781401322557
Hardcover
Add to Wish List

Julie Metz's life changes forever on one ordinary January afternoon when her husband, Henry, collapses on the kitchen floor and dies in her arms. Suddenly, this mother of a six-year-old is the young widow in a bucolic small town. And this is only the beginning. Seven months after Henry's death, just when Julie thinks she is emerging from the worst of it, comes the rest of it: She discovers that what had appeared to be the reality of her marriage was but a half-truth. Henry had hidden another life from her.
"He loved you so much." That's what everyone keeps telling her. It's true that he loved Julie and their six-year-old daughter ebulliently and devotedly, but as she starts to pick up the pieces and rebuild her life without Henry in it, she learns that Henry had been unfaithful throughout their twelve years of marriage. The most damaging affair was ongoing--a tumultuous relationship that ended only with Henry's death. For Julie, the only thing to do was to get at the real truth--to strip away the veneer of "perfection" that was her life and confront each of the women beneath the veneer.
Perfection is the story of Julie Metz's journey through chaos and transformation as she creates a different life for herself and her young daughter. It is the story of coming to terms with painful truths, of rebuilding both a life and an identity after betrayal and widowhood. It is a story of rebirth and happiness--if not perfection.

Media Buzz
Oprah - March 22, 2010
Oprah - January 8, 2010
Good Morning America - July 2, 2009

Interviews for Perfection
Interview with Julie Metz
Perfection
July 5, 2009
Comments
3 comments posted.
Re: Perfection

Perfection
(Cindy Madson 5:48pm July 6, 2009)
Tried to find email address but ?
(LaWanna Crumpton 9:50am July 9, 2009)
Hi. I won the July contest. My name is Lisa Alugaili from Romeo. I still have not recieved the copy of Perfection. I was looking for a way to contact you and this was the only way. I don't want to put my email address on here, I'm a member of fresh fiction, if you can get ahold of me that way and let me know if I really won or not.
(Lisa Alugaili 5:02pm September 3, 2009)
Registered users may leave comments.
Log in or register now!