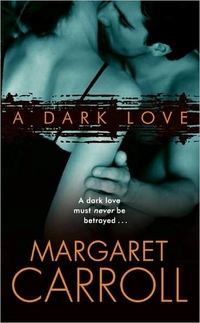 Purchase
A dark love must never be betrayed.
Avon
September 2009
On Sale: August 25, 2009
Featuring: Caroline Hughes; Ken Kincaid
400 pages
ISBN: 0061652784
EAN: 9780061652783
Mass Market Paperback
Add to Wish List

Only Caroline knows the truth about her husband, the brilliant psychoanalyst whose list of patients includes some of Washington, D.C.'s, most celebrated. Caroline has seen the darkest side of this cruel, controlling psychopath who watches her every move. With only a few precious minutes allotted to her, escape is now or never. Caroline must run for her life . . . as far and fast as she can.
But even two thousand miles isn't far enough. A new identity, new town, and new love—rugged pro-footballer-turned-outdoorsman Ken Kincaid—won't protect her. Because Caroline knows Porter will never stop until he's hunted her down.
And there will be a reckoning . . .
Comments
37 comments posted.
Re: A Dark Love

Margaret Carroll: Thank you for your blog. Here you raise a fascinating possibility.

I'm intrigued by your idea that an author writing about a fictional person (or, I assume, a real one), or a reader reading about one, can analyse that person to find out what one's own self is really like. One can ask: What is it about this person that causes me to identify with him/her? Of the many traits in that one figure, which ones are the most meaningful to me? Why?

I must try this technique, with both the characters I read and those I create. The results should be interesting, possibly eye-opening.

Anyone else want to try this?
(Mary Anne Landers 12:59pm September 30, 2009)
Hi Margaret,
Congrats on the new release. I would like to think I have the Spidey sense and know when something or someone is not right.
(Jane Cheung 4:23am September 30, 2009)
Congrats on the book.I defently have spidey sense but I'm still trying to see if there is a guy out there that does not set it off.
[email protected]
(Stacey Smith 5:39am September 30, 2009)
Congrats on your release ! It's always interesting to read about the relationship between an author and her characters... not always what I expect ;-)
I really hope to read Dark Love soon !!
(Joeelle Jappissont 5:56am September 30, 2009)
I don't mind a heroine who doesn't seem strong at first as long as she grows during the story.
(Maureen Emmons 9:28am September 30, 2009)
I actually have A Dark Love on my to read list. I recently read one where I didn't care for the heroine but I did appreciate the way she grew & who she eventually became. Didn't care for her until the end.
(Ivy Truitt 10:35am September 30, 2009)
Strong or weak, as long as she stays true to her own self-image.
(Joanne Reynolds 11:43am September 30, 2009)
My own spidey sense... yes I listen to it and it has proved very reliable...
(Colleen Conklin 12:49pm September 30, 2009)
I like to read about people who aren't so perfect, there are always lessons to be learned.
(Vikki Parman 1:42pm September 30, 2009)
I can hardly wait to read this book! I am like Caroline in that it took many years and lots of heartache for my Spidey sense (and sense of self worth) improved enough for me to find, recogonize, and realize I deserved my Prince Charming. The fact that you are not as much like her as I am makes me even more intrigued to read her story! Also, I'm grateful that you are telling her story. While Caroline may be fiction many women like her exist and hopefully they can learn from her story despite her fictional status.
(Dawn Detkowski 2:10pm September 30, 2009)
I like to think I have a spidey sense. Certain people, even if it seems all right at first rub me the wrong way. I tend to steer clear and I usually find out later I was right.
(Theresa Buckholtz 2:30pm September 30, 2009)
I like the way you describe that inner feeling we get. It is kinda creepy and I think spiders are creepy so Spidey Sense is perfect. Congrats on the new release!!!
(Mitzi Hinkey 2:33pm September 30, 2009)
Sounds like an interesting book. I think I may have an overly-developed "Spidey" sense: anybody who hurts others, including animals in any way is on my mental on-guard list. Maybe that explains why I don't like vampire stories and why I'm still single. lol But that's also why I need to know how this kind of woman feels. I'm able to sympathize with them but so far not really empathize, just as Dawn says.
(Sigrun Schulz 2:39pm September 30, 2009)
Hi Margaret~I read A Dark Love and I couldn't put it down! I loved it and would love to read Riptide! I'm not a patient person when it comes to new releases. I want to read what I want to read, like, NOW! (lol) I'm very anxious to read RIPTIDE since I couldn't put down, A Dark Love! Keep on writing! Thanks, Shelly A.
(Shelly Ash 3:12pm September 30, 2009)
Spidey sense is good and definitely needs to be addressed. I've learned to trust mine and wish I had earlier. Thanks for the interesting topic.
(Mare Fairchild 3:50pm September 30, 2009)
cANT WAIT FOR THE NEW RELEASE I'M THE SAME YOUR BOOK ROCK EXCITING i HAVE SEEN MYSELF READING RIGHT UP TO AN 1HR BEFORE MY ALARM IS TO GO OFF THEN READING SOME MORE.
ANN
(Ann w 3:58pm September 30, 2009)
Thought provoking post. I think listening to that spidey sense is something we get better at doing with age. We learn to listen to inner voice with time and experience. I know of at least women who won't give up no matter what. I think it is so tragic and really expresses a lack of self preservation. This story sounds good. Thanks for guestblogging.
(Cherie Japp 4:20pm September 30, 2009)
Congrads on the new book. I've learned to listen to my spidey sense, it seems to never let me down. When I don't, it usually gets me in trouble. Great topic!
(Lisa Glidewell 4:34pm September 30, 2009)
I have"spidey sense" also and it always steers me in the right direction. Looking forward to reading A Dark Love and Riptide soon.
(Teresa Ward 4:56pm September 30, 2009)
I want to run out and buy this book! There's one more category; those who know exactly what their Spidey sense is telling them and choose to ignore it!! Anyway, can't wait to read A Dark Love!!
(Kelli Jo Calvert 5:29pm September 30, 2009)
This sounds so fab!! I never thought of it being called a Spidey sense but so understand that feeling! I remember that once recently with needing a new car and having that feeling that I shouldn't go with this car, this amount and all. Sometimes you can walk away from it and sometimes you can't (those tough car sellers!)

cathiecaffey(at)gmail.com
(Cathie Morton 5:39pm September 30, 2009)
After watching shows like Criminal minds I don't know if I could tell with my Spidey Sense or even trust it; but still I would hope that I could
(Diane Sadler 5:50pm September 30, 2009)
Margaret I have had a spidey sense about everyone execept in the romance dept. I think this is why I prefer stories that are not happily ever after I enjoy heroines I can empathize with.
(Susan Lathen 5:52pm September 30, 2009)
Congrats on your new release. I've always watch how people treat those that serve them ie. waiters, bartenders, valets, maids etc. How they treat these people is a darn sure way to see his or her true character.
(Maude Allen 6:46pm September 30, 2009)
Can hardly wait to read your book. I learned a lot about myself writing my first... learning more in all the avoidance techniques I'm using to avoid editing 8~)
(Maribeth Curry 6:53pm September 30, 2009)
I love mysteries and am always looking for new authors! You're my newest find!
(Kathleen Pearlman 7:02pm September 30, 2009)
Does anyone ever listen when we tell them the guy is all wrong? Seldom. My daughter's first husband was such a case. We tried to hint and say something. He was verbally abusive. Even his mother told her not to marry him. We lost a small fortune when he cancelled the wedding a few weeks before it was scheduled. Hated to loose the money, but glad to loose him. Unfortunately, our daughter wouldn't give up and they got married by a justice of the peace 8 months later and then told us. It lasted about 2 years. The only good thing to come out of that marriage was our grandson.
Good luck with your new book.
(Patricia Barraclough 7:06pm September 30, 2009)
Congrats on your new release. Perhaps when I was younger it would have been hard to challenge what I considered confidence and sophistication. But experience and years have taught me that those two can as easily be bull-headed and snobbishness. You're right. Gut instinct can usually find which shade of description the personality should wear.
(G. Bisbjerg 8:14pm September 30, 2009)
Yes I have a Spidey sense or as I like to call it a gut feeling most of the time I've been right when I listened to it.
(Sherry Strode 8:37pm September 30, 2009)
Thank you for an interesting incite into the character of a victim and the aggressor. It's hard for some people to deal with a difficult situation head-on and understand that they are not at fault. Congratulations on your new book!
(Rosemary Krejsa 8:37pm September 30, 2009)
Congrats on being happy. What I find so appalling is all the women that seek out Sociopaths in prisons and marry them when they are on death row or are in for life without parole. Oh yeah, that sounds like my kind of Prince Charming alright!!!!!
(Vicki Hancock 11:48pm September 30, 2009)
Congrats on new book - cannot wait to read it. It sounds fascinating. Happy to find a new author - not a run of the mill one either.
(Juanita Stender 11:57pm September 30, 2009)
A fascinating insight. I can't wait to read A Dark Love.
(Mary Preston 1:02am October 1, 2009)
spidey sense is the real deal. If girls were taught to trust their intuition from the beginning, rather than being encouraged to be the "peace-makers" and take second, third or fourth place in importance; I believe we could see a reduction in spousal abuse. Can't please everyone & maybe we shouldn't always try. Thanks for helping a character grow.
(Susan Driskill 1:04am October 2, 2009)
I loved A Dark Love, which made me go in search of your earlier books. Am anxiously awaiting Riptide. Thanks for the great reads!
(Kara Conrad 10:41pm October 3, 2009)
I can relate to Caroline.. Been there and was foolish enough to stay for almost 23 yrs. Been divorced 24 yrs (in Jan 2010). Thank God...I finally got out it it and my life did get better. I have loved Cinderella since I was 6 yrs old and I am still looking for Prince Charming, though not actively looking, LOL.. If he wants me he will have to knock on my door.. I retired Dec 2008 and have indulged myself reading and gardening. I have 4 stories I started and hope to finish at least one after first of yr. Just too much going on in my life at this time. Now that I have discovered you I will add you to my list of new writers and look for your latest at book store.
(Brenda Hill 10:37pm November 8, 2009)
sorry to say I cannot agree that this book was good. how does a woman abused such as she fall in love so quickly. also, I got no sense of why she loved/married Porter. The names of the characters also got to me. Ken Kincaid sounds like a barbie doll name and Porter sounds stiff and unbending. Caroline/Alice was not very likeable or even more, she wasn't very sympathetic because she felt weak. I think it had good potential, but why not write a book about a woman who escapes an abusive husband and makes a life for herself without a man? I understand romance sells, but there was really no romance here and to label it as such was deceiving. I would have liked to see Alice get strong and confidant on her own, fighting off Porter for herself, not for the man she loved. I think it would've worked much better and I would've respected her a lot better. Finally, too many open ended questions left unanswered. Like I said, I think it had potential, but the writing was basic and not very good. Not unhappy that I read it, just not happy, either.
(Tracie Harned 4:59pm November 24, 2009)
Registered users may leave comments.
Log in or register now!